Breeze through security, pare down your routine and still look gorgeous with these tips.
By: Jenna Mahoney
You worked so hard to look your absolute best for the wedding, and chances are you'd like to appear just as beautiful/hot/stunning in your honeymoon photos. But unless you're used to walking down the red carpet you most likely won't be traveling with your big-day glam squad. And let's face it, traveling with an enormous arsenal of products simply isn't practical. Here are some no-fail, on-the-road beauty tips that I've picked up over the years.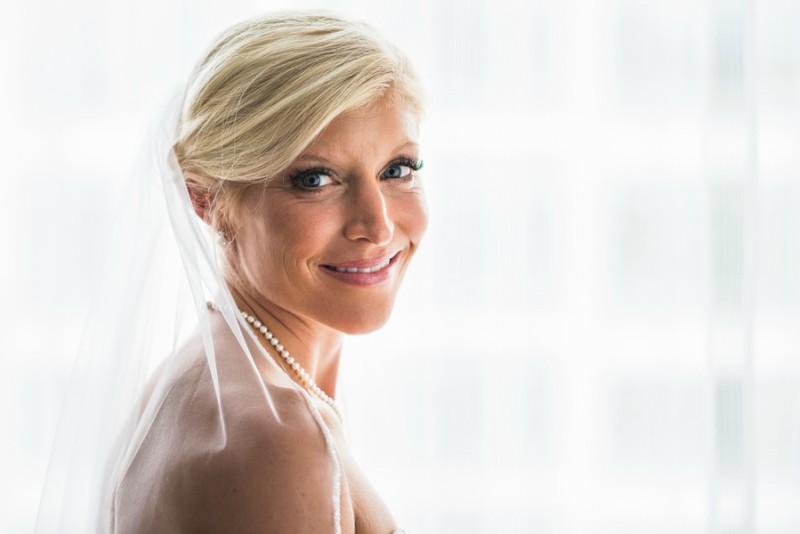 Photo Credit: Gonzalez J. Photography & Design Studio
At press time the carry-on limits for gels, liquids and aerosols are three ounces in a one-quart sized plastic bag per passenger. Skip packing your products in your suitcase. You'll avoid spills and stains caused by those darn nonclosable pumps — trust me.
In my plastic Ziploc bag, I have put double packs of sunscreen (one is a powder formula by Colorscience), deodorant, toothpaste and travel-size contact solution. I also toss in some insect repellent, Band-Aids, Advil, my arsenal of vitamins and Emergen-C, along with extra-powerful shea butter body moisturizer by L'Occitane, Ted Gibson Hair Sheets, Burt's Bees facial wipes, a leg-shine stick and a few makeup multi-taskers. I generally use the shampoo and conditioner at hotels. And, if they have it, I slather on their moisturizer too, so I don't have to deplete my stash.
Embrace the Beach Hair
One of my closest friends, a beauty editor, says her hair never looks as good in real life as it does on vacation. She loves the texture, waves and ease of not having to blow-dry every day. That's where my hair sheets come in. They smooth over flyaways and have a bit of conditioner to combat dryness.
If your hair is too salted to tame, gather it into a topknot or wrap it up. I keep a couple of colorful vintage scarves in my suitcase that I use as headbands. They look chic on the beach, touring city sights or even at a dinner out.
Do Double Duty
I'm a pretty natural girl when it comes to makeup. So it isn't that difficult for me to pare down my products. I limit myself to five that can be used across my face and body. If you follow me on Twitter (@srajennamahoney) you know my devotion to Rosebud Salve. I keep a tin in my carryon and another in my purse, and use it to hydrate my lips and cuticles. It can also alleviate skin irritations and little cuts that seem to pop up on my hands when I'm handling all my travel paperwork. My latest use — taming brows — makes them look a little more Cara Delevingne.
The leg shine (I prefer the stick by Michael Kors) camouflages any funky sun marks on legs and arms and can be used to bronze my cheeks in a pinch. I also pack a facial shimmer stick by Nars or Tarte (depending on the season of my destination) to highlight my eyes and cheeks. And a tinted moisturizer with SPF can be used as a concealer.
have a mascara on hand too. But lately, during the day, I've just used my Shu Uemura eyelash curler. That ensures no messy rings when I get out of the pool or return from an afternoon of snorkeling. For evening, I use Benefit Cosmetics BadGal Waterproof Mascara. It makes my lashes look so glam with zero smudging.
Take a Prep Step
I never get on a plane without having a mani/pedi. That way, I don't have to tote nail polish et al and no one screams at the sight of my feet when I remove my shoes at TSA. If I'm going to a wedding or other major event like a resort opening, I often get a blowout the day of departure, so I'll arrive with party-pretty hair. Personally, I think my hair is like pizza — it's better the day after.
Hit Duty Free
Even pros sometimes forget to pack some very important items. If you do, eschew the resort gift shop in favor of a duty-free outpost. The stores, which are exempt from charging tax, specialize in prestige brands and are located in international airports.
Note: Make sure you purchase at your last point of embarkation. Even if you've got a sealed bag, international security regulations strictly prohibit carrying on large sizes of liquids, gels and aerosols.