Greetings, brides! Did anyone by chance see the article in the New York Times on cookie tables at weddings? In Pittsburgh, wedding receptions often feature long banquet tables full of trays of homemade cookies. Moms, aunts, grandmas and future in-laws are the bakers and they all contribute hundreds of treats as part of that special day. The cookies are on display throughout the entire wedding, so you can grab one at any time during the reception.
How do I know this? I grew up in Pittsburgh and I didn't realize that cookie tables were a Pittsburgh tradition until I was 23 years old and a bridesmaid in my college roommate's wedding. My former roommate, Jess, grew up in central Pennsylvania, but her husband is from the Pittsburgh area. As we stood outside the church, Jess expressed confusion over her future mother-in-law's request that they all bake cookies.
I, in turn, expressed confusion at her confusion. When the rest of the bridesmaids had equally puzzled looks, I walked over to my parents to inquire if by some weird chance, cookies tables were a Pittsburgh tradition. To my utter shock, it turned out they were. Now, it's my turn to have a cookie table.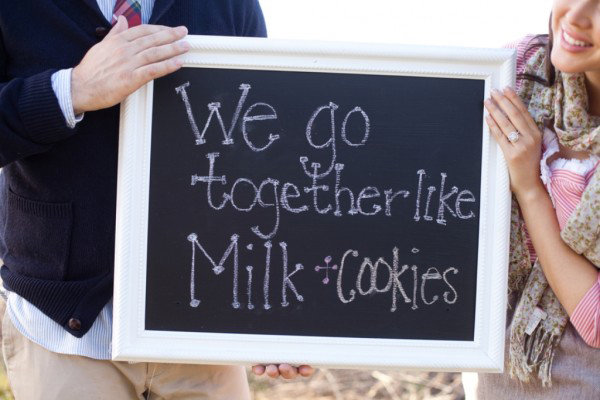 Photo by: White Haute Photography on DIY Bride via Lover.ly

Photo by: Focus Photography Inc on Every Last Detail via Lover.ly
My husband-to-be has fully embraced the idea as has his mom and sister, who is one of my bridesmaids. His aunt and one female cousin have also been let in on the tradition in case they want to contribute to the baking.
My mom has actually already begun testing new cookie recipes to see how well they freeze so she could make the cookies in advance and then freeze them. That's how seriously we take cookie tables at Pittsburgh weddings. There are several theories about how the tradition began, but the most popular is that in many of Pittsburgh's eastern European immigrant communities, it was cheaper to have cookies than cake at weddings and other celebrations. And the tradition just stuck and eventually spread.
But as my fiancé and I laugh over this random (but very fun!) tradition, it got me thinking about other regional and cultural customs for weddings. 
Groom's Cakes
According to my research, groom's cakes originated in the South and usually consisted of chocolate and/or liquor. The Huffington Post reports that it used to be customary for single female guests to take home a slice of the groom's cake and sleep with it under their pillows; superstition had it that they'd dream of the man they would someday marry.
Now groom's cakes are popular with couples in the U.S., regardless of region, and they often reflect the groom's personality or interests. Searching for ideas? I love this slideshow on 40 Awesome Groom's Cakes.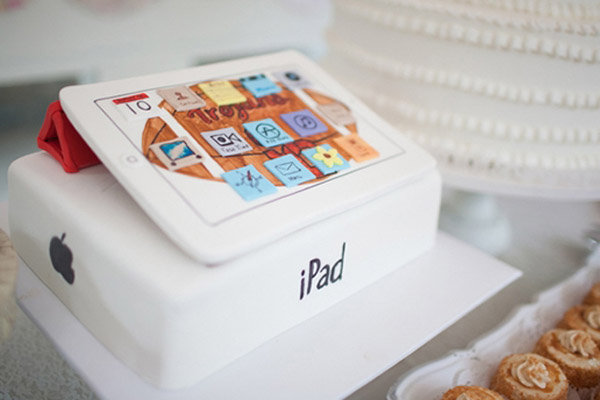 Photo credit: Phoebe Joy Photography on Wedding Chicks via Lover.ly
The Money Dance
This started as a Polish tradition and continued in many ethnic communities. The guests pay $1 to dance with the bride or groom and then take a shot. This is very common where I grew up, though I don't plan on having it at Gray's and my wedding.
It's also a subject of debate among brides and wedding experts as to whether the dance is a fun tradition or simply tacky. Just take a look at the Wedding Wire discussion on it. About.com also has a list of songs you may want to avoid if you decide to do the dollar dance.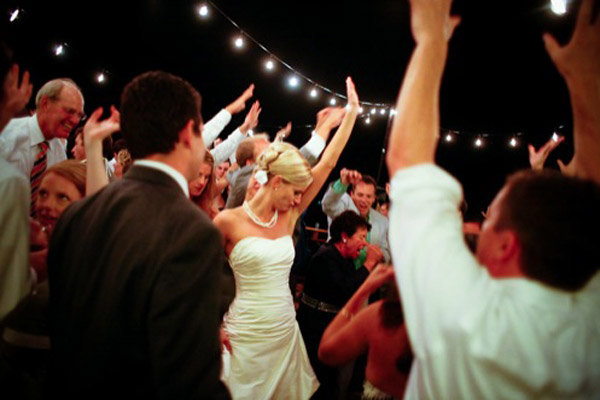 Photo by: Mastin Studio on Polka Dot Bride via Lover.ly
The Hora
Jewish weddings have many lovely traditions. For example, did you know both the bride and groom are walked down the aisle by their parents? But the one most recognizable to the world is possibly the Hora or the chair dance. Guests hoist the bride and groom, sitting on chairs, into the air and carry them around to music.
A Slate essayist, who was fundamentally against having the Hora at his wedding, noted that the tradition actually has its roots in Romania, but that an Israeli folk dance ultimately collided with the Romanian tradition, and became an iconic Jewish tradition. The Wedding Yentas provides detailed explanation and video if you're looking for some help.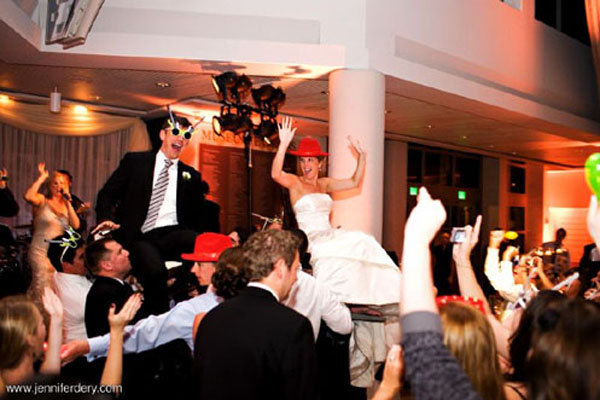 Photo by: Jennifer Dery on Polka Dot Bride via Lover.ly
Multiple Dress Changes
In Chinese weddings, the bride has multiple dress changes throughout the day. Brides might have a white dress for the ceremony and then a red or other colorful dress for the reception, Patch.com notes. My friend Ling is actually doing this for her wedding next summer. Check out this Pinterest board for some gorgeous traditional and modern red reception dresses.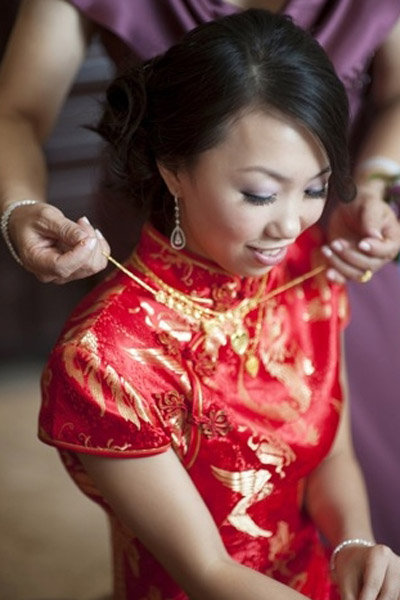 Photo credit: Justin and Mary on Bridal Musings via Lover.ly
Henna Parties
Many Muslim and Hindu weddings have henna parties the day or night before the wedding so the couple can be decorated with ornate designs. This awesome Tumblr has tons of photos of great henna designs.

Photo by: Shira Weinberger on Maharani Weddings via Lover.ly
Do any of you have a special tradition or custom that I may have missed? I'd love to hear about them.
Happy wedding planning!
—Kathleen Haughney 

Kathleen Haughney, a native of Pittsburgh, and her fiancé, Gray, work as journalists in Tallahassee, FL. The couple met in November 2010 and were engaged this past Memorial Day. They are currently planning a 50's/60's beach themed wedding that will take place in Florida's Space Coast.