Getting married is one of the ultimate rites of passage. Weddings are a symbol of love, hope, devotion, sacrifice, and the future — not just for us, the bride and groom, but also to our family, friends and community. And with them comes a host of expectations (just take a look at these wedding complaints I've heard). Sometimes these perceptions are so deeply engrained that we don't even realize they're there.
I'm three months shy of getting married (!) and it's only now, at the tail end of my engagement, that I'm able to see how certain myths have shaped my wedding-planning process for better (and for worse). Where did these crazy ideas come from? My fiancé, Jason, blames the crappy reality TV that I watch and my love of fairytales as a kid, but I think it runs deeper than that: Myths are also formed from cultural beliefs and stories that are passed down to us on a personal level. BG brides, what would you add to the list below?
1. It's your day!
Yes, it's your wedding and you should do what you please, but anyone who's planned one knows it's never as simple as that. I've uttered these three words before and instantly regretted it. If your loved ones have supported your relationship, rooting for you guys the entire way, then you owe it to them to make them feel appreciated. If you get unsolicitied advice, at least hear them out and say, "I'll consider it, thanks." Then, move on to the next subject of conversation. Also, if your parents or in-laws are contributing towards the wedding, be prepared to make a few minor concessions along the way.

Photo Credit: Diane Askew Photography
2. You'll cry tears of joy when he proposes, when you slip on the perfect wedding gown, and when you walk down the aisle or recite your vows.
Every bride reacts to major planning milestones differently. When I got engaged, I was so caught off-guard that I asked "Are you serious?" about 10 times, even though the man I love more than anything in the world was kneeling before me in the sand, clearly asking to spend the rest of his life with me. Not exactly the response my fiancé had expected (eventually, I snapped out of it and said yes). Don't beat yourself up if these happy moments unfold differently than the way you expected — and that applies to your groom, too.
Another prime example: You know those heartwarming Pinterest photos where the groom is bawling on the big day or pumping his fist into the air? That doesn't always happen. During one of my favorite weddings I've ever attended, the bride practically ran down the aisle from nervousness while the groom gazed at her placidly. Then, they proceeded to giggle throughout their entire vows. It was relatable!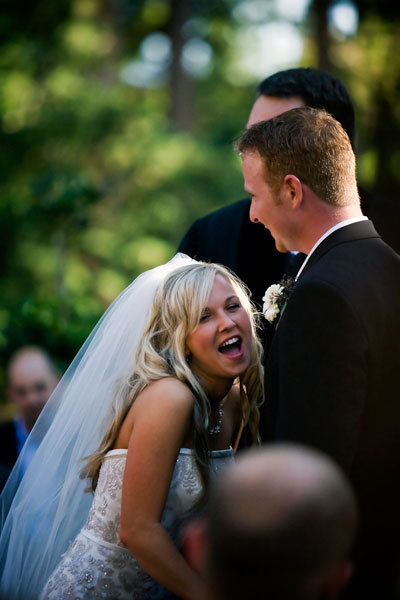 Photo by: Rebecca Anne Photography on Rebecca Anne photography via Lover.ly
3. You'll instantly become closer with everyone you know by bonding over wedding plans.
Meg Keene, the author of A Practical Wedding: Creative Ideas for Planning a Beautiful, Affordable and Meaning Celebration, once told me brides are conditioned to believe that the wedding is a time when we're closest to loved ones, but reality doesn't always meet our expectations. I've heard stories from readers who were disappointed in others who couldn't put their own personal issues aside for the big day, whether it was divorced parents who refused to be in the same room together when discussing the wedding plans or a bridesmaid who was resentful over the fact that she didn't get engaged first.
But when they're at their best, weddings are also an exercise in community, so I'm going to say this myth does have some truth to it. In my experience, wedding planning is like viewing your existing relationships under the magnifying lens of a microscope; you see everything a thousand times clearer. I've never been more appreciative of my amazing parents and best friends. I also feel a special connection with other people getting married around the same time — we're all in this together. 
4. Every single detail needs to be perfect/meaningful/unique/handmade/from the heart. 
What separates 2013 weddings from weddings in past decades is the unparalleled level of personalization. But all of these new options, albeit rewarding, can have a paralyzing effect: Which detail is best for my wedding? I suffer from inspiration overload all the time. Whenever I'm not sure what to pick, I ask myself if the idea I'm entertaining makes sense in relation to my overall vision (my venue, my dress, and the feeling that I want guests to take away from the entire event).
If the answer is no, then I scrap it and don't look back. Limit yourself to a few clever details and realistic DIY projects that reflect who you are as a couple. If you don't like dinosaurs, do you really want this T. Rex shot hanging on your mantel?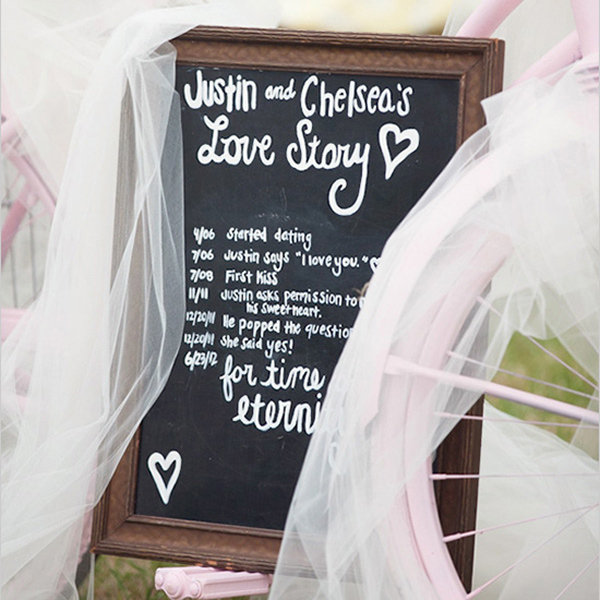 Photo Credit: Jana Marie Photography on Wedding Chicks via Lover.ly
5. You shouldn't pick the first vendor, gown, or other item that you find. 
I should have trusted my gut and pulled the trigger more quickly with some of our wedding decisions. We visited about 10 different venues only to end up going with the first one…ditto with our photographer, videographer, DJ and so forth. After a while, it became a running joke between Jason and I. We would look at each other knowingly after a "first" appointment of any kind and ask each other, "Is this the one we should choose?"
By all means, do your research and become knowledgeable about prices and services in your area so that you don't regret hiring a vendor, like I did with my first florist. I just wish I had realized sooner that there's a fine line between being informed and just plain OCD.
6. You should have a one-year engagement. 
Whoever decided that 365 days is the perfect amount of time to transition from "fiancée" to "wife?" We had a long engagement for practical reasons (namely, so Jason could finish his doctorate in physical therapy). We've had an amazing experience planning the wedding, but after three years, the candy coating part (cakes! flowers! gowns!) did wear off. If we had wed more quickly, we wouldn't have had to play the waiting game.
Does that mean we should have rushed it? Nope. Decide when the big day should be based on your personal life circumstances and comfort level in regards to planning. I've known couples who have wed in six months or less and for them, that was the right choice, too. Just start with the planning elements that are most important to you (whether it be the venue, dress, photographer, etc.) so they don't book up or become unavailable.

Photo Credit: Stephanie on Saltwater Studios via Lover.ly
7. You need to spend [insert $ amount here] on a wedding. 
Funding a wedding can be challenging, but that doesn't mean you should start your married life in major debt because you didn't want to disappoint anyone, including yourselves. Have an honest conversation with your fiancé about how much you can realistically spend, taking your current finances into consideration.
What worked for us: We used a budget spreadsheet to map out estimated costs for everything and adjusted the amounts after we finalized contracts. The first time around, we definitely forgot to include a few things, including postage for our invitations. Add a five percent cushion to the total amount in case you do end up spending more in certain areas, like we did with our centerpieces.
Also, don't entertain an idea for longer than a week (and that's being generous) if you know it's going to put you in the red. During the honeymoon process, I became enamored with the island of Bora Bora. Other brides cautioned me that this heavenly place came with a hellish price tag. But I didn't care. I Googled bungalow after bungalow option, only to realize that the average cost was $15,000 for seven days (it's still on my bucket list; I'll get there eventually!).
8. While we're on the subject of budget, hiring your loved ones is the same as hiring pro vendors.  
I have several talented friends and family members who could DIY with the best of them (see the bridal shower my mom threw for me here). However, I can't imagine asking my family and friends to "work" the entire wedding. Everyone knows at least one story of a bride whose Dad/friend/cousin was arranging centerpieces or manning an iPod playlist and missed a key part of the action.
There's nothing wrong with getting crowd-sourced wedding photos and the like, but make no mistake about it — you won't get the same results as you would from someone who does this for their livelihood.
9. You need to have a white gown, something blue/old/new/borrowed, a bouquet toss, Dad walk you down the aisle or [insert other tradition here]. Otherwise, it's not really a wedding wedding.
The garter toss has always creeped me out, so that's one tradition we'll be skipping. Also, we've seen some adorable guest books, but nothing really stands out as "Jason and Stef," so why include something that doesn't mean anything to us? Decide with your groom what you should omit, and come up with your own unique traditions, too! We're still working on that last part…

Photo Credit: Applemoon Photography on Applemoon Photography via Lover.ly
10. You'll never look more beautiful than you will on that day.
Between the dress, jewels, makeup, hair, and smile that says, "We finally did it," there's no denying that brides are incredibly beautiful. There's a lot of pressure to look a certain way, even if no one will admit it out loud. There's nothing wrong with wanting to look your best — just don't let other people's scrutiny and comments mess with your psyche. P.S. I know wives who look just as amazing now (if not more) 15 years after getting married!
—Stefania Sainato