On your wedding day, you're going to be taking pictures all day long. And while you'll of course want to capture plenty of timeless, classically-beautiful photos, that doesn't mean you can't have a little fun! Here, 20 of our favorite funny photos from real weddings.
Movie-Inspired
This Jurassic Park-inspired photo took the Internet by storm, and it's easy to see why!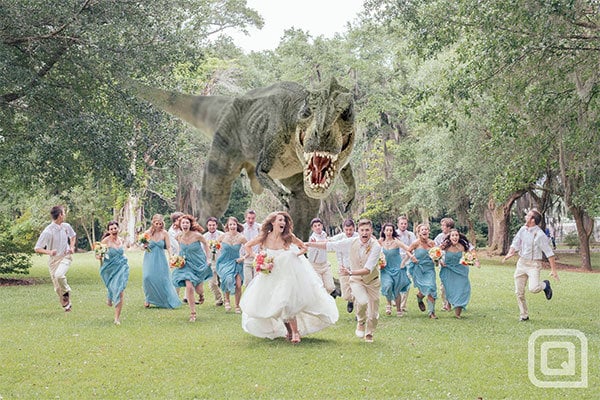 Photo Credit: Quinn Miller Photo + Design
This couple cast a spell on their bridesmaids and groomsmen, Harry Potter-style:

Photo Credit: Michelle Chiu Photography
Here, the bride channeled Darth Vader and used the "Force Choke" to lift the groom and groomsmen off the ground: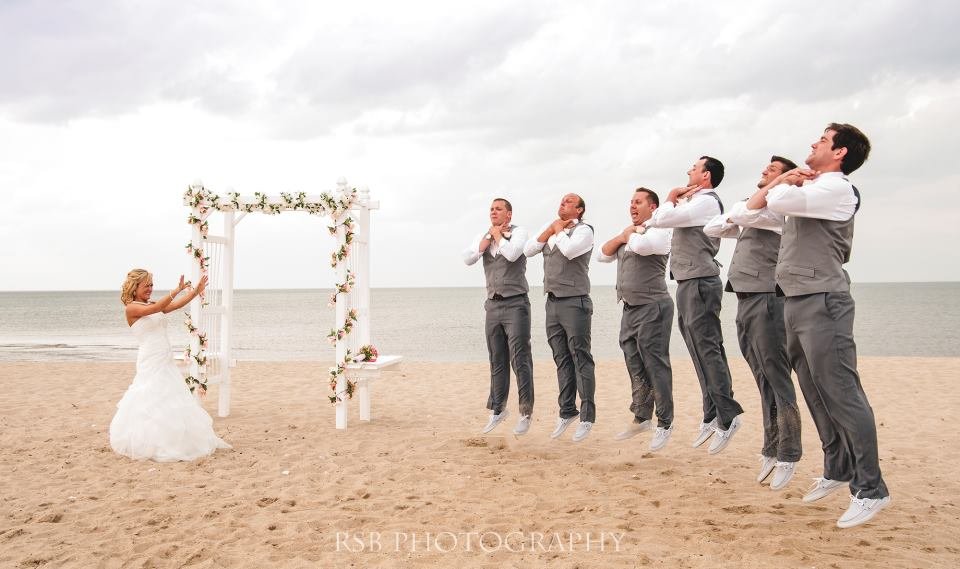 Photo Credit: RSB Photography
Adorable Flower Girls:
These flower girls' reactions to the couple's first kiss are just priceless:

Photo Credit: Studio Cabrelli
But make sure you shield your impressionable flower girl from bridal party hijinks:

Photo Credit: Maria Vicenio Photography
Calling All Sports Fans
Incorporate your favorite sport, from baseball...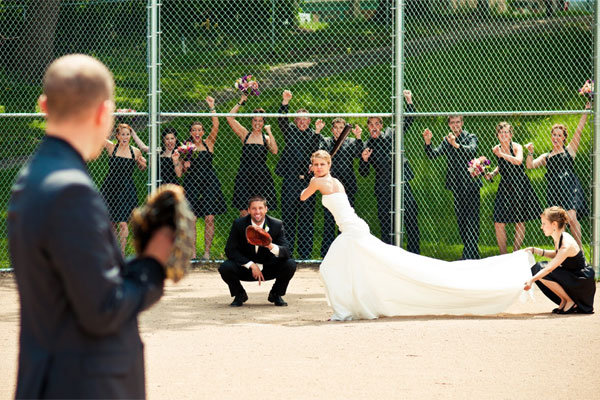 Photo Credit: LauraBelle Photography
...to football:

Photo Credit: Maria Velarde
...to golf:

Photo Credit: Oakstream Photography
No Peeking
Guests, please avert your eyes from the PDA!

Photo Credit: Duston Todd
But there's always that one who can't follow directions...

Photo Credit: Closer to Love Photography
Reject Stereotypical Gender Roles
Grooms love showing off their new bling, too!

Photo Credit: Plumtree Studios
These groomsmen borrowed the bridesmaids' bouquets (and pose!):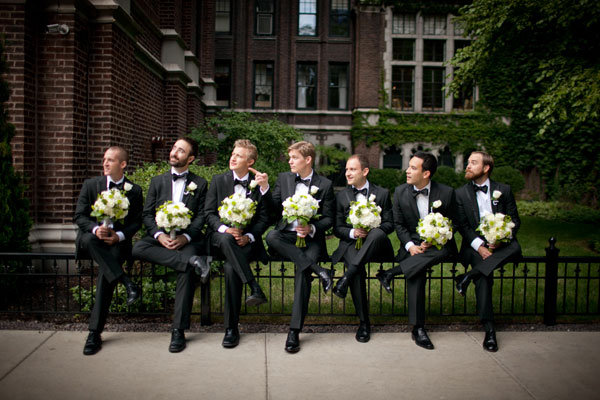 Photo Credit: Robb Davidson
This bride proudly drank the groomsmen under the table:

Photo Credit: Igo Photography
Bridal Party Shots
We love the look on the bride's face in this daring photo op: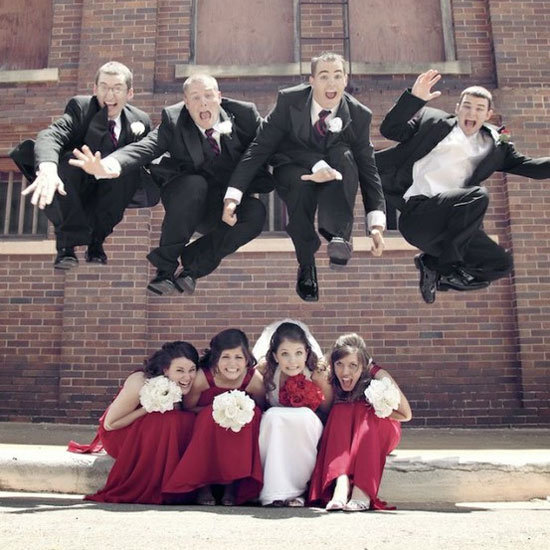 Photo Credit: Alex M. Photography
How much do you trust your groomsmen?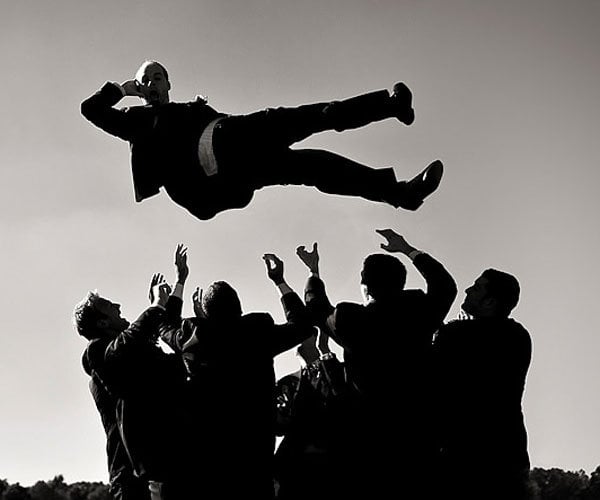 Photo Credit: Hoffer Photography
Another silly shot with the groomsmen:

Photo Credit: B&E Photographs
Do a Double-Take
No, those aren't their middle fingers: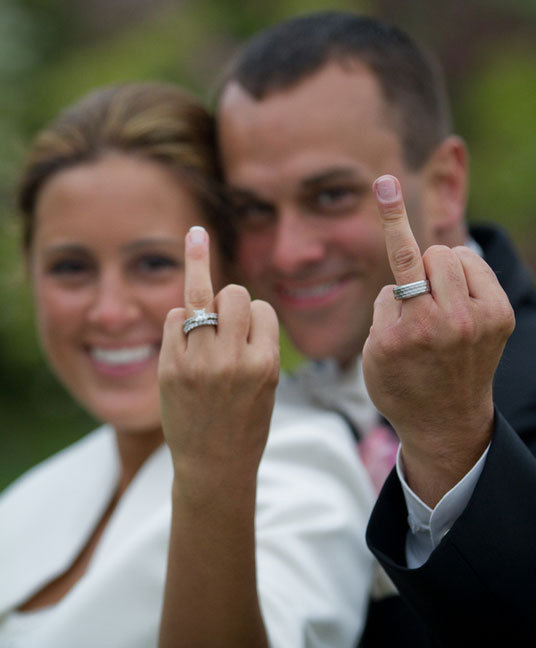 Photo Credit: Paul Retherford Wedding Photography
A super-tall bride with slacks under her gown, or a bride on her groom's shoulders? You be the judge: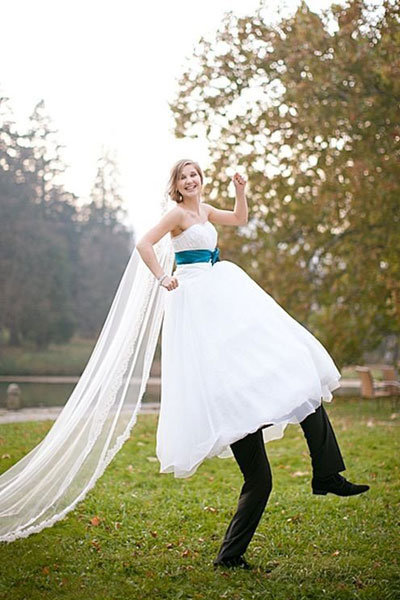 Photo via thezooom.com*
Animal Photobomb
Aren't these dolphins the cutest photobombers you've ever seen?

Photo Credit: Sarah Mac Photography
Forever Alone...
Hilarious family photo:

Photo via collegehumor.com*
Tell us: Which photo is your favorite?
—Kristen O'Gorman Klein
*Know the original source? Email us!