I'm one of those rare travelers who likes the en route part almost as much as the actual vacation. Thank goodness, since my fiancé Jason and I are planning to honeymoon in the Hawaiian islands of Maui and Kauai, which will require seven flights total. While others clutch at their armrests, I secretly love that thrilling feeling when the wheels lift off and we're airborne.
But before honeymooners can fly off into happily ever after, they need to make sure their carry-on passes the test of fitting underneath the seat in front of them or, if there's room, in the overhead bin. Who hasn't clacked their way through the airport with a brand-new bag only to realize that it's about 10 times heavier than expected, the wheels swerve wildly or it barely fits into the allotted space? Complicating matters further, different carriers have different size and weight requirements for carry-on luggage. 
In an effort to make hauling (and packing) as smooth as possible for newlyweds, we tested buzz-worthy travel gear. We put the luggage through the wringer — chucking it down flights of stairs, cramming in as many items as we could and wheeling it through the crowded streets of NYC. Here are our digital team's top picks!

Here, the author takes the Delsey Helium Shadow for a spin around the office!
20" World's Lightest IT-0-4
IT Luggage, which is based out of London, has built a reputation as a category leader in the lightweight luggage category. We tested what's being called "The World's Lightest Carry-On," which is 19 inches and weighs just 3.7 pounds. And no, that's not a typo. All of this company's products come with a 10 year warranty.
What testers have to say about it: The minimalist design is a winner — we couldn't believe how easy this was to lift over our heads, even when fully loaded! It was easy to manuever and managed cracks in the sidewalk very well.
Best for: Couples who want a lightweight luggage experience. After throwing it down the stairs three times, there were some minor scratches on the wheels and a run in the fabric.
Cost: $116. Visit itluggage.com for more info.
Genius Packer 22" Carry-On
This carry-on got kudos in our office for having nearly every compartment we could possibly imagine, including patent-pending Laundry Compression Technology™ — it comes with an exterior laundry chute and removable pouch, so you can send clothing straight to be cleaned — an umbrella slot and a zip-out toiletry kit. A mobile speaker and mini charger are also available (for $28 each). 
What testers have to say about it: "The suitcase easily fit at least two weeks worth of clothing. Plus, the suitcase still looked perfect even after being thrown off of my 2nd story deck!" said Kristen O'Gorman Klein, Bridal Guide's Web Editor.
Best for: Hyper-organized couples. It even includes a handy packing list, ensuring that you and your husband won't forget anything. On a city street, it didn't work as well on all four wheels, but it's easy to maneuver on just two. When fully loaded, the carry-on did seem a little top-heavy at times and tipped over if it wasn't positioned properly.
Cost: $198. Visit geniuspack.com for more info.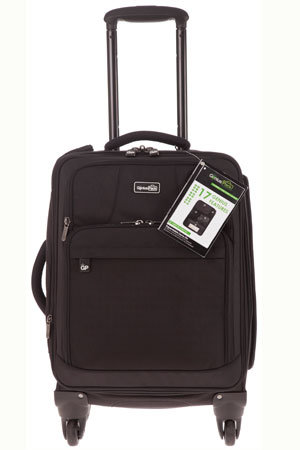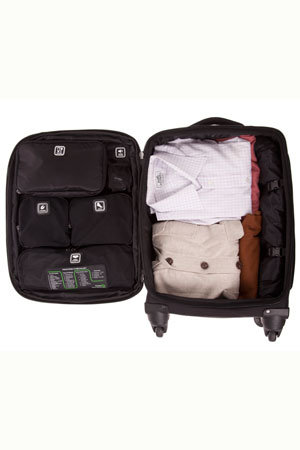 Lipault Luggage 20" 2-Wheeled Foldable Duffle
This foldable bag — the second-lightest of the bunch — is just as functional as it is eye-catching. Made from durable nylon twill fabric, it stands up to wear and tear. Newlyweds can fold up the duffle and fit it in a 4-inch storage case (which is included), preventing it from getting dusty underneath the bed or in a closet.
What testers have to say about it: Jennifer Lazarus, Bridal Guide's Website Director, brought the Lipault with her on a flight to Detroit with her two children and husband. "I would definitely buy this luggage, and I know my husband would love it, too, because it has lots of cool compartments where he could pack his various electronics — he might just want a different color," she said. (This product is available in eight different colors; couples can mix-and-match different pieces from Lipault's 0% Collection with anything from the Soft-Side or Business Collections.)
Best for: Couples who prefer a duffel bag. It easily fit into the overhead compartment of a Delta aircraft. Despite having an injured hand, Lazarus was able to easily pull this carry-on around the airport. It was so sturdy that it didn't even topple over when her 6-year-old daughter insisted on sitting on it while they waited in the security line! 
Cost: $219. Visit lipault-us.com for more info.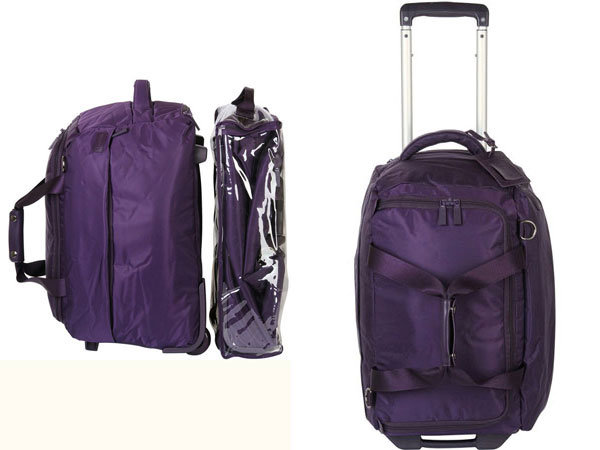 Delsey Helium Shadow 19" Carry-On
This hard-sided carry-on is made from the same material used in jet plane canopies and bullet-resistant windows, so we felt like our belongings were safe and sound while wheeling it around. This Delsey collection is the first to feature a hard-side exterior pocket, so honeymooners can easily retrieve travel documents, electronics and toiletries during their trip without having to open the main suitcase compartment.
What testers have to say about it: My fiancé loved how easy it was to adjust the handle height, and I was sold on the fashionable color — win-win! Also, the TSA-accepted combination lock that it comes with gave me an added sense of protection. This recently won a Product Innovation Award at the Travel Goods Show in Las Vegas.
Best for: Couples traveling internationally on their honeymoon. Most international airlines have a 19-inch carry-on restriction, so the Delsey Helium is a great choice. Despite its hard exterior, the case expands up to two inches, giving newlyweds that extra space they need to fit in just one more outfit (or even two or three). The luggage did have some scratches when we tossed it down concrete stairs and it's a little noisy to wheel.
Cost: $260. Visit delsey.com for more info.
Road Warrior M Series Collapsible Luggage 21" Upright
This shape-shifting carry-on only requires half the storage space compared to a standard upright. Simply use the Micro Pop technology to expand it when packing, then pull the bungee cords to shrink the body until you're ready for your next adventure with your husband. Its sleek design immediately caught coworkers' attention when they passed by my office.
What testers have to say about it: My fiancé and I were impressed by how much of his stuff he was able to fit into this luggage, including bulkier items like pants and sweaters. "We need this!" he said after throwing it down the stairs multiple times and seeing how well it absorbed damage. 
Best for: Couples with limited storage space. Don't have a garage, attic, or room where you can put this away once it's done? No problem — I loved how easy it was to pack away into its sleeve, which is included. When it's in use, the handle is very comfortable to hold and it's easy to adjust the height. At 9.3 pounds, it was the heaviest luggage that we tested.
Cost: $329. Visit roadwarriorluggage.com for more info.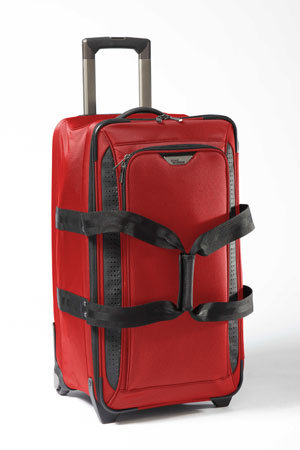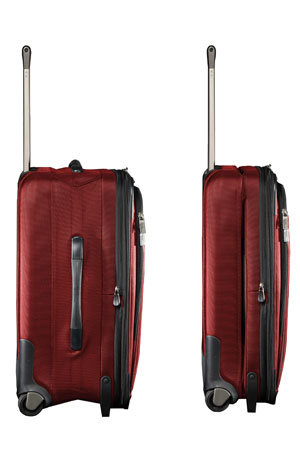 Briggs & Riley Domestic Carry-On Expandable Upright (U122CX)
This looked like a standard carry-on on the outside — until we unzipped the interior and got packing. Using its CX technology, you can expand the bag by up to 25% so that you can squeeze in as many items as possible, then press out the air so that it still fits in the overhead compartment.
What testers have to say about it: "This is the James Bond of luggage — it's sleek and sophisticated, yet it packs a punch," said Bridal Guide Marketing Assistant Noelle Gharbi. She was easily able to maneuver it through throngs of people from our office on 45th Street and 3rd Avenue to her bus stop on 44th Street and 5th Avenue.
Best for: Frequent travelers. Its ballistic nylon outer fabric resists wear and tear (it didn't scratch easily), and its low-profile wheels easily fit most overhead compartments. It also has a tri-fold garment holder that allows you to pack up to two suits — a fun plus for your husband. It was one of the heavier products we tested, but the heft is worth it for the packing potential and the construction that comes with a lifetime warranty, no questions asked.
Cost: $449. Visit briggs-riley.com for more info.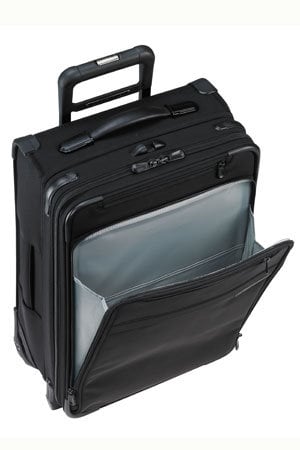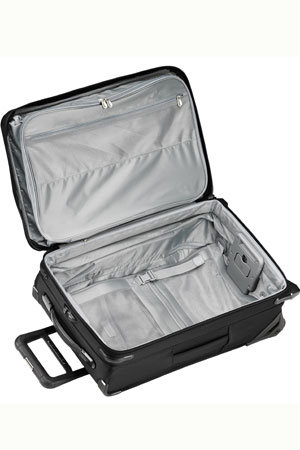 Helpful Airline Regulation Facts:
According to the Federal Aviation Administration, the maximum size for carry-ons at most airlines is 45 linear inches (the total of the height, width, and depth).
At the time of publication, Spirit Airlines was the only airline charging a fee for carry-on bags ($100).
CNN reports that American Airlines is testing a new program that may allow coach travelers without a carry-on to board the plane before other passengers in coach.
—Stefania Sainato