Nothing expresses the beauty and romance of a wedding, creates ambience and thrills the senses more than flowers. And if you're wondering what some of the hottest trends are in floral bouquets and décor we've got the answers from noted Dutch floral designer and spokesperson for Lily Occasions, Rene van Rems. Rene is not only a master at creating breathtakingly beautiful bouquets and floral décor, but he's also authored several books you might want to check out for inspiration, Rene's Bouquets for Brides and Rene's Bouquets, both available on Amazon.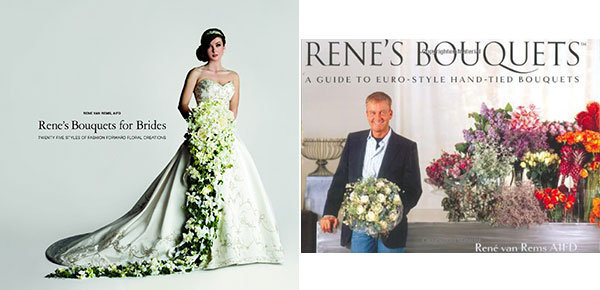 Rene has also created, exclusively for Bridal Guide, (thank you, Rene!) the bouquets pictured here to illustrate floral trends. According to Rene, "old is new again as brides fall in love with the vintage look, full of romance and history." Here, Rene's trends, tips and gorgeous bouquets:
Style Trends
The look and feel of "old world" Victorian-style bouquets is gaining momentum. This Shabby Chic trend uses many English garden flowers that appear fragile, feminine and paper-like in texture to complement today's romantic bridal gowns that are often designed in soft tulle or organza and have ultra-layered textured skirts. This slightly cascading classic bouquet features garden flowers of cream calla lilies and Asiatic lilies, asparagus plumosus and maidenhair fern. It's lush, charming and works well for bridesmaids, too.
Another fabulous option is this "Glamelia Bouquet." Gladiolus were often seen in corsages of the 1920s, and the "Glamelia" is simply a hand-crafted super gladiolus made from all the flowers on a single stem and glued together to give the bouquet a lavish, ruffled and textured look. Rene ups the romance factor by wrapping the bouquet in satin at the base and adding cascading pearls.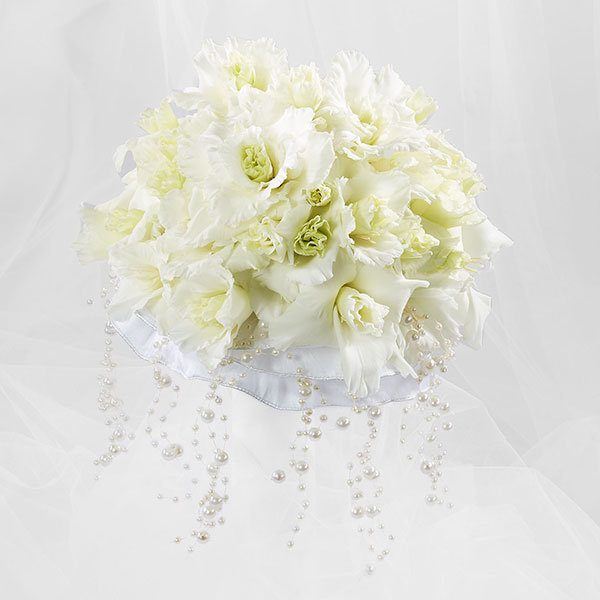 The use of fabric in the form of streaming ribbons and lace is also in vogue. Ribbon-wrapped bouquet handles are finished with flowing fabric ribbons that can extend from several inches to several feet. Lace is also popular and, according to Rene, "You might see lace in the form of knotted Dior bows in a bouquet and lace ribbon treatment on the handle."
Another hot trend is the casual, hand-tied bouquet that has more of a country look with loosely gathered flowers. This bouquet encompasses both trends with its ribbon-tied handle. Light blue Dutch iris and light green gladiolus florets are paired with small groups of green hypericum berries for added dimension.
Bling is big, says Rene. Anything reflective — like shiny pearls, rhinestones, crystals or silver wire — makes a striking statement. Blingy bouquets work well with very tailored gowns for contrast. And, if your gown is already embellished with lots of crystals and beading, Rene suggest a "mono-floral" bouquet of just one variety of open Oriental lilies like this bouquet surrounded by a collar of silver metallic wire accented with pearls and crystals. The result: a bouquet of understated elegance to complement your dazzling dress!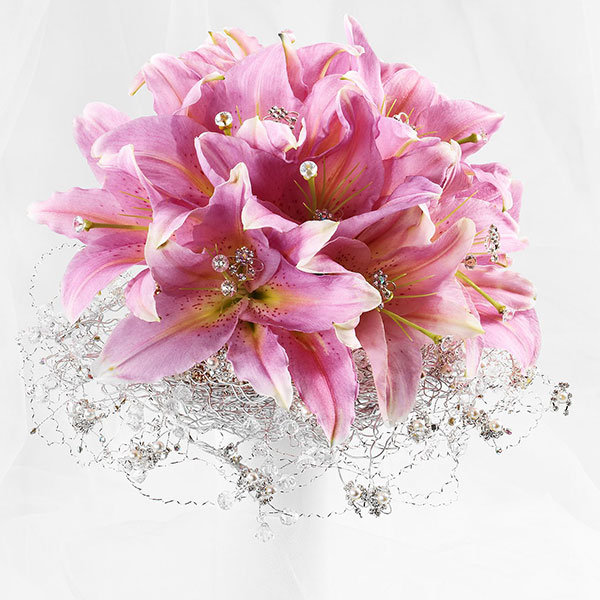 For more information, go to lilyoccasions.com and have fun deciding what flowers to feature at your wedding!
—Diane Forden