Whether you're holding your wedding near a winter holiday, like Christmas or Hanukkah, or on the actual day (New Year's Eve!), there are plenty of ways to incorporate the best of the season in your wedding day. We checked in with Sari Mintz, founder of ForYourParty.com, for some fun ways to personalize your winter wedding and bring in the festive feeling of the season. 
"Grinchmas" Kids' Party
During your cocktail hour or reception, set  up a special Grinch-themed area just for the kids! 
Serve "Green Grinch Punch," dressed up with customized stirrers.
Ingredients:
1/3 cup Imperial Sugar® / Dixie Crystals® Granulated Sugar
6 tablespoons plus 1-1/2 teaspoons water
1/3 cup evaporated milk
1/2 teaspoon almond extract
12 drops neon green food coloring
1 bottle (2 liters) lemon-lime soda, chilled
2 pints vanilla ice cream
Directions:
In a large saucepan, combine sugar and water. Cook and stir over medium heat until sugar is dissolved; remove from the heat. Stir in milk and extract.
Transfer to a bowl; cool to room temperature. Cover and refrigerate until chilled. Just before serving, transfer milk mixture to a punch bowl. Stir in the food coloring and soda. Top with scoops of ice cream. Yield: 4 quarts.
Make mint chocolate chip cookies, served atop napkins with your favorite quotes from the book. 
Have an arts & crafts area, where the kids can color in their own Grinch ornament, made from a coaster:
Fill one of these festive treat box with seasonal favorites: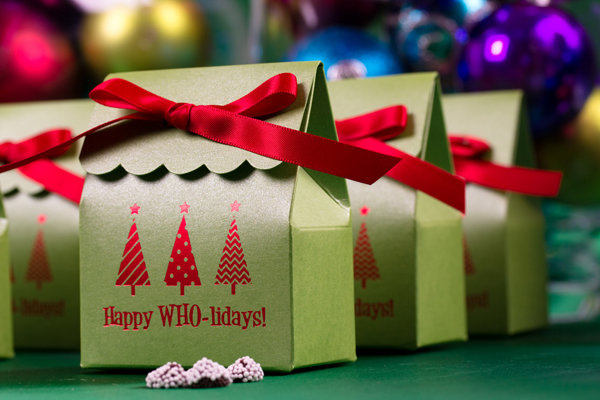 Holiday-Inspired Cocktail Hour
Eat, drink, and be merry with these tasty holiday-inspired cocktails, displayed on a custom menu card: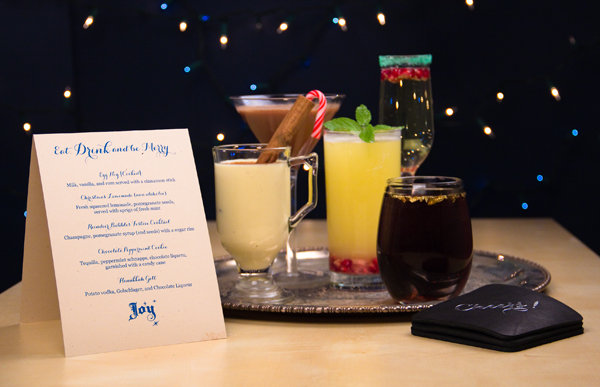 Reindeer Bubbles Festive Cocktail: Champagne, pomegranate syrup (and seeds) with a sugar rim.
Chocolate Peppermint Cookie: Tequila, peppermint schnapps, and chocolate liqueur, garnished with a candy cane. 
Serve an eggnog-inspired cocktail (milk, vanilla, and rum, served with a cinnamon stick) on a holiday napkin: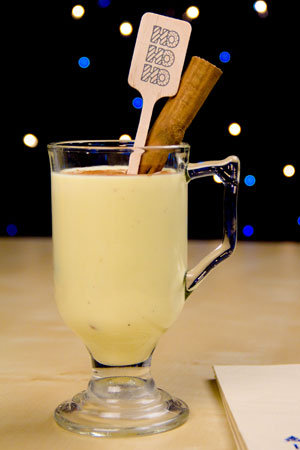 And celebrate the festival of lights with this Hanukkah Gelt cocktail: 2 parts potato vodka, 1 part Goldschlager, and a splash of chocolate liqueur, adorned with a Star of David stirrer:
And for non-drinkers, we love Christmas Lemonade: Fresh squeezed lemonade and pomegranate seeds, with sprigs of fresh mint, accessorized with a fun straw tag: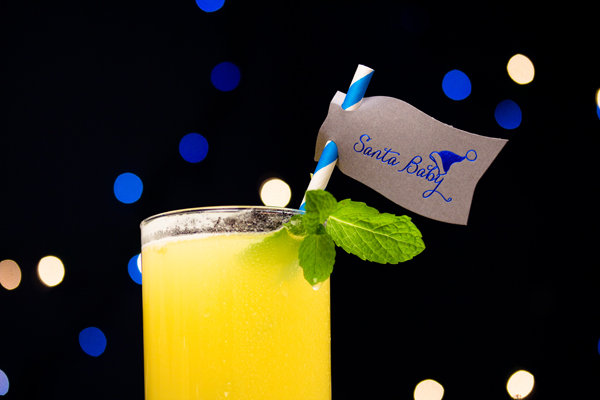 New Years Eve
Say goodbye to singledom — and 2013 — with a big NYE bash. What could be better than ringing in the new year surrounded by all of your nearest and dearest?

Photo Credit: Becky Brown Photography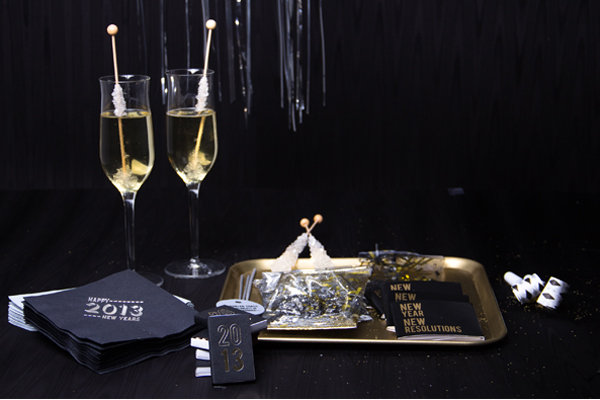 Set the tone with confetti-filled invitations, using customized cellophane bags:
Encourage your guests to write down their New Year's resolutions in a private memo pad, which they can take home with them:
What's New Years without a toast at midnight? Head outside right before the clock strikes 12 to ring in the new year with champagne and sparklers.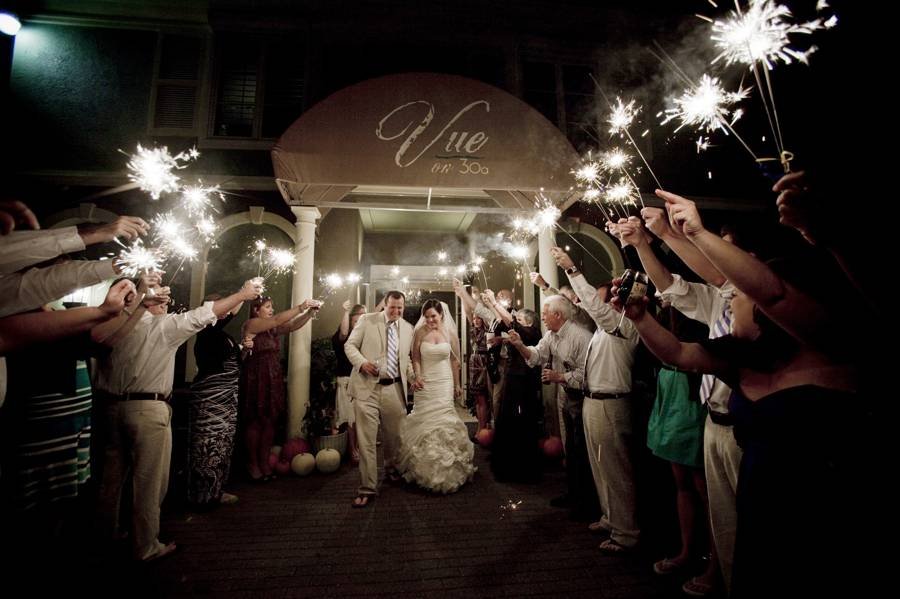 Photo Credit: Mari Darr~Welch Photography
And cap the night with a sweet, seasonal treat: a hot chocolate and coffee bar featuring holiday-flavored drinks. Top each with a doughnut hole: 
After a night of partying, your guests will really love you if you host a recovery brunch:
Start by having a "New Years Recovery Kit" sent to each hotel room, filled with bottled water, aspirin, soothing tea, rosemary-infused body scrub, and a sweet treat: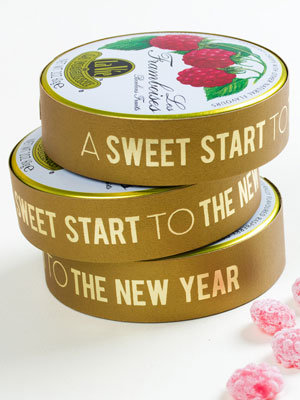 At your brunch, serve sweet and savory French toast sticks in individual serving cups, with syrup for the sweet treats and sour cream for the savory sticks. Help rehydrate your guests by serving up some Hangover Medicine; a vitamin-rich beverage, like Emergen-C. 
—Kristen O'Gorman Klein