If you're getting married in the winter, you can generally expect to receive big discounts from most of your vendors during this less-popular season. The exception — your florist. While you can save big by choosing in-season blooms, you still may not find as many budget-friendly options as spring or summer brides. Lately, we've seen many winter brides eschewing flowers altogether and choosing keepsake bouquets instead. Here, some of our favorite ideas. 
Pinecones
Using pinecones is a wonderful way to reflect the season. Add some pine branches, wheat, or flowers carved from birch to fill out the bouquet.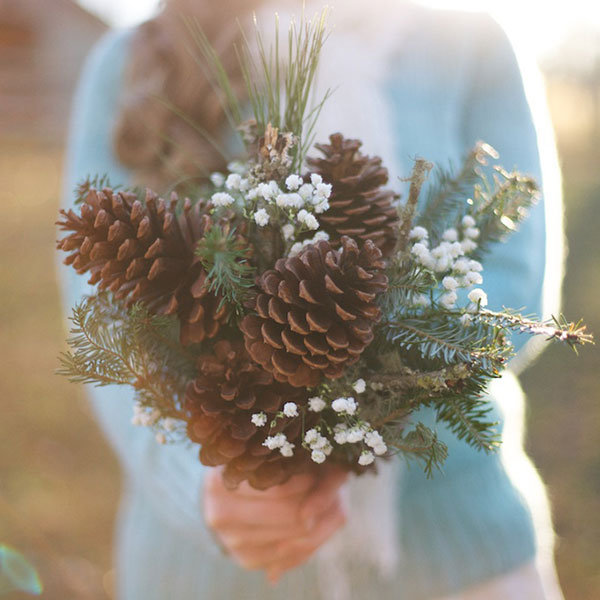 Photo Credit: Live View Studios

Photo Credit: Amber Shaw Photography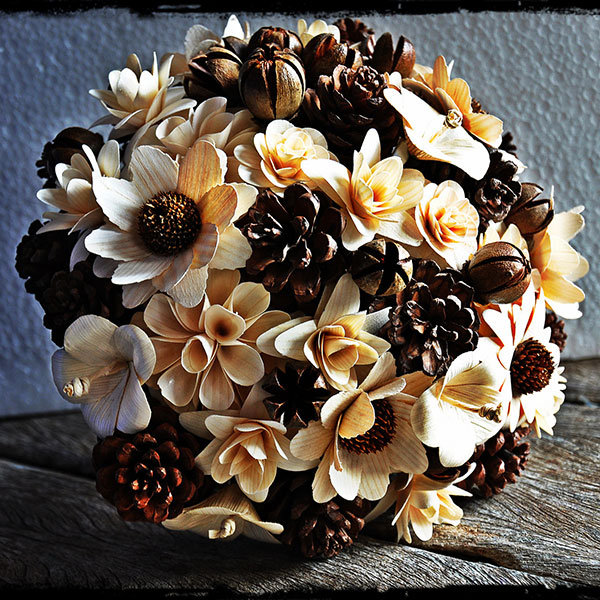 Photo Credit: Accents and Petals
Brooches
Vintage brooches look so lovely when gathered into a bouquet. 

Photo Credit: FlowerDecoration/Etsy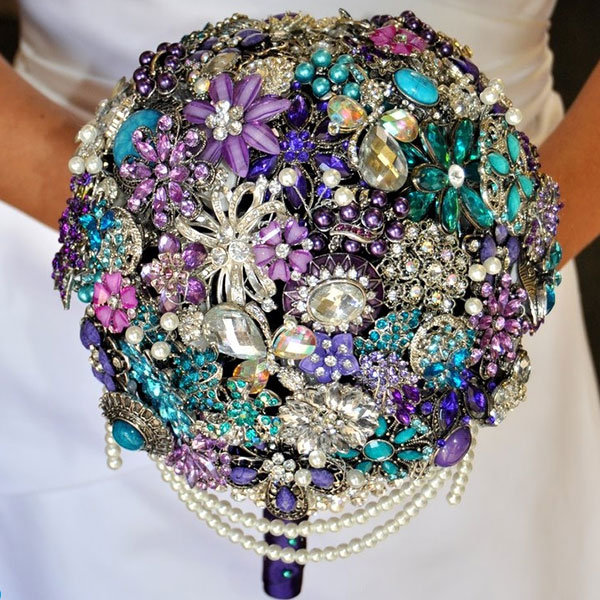 Photo Credit: Blue Petyl via Lover.ly
Beads
Get the look of a brooch bouquet for less by using beads instead. 

Photo Credit: Bridal Bouquets by Ky/Etsy
Crystals
Strands of crystal resembling icicles are a perfect fit a winter wonderland wedding. 

Photo Credit: PrismBouquets/Etsy
Pearls
String together pretty pearls in a single hue. 

Photo Credit: HawthorneHill/Etsy
Buttons
Mix buttons with fabric flowers, pearls, and brooches for a more sophisticated take on a button bouquet. 

Photo Credit: Chasing Rubies/Etsy
Ornaments
Perfect for a holiday wedding, this ornament bouquet is a cinch to make. 

Photo Credit: Etsy
Book Pages
Create paper flowers from your favorite love story for a special keepsake. 

Photo Credit: Diddlebug/Etsy
Feathers
Feathers give off a wonderfully retro vibe. 

Photo Credit: Belathée Photography

Photo Credit: Serendipity by Suzanne/Etsy
Fabric
Dreaming of a peony bouquet? We love this vintage-inspired fabric version. 

Photo Credit: Cultivar/Etsy
Tell us: Would you consider a non-floral bouquet?
—Kristen O'Gorman Klein