Mary here, filling in for Diane. Our fearless editor-in-chief was in Fiji this week—Fiji!—so I was lucky enough to take her place as a guest at Joan Rivers' New York City apartment. Yep, Joan Rivers, whom I worship. (If you haven't seen it already, be sure to watch the documentary film Joan Rivers: A Piece of Work.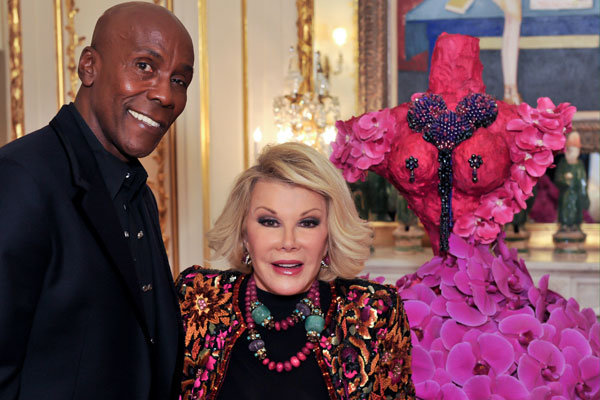 Preston Bailey and Joan Rivers at the party.
Joan's party celebrated the launch of Preston Bailey: Flowers (Rizzoli) his fabulous new book. A true floral couturier, Preston designed Melissa Rivers' 1998 nuptials at The Plaza in NYC—a tour de force of a winter wedding that ushered in the era of lush celebrity fêtes. (Preston's clients also include Oprah Winfrey, Matt Lauer, Catherine Zeta-Jones, Jennifer Hudson and Ivanka Trump.) If you want to see extraordinary imagination brought to life via flowers, lighting and décor, start with this book—you're sure to find wedding inspiration within its pages.
Guests received a signed copy of Preston's book.
Champagne, white wine and Pellegrino flowed all evening, and there was an endless supply of delectable mini hors d'oeuvres: think teeny-tiny salmon Napoleons, pigs-in-a-blanket and mini quesadillas. Totally yum. There were flowers everywhere, of course, including glamorous and surreal orchid topiaries. And Joan's apartment is to die for, with its double-height drawing rooms, faux-finish ceilings of blue sky and clouds, and warm gilt touches everywhere. And did I mention the lighting? Everyone's skin appeared radiant. The room glowed.
When Joan found out I was with Bridal Guide, she made sure to introduce me to her niece, who is getting married in June. "Please tell her she doesn't need to have 400 guests at her wedding," Joan pleaded. I'm not sure if she was serious or not. Either way, I'm sending our latest issue to both Joan and her niece (along with a thank-you note for the fantastic evening).
Visit prestonbailey.com for more information.
All photos courtesy of John Labbe
—Mary Clarke, executive editor