We've seen a lot of weddings lately that incorporate photos into the table number cards — typically showing the bride and/or groom at the same age as the number of the table or incorporating photos from the engagement session.
Here's a creative idea that takes it up a notch: Have a photo shoot with your fiancé holding up a sign with each number! Alison and Brian, pictured below, did a different fun pose for each of their 17 tables while holding up the number on a chalkboard.
You can work this into your engagement session so that you don't have to book (and pay for) an extra shoot. Or just have a talented friend or family member take the photos. Alison's sister Jill snapped the great photos below one afternoon in her backyard and a nearby park. The couple had a few ideas in mind before heading out, but most of the poses were improvised while shooting.  "Brian wanted some to be funny, so we made sure to just have fun with it and act as natural as possible," said Alison.
Then, print out your photos and glue onto card stock. Don't be surprised if you catch your guests roaming around the room to check out all of the pictures!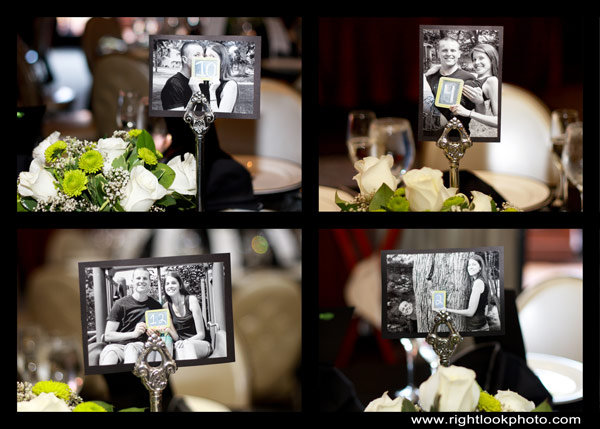 —Kristen O'Gorman Klein