Hoping for a ring under the Christmas tree this year? Then you're going to want your nails to look fabulous — all eyes will go directly to your left hand when you tell them the happy news!
Here, nail expert and Custom Nail Solutions president Katie Saxton shares the hottest nail trends for the holiday season and how to get the look at home:
1. Seasonal Sideways French Mani
Saxton predicts that sideways French manis will be the hottest nail trend of 2013; be ahead of the curve with a holiday-inspired look. Paint your nails green and let dry. Then paint a vertical stripe of red polish along one side of each nail. Let dry, then add a clear topcoat to each nail. 
2. Holiday Crackle
This fun and festive holiday effect is a cinch: Paint each nail red and let dry. Then, add one coat of a green "crackle" polish over each nail, which allows the red to peek through the cracks when it dries. 
3. Festive Foil Nails
Reflect the beautifully-wrapped gifts under the tree with shiny foil-wrapped nails. First, order holiday-inspired nail foils online (Saxton recommends dollarnailart.com). You'll also need nail glue and a clear topcoat. Apply a coat of nail glue to your nail and let it dry for 30 seconds to one minute. Then, press the foil down. Run a cotton swab over the foil so it sticks, then peel off the clear backing. Repeat these steps for the rest of your nails. Seal each nail with a coat of clear polish.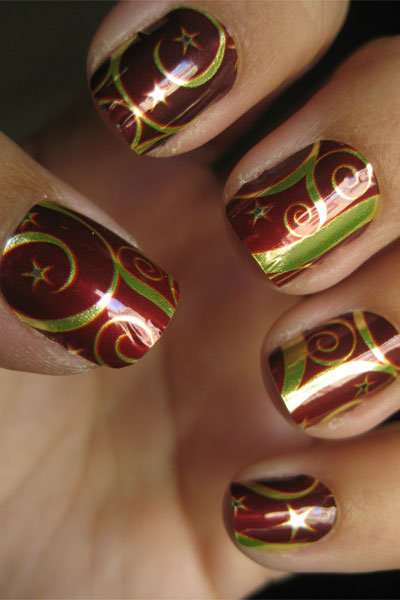 Photo Credit: Goose's Glitter
4. Candy Cane Nails
Candy canes are a classic choice for the holidays. Get the look on your nails in a few simple steps: Paint your nails white and let dry. Then, using a red nail polish pen, paint parallel lines in different widths across each nail. To jazz it up even more, use a silver nail polish pen to add thin, shimmering silver lines between the stripes.
5. Festive Holiday Colors
You can't go wrong with red or green polish! A classic red gives you a pulled-together look while still reflecting the holiday season. And green is a fun choice that celebrates holiday staples, like holly leaves and Christmas trees. Also hot for winter: cranberry hues.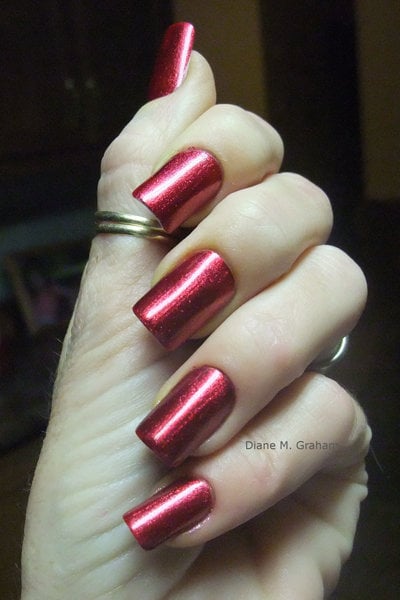 6. Gold Nail Polish
A perfect way to show off your engagement ring: Reflect your ring's white gold or yellow gold on your nails!
7. Dark Nails
Black, navy blue, and espresso are all popular colors for the cold-weather months. Jazz it up with a stripe of pink.
8. Sweater Nails
Winter is all about cozy sweaters! Paint your nails with a topcoat, then sprinkle flocking powder in the color of your choice on each nail. Gently tap each nail to make the flocking powder stick.
9. Holiday Caviar Nails
One of the biggest nail crazes right now is a caviar-inspired manicure. For a New Years bash, create a sparkling black version of this trendy look. You'll need black nail polish and a jar of black microbeads. Paint your nails with a coat of black polish and let dry. Add one more coat of black to each nail and, while tbhe polish is still wet, hold your hand over a tray and pour the black microbeads onto each nail.  Gently pat the microbeads so they stick to the wet polish and let dry.
10. Metallic Nail Polish
Metallic isn't limited to just gold, silver, and bronze; you can find metallic versions of all your favorite shades!
Tell us: Will you be trying any of these trends this holiday season?
—Kristen O'Gorman Klein