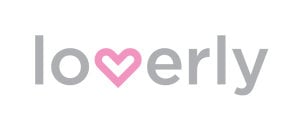 Loverly is the heart of weddings: a visual inspiration search engine designed to help brides discover ideas, people to hire, and things to buy. Loverly makes finding beautiful wedding inspiration easier than ever! Their images are powered by the best wedding publishers and wedding shopping partners on the web. Find Bridal Guide on Loverly >>
Looking for something a little more fun and quirky to decorate with than traditional flowers? Ditch florals for fruits and vegetables, or pair farm-fresh produce with simple stems to create your perfect match. For a bold purple and lavender palette, feature vibrant eggplant varieties along your tables, or kick your summertime décor up a notch with potted lemon trees lining your outdoor ceremony and reception. There are so many ways to use nature's delicacies in your décor. Here are a few of our favorite ways to bring the farm stand right to your table.
1. Begin your nature-inspired theme with the perfect set of invitations.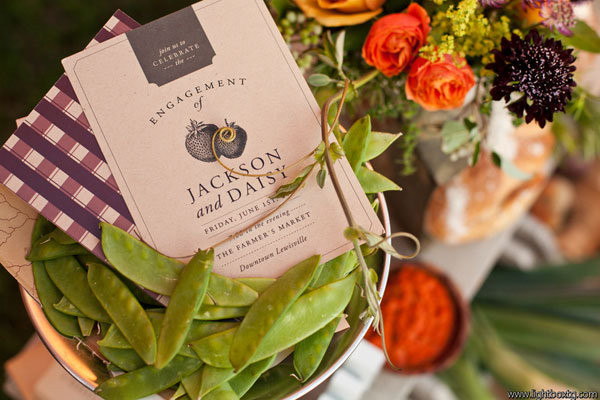 Photo Credit: Lightbox Photography on Jen Rios Design via Lover.ly
Invite your guests in style with the perfect wedding stationery >>
2. We love creative place cards, especially when they serve double duty.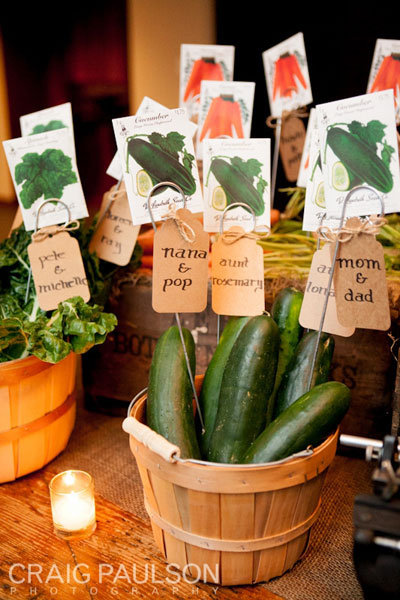 Photo Credit: Craig Paulson Photography on Craig Paulson Photography via Lover.ly
Unique escort and place cards >>
3. We love this fresh inspired bridal bouquet, especially the vibrant pomegranate!

Photo Credit: Meghan Christine Photography on Wedding Chicks via Lover.ly
Bouquet ideas from real brides >>
4. Artichokes, rosemary, and sage play nicely together to make a fresh green color palette.

Photo Credit: Jasmine Star on Inspired By This via Lover.ly
Springtime wedding inspiration >>
5. Line your tables with vegetables full of color, like artichokes and eggplants.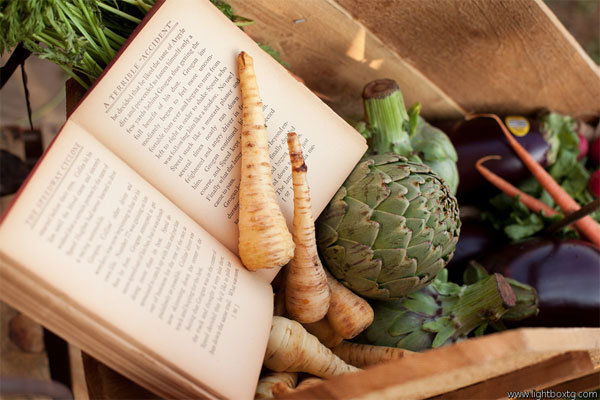 Photo Credit: Lightbox Photography on Jen Rios Design via Lover.ly
Fall centerpiece inspiration >>
6. Bring your summertime décor to life with cheerful lemons.

Photo Credit: Tiny Water Photography on Inspired By This via Lover.ly
Make lemonade! Lemon inspired décor >>
7. Pair a bold colored fruit — like grapes — with simple white stems.

Photo Credit: Jackie Ray Photography on Every Last Detail via Lover.ly
Our favorite winery weddings >>
8. Add budget-friendly sprigs and berries to simple table decorations.

Photo Credit: Megan Hartley Photography on Inspired By This via Lover.ly
Farm fresh reception details >>
9. Feature varieties of fresh fruit and vegetables that match your color scheme, like mint green paired with succulents.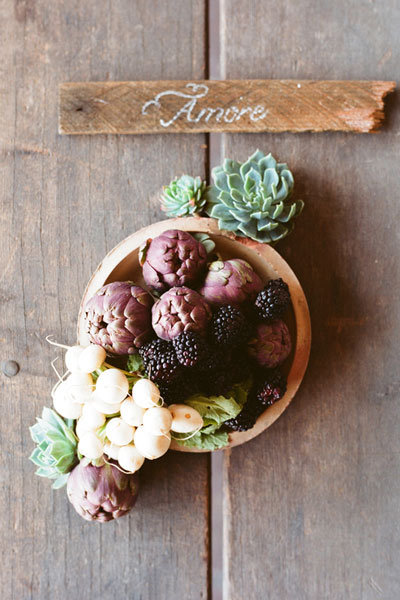 Photo Credit: Elizabeth Messina on Kiss The Groom via Lover.ly
More ideas for decorating with vegetables >>
10. Adorn the tiers of your wedding cake with simple, seasonal fruit.

Photo Credit: Millie Holloman on Snippet & Ink via Lover.ly
—Kellee Khalil