Guest blogger: Emma Arendoski, founder and CEO of Emmaline Bride, The Wedding Guide for the Handmade Bride, a website dedicated to all things handmade for weddings. Launched in 2009, the site has grown into the leading online voice for handmade weddings. Emma's mission is to empower her readers to support handmade through the use of handcrafted wedding items for all parts of the wedding planning process.
Here, she shares an excerpt from her first book, The Handcrafted Wedding: More Than 300 Fun and Imaginative Handcrafted Ways to Personalize Your Wedding Day (Sellers Publishing, October 2012).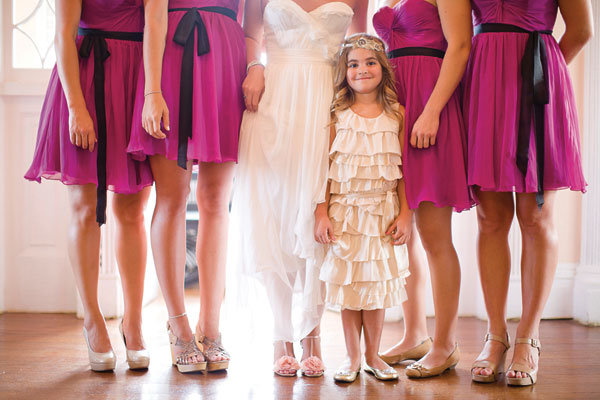 Photo Credit: © 2012 Eric Boneske Photography
The flower girl's traditional role — besides looking adorable, naturally — is to toss flower petals down the aisle. I say, baskets with petals have held the spotlight for long enough; it's time to twist tradition a bit with alternatives the flower girl can carry.
Jack-o'-Lantern
For a fall or Halloween-inspired wedding, have your flower girl carry a small pumpkin or carved jack-o'-lantern down the aisle. Use an LED candle for safety. Keep the pumpkin its natural color, or add a coat of metallic or glitter spray paint. Autumn leaves made of paper can become the new "rose petals."
Farm-Inspired Basket
I live in a small town where peaches are a big deal. And, when I say a big deal, I mean there's an entire week dedicated to a festival of peaches. If you're planning a homespun woodland- or farmland-inspired wedding, feature homegrown foods by using bushels of fresh fruit throughout your décor. For the flower girl, fill a small basket with a few peaches, corn husks, or apples in lieu of flowers, with the emphasis placed on items that are light enough for her to carry comfortably down the aisle.
Lantern
Have your flower girl carry a lightweight lantern, with a battery-operated light instead of a candle. Add colorful fillers like hot-pink sand, a few gemstones, or seashells. Let her lead the way down the aisle with light rather than petals.
Wand
A flower-girl wand will make her feel like a princess. Create a wand by wrapping ribbon in any shade you like around a wooden dowel, hot gluing it as you wrap. Once you reach the end, glue a few ribbons to the top, making sure the strips are long enough for your flower girl to twirl.
A Love Note
Before the ceremony, write a short love note for your groom; fold it in half and have the flower girl carry it down the aisle to the groom.

Photo Credit: © 2012 Eric Boneske Photography
Sentimental Symbols
Have your flower girl help you share your love story. For instance, if you met your husband in high school, she can carry your school yearbook down the aisle.
If your groom is a talented guitarist, he may wish to play a song as part of your wedding ceremony. Your flower girl could carry the guitar pick or sheet music down the aisle.
The Vows
Instead of tucking your vows in a pocket, place them in a box and have your flower girl carry it down the aisle. The box can become a keepsake to house your vows after the wedding.
Announce the Bride's Arrival
Have your flower girl walk down the aisle, holding a banner or sign that says, "Here Comes the Bride." This idea is charming, sentimental, and functional, all rolled into one.

Photo Credit: © 2012 Thomas Gardella for Michelle Gardella Photography
The Train
Your flower girl can help the maid of honor carry your train down the aisle. Walk very slowly so she can keep up. Once you get to the end of the aisle, have her place the train gently on the ground (and provide plenty of practice at rehearsal so she's confident). This idea reminds me of planning my own wedding. When I was trying on wedding dresses, I stood on a dress pedestal — the kind with mirrors all around — to show my mom how the train looked. Without any hesitation, a flower girl from another bridal party walked over to admire the gown, reached down, and fluffed the dress out. She looked up and smiled at me ever so sweetly!
For more great ideas, check out The Handcrafted Wedding: More Than 300 Fun and Imaginative Handcrafted Ways to Personalize Your Wedding Day (Sellers Publishing, October 2012).