In honor of the highly-anticipated nuptials of Liz Lemon (Tina Fey) and Criss Chross (James Marsden) on 30 Rock, we're taking a trip down memory lane at some of our favorite TV wedding episodes. Grab some Cheesy Blasters (Liz's favorite snack) and enjoy!
1. General Hospital: Luke and Laura
On November 16, 1981, 30 million guests tuned in to watch the most iconic TV wedding of all time. Luke and Laura were married in a gorgeous outdoor reception, but what made their big day special was the love that radiated from the fictional couple. But what would a soap opera be without a little drama and suspense? The evil Helena Cassadine (who was lurking nearby) cast a curse upon their relationship, setting the stage for a tumultuous future.
2. Boy Meets World: Topanga and Cory
Ever since they met on the monkeybars as kids, Topanga and Cory knew they were destined to be together. Their long-awaited nuptials were held in a high-end hotel thanks to the ill-advised plan that Cory's brother, Eric, had concocted. Eric's scheme goes awry when the real Mr. Peterman (father of the bride) shows up, abruptly ending the festivities. Meanwhile, Topanga and Cory are enjoying the honeymoon suite when the police barge in and arrest the unknowing couple.
P.S. We couldn't be more excited to catch up with one of our favorite couples and meet their daughter in the new spin-off series Girl Meets World!



3. One Tree Hill: Haley and Nathan
Nayley showed fans the true meaning of "always and forever" when they got married for a second time in at the end of season three. Haley and Nathan's relationship had its fair share of ups and downs—the wedding was no different. Haley's ceremony was straight out of a fairytale (complete with a horse-drawn carriage), but when it came time for the reception, a drunken Rachel caused a scene and stole the happy couple's getaway car. The episode ended with three lives (including Nathan's) hanging in the balance after the stolen limo flew off a bridge into the water.


4. The Office: Pam and Jim
Pam and Jim's wedding day was equal parts quirky, hilarious, and heartwarming, just like their relationship. They outsmart everyone by sneaking off and having a private ceremony on the Maid of the Mist at Niagara Falls. After technically getting married, they felt less pressure at the public ceremony with loved ones, and were able to truly enjoy themselves. Pam and Jim weren't even upset that their coworkers broke their promise and performed the comical "JK Wedding Entrance Dance." 



5. Beverly Hills 90210: Donna and David
On-again-off-again couple Donna and David finally tied the knot in the last episode of the ten-year series.  The wedding didn't disappoint: Donna looked stunning in her gown (although for the record, we did not approve of the dog collar-like choker) and their vows were flawless. David even teared up—we love a groom that isn't afraid to get a little weepy in public!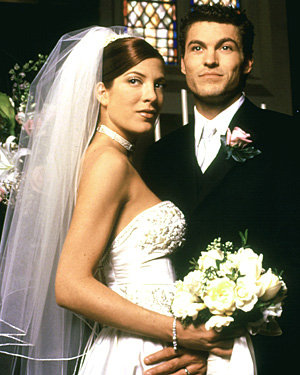 6. Friends: Phoebe and Mike
Phoebe and Mike stole the hearts of fans as the most eccentric couple on the hit show. When their big day arrived, a massive blizzard hit New York, threatening to cancel the wedding. The priest got snowed in, so Joey stepped in as minister and the ceremony took place on the street outside of Central Perk, the gang's quintessential coffee spot. All of the "friends" played a part in the wedding: Monica served as maid of honor and wedding planner, Rachel was a bridesmaid, Ross carried Mike's dog (a "groomsman") down the aisle, and Chandler gave Phoebe away. Our favorite moment: Just before stepping outside in her gown, Chandler commented how Phoebe would be freezing. She responded, "I don't care, I'll be my something blue!"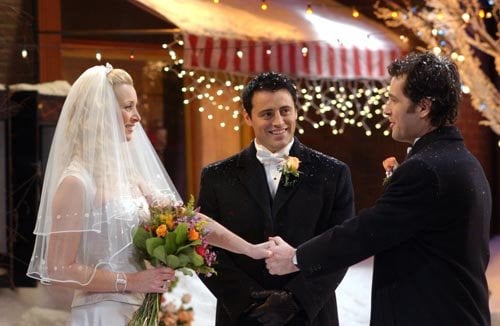 Watch a clip from the beautiful ceremony here!
7. Grey's Anatomy: Izzie and Alex
Cancer-stricken, Izzie puts her heart and soul into planning Meredith and Derek's (aka "McDreamy") big day. In a surprise twist, she becomes the bride in white, living out the wedding of her dreams to handsome Alex Karev. At the ultra-romantic ceremony, the church was bedecked with flowers and candles everywhere the eye could see. It was also a tearjerker: George stepped in to walk a fragile Izzie up the aisle, Alex's vows were uncharacteristically sweet, and their first kiss as husband and wife was triumphant.


8. Everybody Loves Raymond: Amy and Robert
This quirky couple gets our vote for the best first dance in a TV wedding. Amy and Robert's comical rendition of Elvis Pressley's "A Little Less Conversation" had us in stitches. Up until that point, their wedding had been a total disaster and their guests looked disengaged. Robert and Amy finally let their true personalities shine through when they stepped on the dance floor—fans loved every minute of it.  
9. Sex and the City: Charlotte and Harry
At first glance, the Episcopalian princess and her Jewish divorce attorney were an unlikely match, but Charlotte and Harry proved to be perfect for one another. Despite being turned off by some of Harry's quirks, Charlotte is ultimately swayed by his humor and kindness; so much so that she even converts to Judaism for him. Their traditional Jewish wedding is a nightmare: Wine spilt on her dress, they have trouble breaking the glass, and the best man gives a drunken toast. Despite these setbacks, the couple maintained a positive outlook, saying that, "The worse the wedding, the better the marriage."


10. Full House: Becky and Jesse
"The King" impersonator and his Wake Up San Francisco sweetheart almost didn't make it to the altar in 1991. Jesse decided he should do one last irrational thing before settling down, so naturally, he chose skydiving. His last "adventure" didn't go as planned—he wound up getting stuck in a tree and was arrested. Becky borrowed the choir's school bus to bring Jesse back to the church while Joey and Danny stalled by holding a sing-along with the guests. Miraculously, they arrive in one piece, and the groom serenades his bride with a beautiful rendition of 'Forever' by the Beach Boys.


11. The Brady Bunch: Carol and Mike
One of the most famous TV families of all time began on September 26, 1969 when Carol and Mike Brady wed in a classic '60s ceremony. The bride was glowing in a sunny yellow buttondown dress with bow details. Carol's three daughters and Mike's three sons made up the adorable bridal party. It was all smooth sailing until the couple's first kiss, when Mike's dog and Carol's cat start fighting and chaos ensues. The episode ends with the bride and groom laughing and kissing after being covered in cake. That's how they became the Brady Bunch!
12. Brothers and Sisters: Kevin and Scotty
Kevin's mother Nora hosted the wedding, and in her typical over-the-top fashion, covered the whole house with flowers. Kitty officiated the ceremony and recounted the precious story of Kevin's "first wedding" when they were children. She dressed up as a bride, he as a groom, and Mr. Bear married them. Since the couple forgot to bring the rings, Robert and Tommy generously offered to let them borrow theirs. The same-sex wedding was personal and intimate, making it a fan favorite.
13. Happy Days: Joanie and Chachi
In the final episode of the beloved sitcom, two of our favorite characters, Joanie and Chachi, finally tie the knot. Chachi had been chasing after "shortcake" for years before she finally agreed to be his wife. The lovely backyard ceremony had a few humorous touches, like when Richie and Lori arrived late and walked down the aisle after march began. Joanie and Chachi's love story resonated with so many Happy Days fans that they were given their own spin-off, Joanie Loves Chachi.


14. Glee: Carol and Burt
As to be expected, this wedding was a harmonious celebration filled with fun music. The Glee cast even put their own spin on the "The JK Wedding Entrance Dance," mentioned above, replacing Chris Brown's "Forever" with "Marry You'" by Bruno Mars. The couple's vows were very touching; you could tell they truly loved each other and their kids.

15. How I Met Your Mother: Lily and Marshall
Everything seemed to be going wrong for Lily and Marshall on their wedding day, and it almost led them to call off the whole thing. Lily's troubles included an appearance from a desperate ex, a ruined veil, and a harpist going into labor. Marshall's problem was much more noticeable; in a feeble attempt to cover up a bad dye job, he shaved a patch of hair off his head! In the end, the couple ended up having Barney officiate the ceremony they always dreamed of in the park, and the groundskeeper provided a "something borrowed" fedora to cover up Marshall's hair nightmare.


—Mary Gillen