Technology is everywhere: At home, at work... and even on our dates? Mike Duerksen proved that to be true as he live-tweeted his 12-hour marriage proposal, consisting of eight dates on Friday the 13th, while hundreds of Twitter fans followed along.
The day before the proposal, Mike let Twitter followers know what he was planning (his girlfriend doesn't use Twitter) and invited them to follow him with the hashtag #MikeProposes. The next day, he led his girlfriend—and the Twitter world—on a whirlwind romance to eight different locations, each with a special meaning.  

He kept his followers in the loop with tweets and instagram photos from each place.
"Wishing best of luck to @mikeduerksen today! #MikeProposes is such a cool idea!" tweeted @MClinton007.
"@mikeduerksen #mikeproposes I'm not one for total mush but this is freaking adorable. Setting the standards high for all the guys out there!" @_dianer tweeted. 
Mike kept his followers updated every step of the way, even if his girlfriend may have disliked it.
Even though it was a twelve-hour event, followers kept their tabs on it throughout the day. "Seriously this #mikeproposes has my undivided Twitter attention today," tweeted @iMakeupGirl.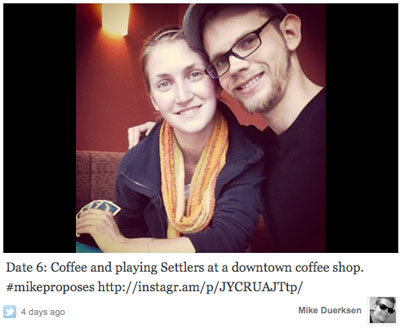 Finally, date number eight rolled around, and anticipation grew as fans waited to see what Mike had in store. The intended grand finale of a bonfire had to be adapted because of the rain, but Mike had a backup plan:

The tension of what her answer would be kept followers on edge. "I'm glued to freaking Twitter like it's a soap. I'm grabbing the kleenex. #MikeProposes," tweeted @nicolebarry204. "Don't know who @mikeduerksen is, but he's live-tweeting his marriage proposal & I'm not leaving the couch until she says yes.

What do you think about live-tweeting a proposal?
—Christina Hedges