A blushing bride explores the brave new world of high-tech skincare.
By: Natasha Wolff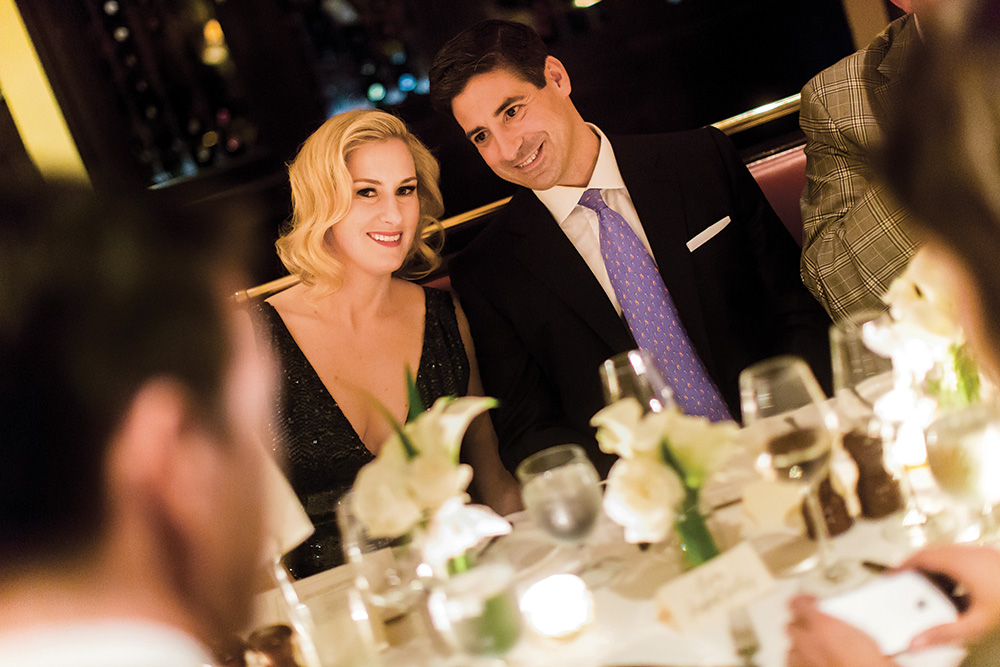 Photo Credit: Scott Rudd Photography
When my wedding-dress designer, Francisco Costa, first suggested he might make me a dress that showed off a lot of skin, I was nervous. I have keratosis pilaris, the condition that causes aggravating red bumps on the upper arms, and I'm not prone to exposing them ever, let alone on the big day. But when a designer who's created custom gowns for the likes of Rihanna and Jennifer Lawrence tells you he thinks an Art Deco look would work well with your body type, you don't second-guess him — you go with it. Fast-forward to my first fitting of the stunningly bare, deep-V'ed gown, and I knew I'd need to call in the big guns to get my skin under control. A beauty-savvy friend recommended I meet with Jeannel Astarita, the brains behind medi-spa Just Ageless in New York City. Not only was I concerned about my bumpy arms, I told Astarita, I was worried about facial rosacea, as well as the tendency for my neck and chest to get flushed in high-drama situations. What could we accomplish in the three months before my wedding?
Astarita suggested we kick off the treatment that day with a SilkPeel Dermalinfusion facial, a process that employs a pore-perfecting wand that exfoliates, vacuums and infuses customized serums into the skin all in one go. In my case, the serum of choice was a combo of salicylic acid, vitamin C and hyaluronic acid. Future appointments would focus on my blotchy, red complexion, which could be treated with flashes of Intense Pulsed Light (IPL), a light-based treatment that targets and eradicates red and/or brown spots. Astarita explained that IPL would also improve the red, bumpy skin on the backs of my arms, especially if coupled with exfoliating glycolic-acid-based products. I was thrilled to learn that with this three-tiered regimen — SilkPeel, IPL and Glytone Exfoliating Body Wash and Body Lotion, I could feel totally comfortable in the dress I loved. (IPL costs vary widely, averaging $300-500 per treatment area; SilkPeel averages $175 per treatment.)
I can't say the IPL sessions that followed were as pleasant as the SilkPeel — the process feels like hot rubber bands snapping against your skin and can leave you feeling slightly sunburned. Since we were beginning late — Astarita recommends that brides see her starting six months out, not three months, like me — we decided on an extra-long two-hour initial IPL treatment (face, chest, arms) that resulted in a week of slight facial swelling and puffiness. My arms were red and stripy, and for two weeks I hid under long- sleeve shirts. But as my skin became more accustomed to the procedure, there was less post-treatment reaction — especially on my face.
By the time November rolled around, after undergoing a total of two SilkPeels and three IPL treatments over three months, the rough patches on my arms were very much improved, and my face was looking pleasingly porcelain. We finished with a final SilkPeel on my face and arms two weeks before the wedding. On my wedding day, I felt confident and comfortable in my skin and excited to show it off in my slinky deep-V gown. My complexion was in such good shape that I needed the merest touch of foundation. Best of all, the silky, smooth skin I'd always wanted has lasted in the months since I got married — I definitely plan on continuing with the IPL if needed and getting regular SilkPeels to maintain my glow.
Notes from the Bridal Glam Squad
"Rosacea and blotchy, uneven skin with frequent flushing is something most brides don't realize can be easily corrected with IPL," says aesthetician Jeannel Astarita. "Sun-damaged skin and brown spots are easily corrected with light-based treatments, but so are acne scars, enlarged pores and fine wrinkles. After IPL, Natasha's skin was clear, smooth and more firm with tighter pores and an even tone."
"Natasha's skin looked great, so all I needed to do was prep it with extra hydration for a glow-y effect, and use a blend of Laura Mercier Radiance Foundation Primer with Giorgio Armani's Luminous Silk Foundation for super-light coverage," says brow expert and make- up artist Soul Lee, founder of the Beautiful Soul studio in NYC. "It was a pretty, minimal look, enough to keep her skin glowing and dewy throughout the evening."
"With her golden-blonde hair and sequined gown, my mind instantly went to the 1920s," says Annie Rush, senior stylist at the Marie Robinson Salon in NYC. "It was important that the look was timeless and contemporary but not at all costume-y, so I created a full-blown, glamorous finger wave on Natasha's classic bob. The style played up the bride's jawline and beautiful skin. It was the perfect look for a sophisticated New York evening wedding."