A trainer's shape-up strategies for every wedding dress style, from strapless to backless and beyond.
By: Bonne Marcus
Strapless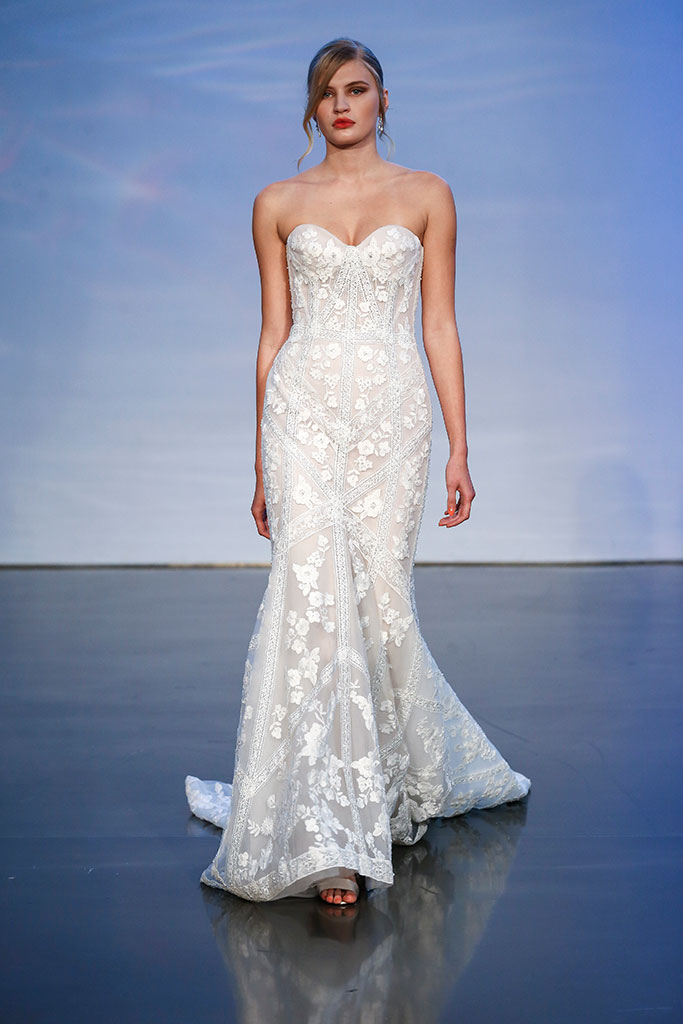 Gown by Justin Alexander Signature
The goal: Give rise to the bustline and tone the arms and shoulders à la FLOTUS.
Key moves: With a variety of hand positions from close to wide grip, nothing beats the push-up. Yoga moves like downward dog and side arm balances will strengthen and define the arms and shoulders. Hitting the heavy bag with jabs, crosses and upper cuts is another great way to tone the arms.
Good to know: What's key to standing out in style is your posture. If your neck and back muscles are tight, your head will angle forward. If your shoulders and chest are too tight, your shoulders will round inward. Imagine how that would look in your strapless gown? Not very flattering! Adding a regular stretching routine to your workouts will have you standing tall and walking gracefully down the aisle.
Mermaid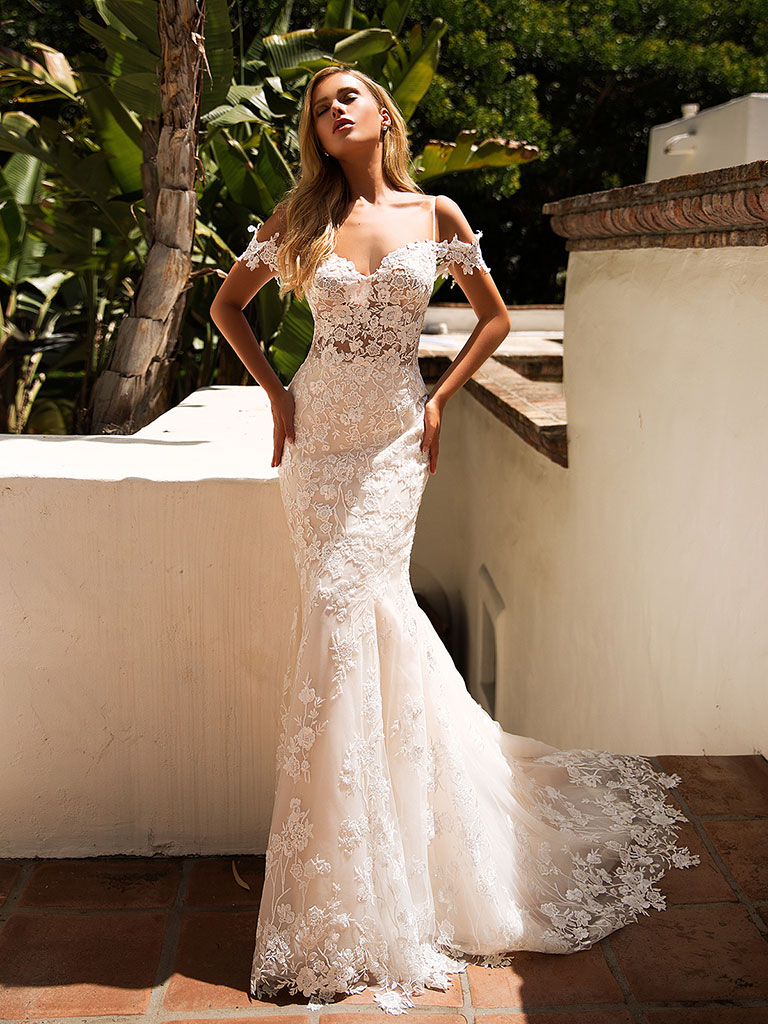 Gown by Allure Bridals
The goal: Intensive torso toning: Here's looking at you, hips, thighs and derrière!
Key moves: Step-ups, squats, and lunges are essential for tightening and toning the glutes, hips and thighs. Kickboxing combines martial arts with cardio, to give you a total body workout. If you're looking for a workout that will not only boost your endurance but will also shred hundreds of calories and tone your legs, look no further than spinning. Ballet-inspired exercises, like pliés found in barre classes are another great way to tone thighs and rear.
Good to know: A big misconception my brides have is that training their legs will make them bigger. Wrong! Women just don't have the testosterone to develop significant amounts of muscle mass.
Ballgown

Gown by Blush by Hayley Paige
The goal: Tighten and tone the abdominals and define the waistline.
Key moves: Planks, stability-ball crunches and twists. Core-specific training classes (look for classes with names like "Ab Lab") can amp up results. Dancing is another great waist-whittler. Try Zumba, hip-hop or belly dancing for some nonstop, fat-burning fun.
Good to know: Strengthening the core is the key to keeping you upright and standing tall for all those wedding photos.
Low Back

Gown by Theia Couture
The goal: Enhance your posture and sculpt your upper and lower back muscles.
Key moves: Hit the rowing machine, perfect your pull-up, and get upright with barbell rows. Lap swimming in the pool or Pilates swimming moves in class are both great ways to sculpt a sexy back.
Good to know: A common mistake my brides make is ignoring their back muscles. They don't work on the body parts they can't see — and training the lower back.
Ground Rules and Training Tips
Plan your fitness regime like you plan your wedding. The biggest mistakes I've seen brides make is waiting too long to start a fitness program. Allow at least 12 weeks to see significant changes.
Be realistic: Expecting to drop 20 pounds and four dress sizes in a month is not only unrealistic, it's unhealthy. A reasonable goal would be to aim to lose a pound per week.
When strength training select weights that are challenging. You will not get bulky using heavier weights. That's a myth that just keeps women from getting strong.
Kick up your cardio workouts with interval training, short, high-intensity exercise periods alternated with periods of low intensity. To know if you are working hard enough you'll want to feel breathless at the end of the interval and need the recovery. If you can talk about your wedding during a high-intensity interval you are not working hard enough!
Long Island, NY-based fitness expert Bonne Marcus has written for and/or contributed to over 40 national women's publications. Learn more about her wedding workouts at getfitwithbonne.com.