You've set the date. Now, throw a party that celebrates the beauty of that time of year. Here, top wedding planners share their best ideas.
By: Kristen Finello
Spring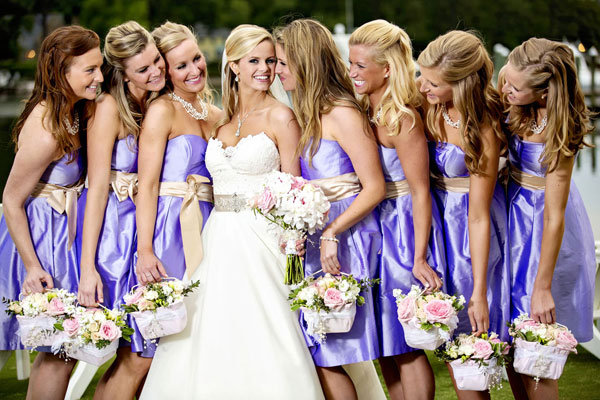 Photo Credit: David Schwartz Photography
The planner: Susan L. Allen, co-owner of Elizabeth K. Allen, Inc., a New York City- and Boston-based event-planning firm.
Brights of Spring: "For your color scheme, try a combo of warm pink, soft yellow and coral. It's a unique twist on the traditional pastel palette," says Allen. "You could also mix grass green, white and cream for a timeless look. If you've a passion for purple, use the whole spectrum, from violet to aubergine. Whatever colors you choose, up the impact by using a mix of textured fabrics."
Garden Delights: "In spring, everything is in bloom, so pay special attention to your flowers. For an early spring wedding, opt for readily available blossoms like tulips, daffodils, forsythia and muscari. One of my favorite combinations for a late spring wedding is peonies, lilacs and viburnum. To reflect the lushness of the season, fill centerpieces near-to-bursting, so that blooms actually spill over the sides of the containers. Also, think about filling large floor urns with blossoming dogwood, quince or cherry branches and placing them about the room."
Décor Dos: "Use linens in lightweight fabrics like organdy, which will lend a feeling of airiness. Other simple but seasonally appropriate touches include placing generous groupings of votive candles around the centerpieces, and tucking a single bloom—one that also appears in your centerpieces—into each guest's napkin ring."
Food for Thought: "First courses that say 'spring' include watercress salad with blood oranges and Vidalia onions, watercress and oyster soup and spring pea risotto. For the main course, serve lamb, which is a quintessential spring dish. Side dishes could include seasonal vegetables like asparagus and fiddleheads—a trumpet-shaped vegetable that's only available for a short time each spring but makes a delicious, unusual addition to a sautéed vegetable medley."
Confection Perfection: "For a true taste of spring, go with a lemon- or berry-flavored cake. Another classic option is a coconut cake with lime curd filling and buttercream frosting, sprinkled with fresh coconut. If you like, you could build a cake around the kumquat, which is an early spring fruit—say, a lemon-scented cake with kumquat curd and white chocolate-Cointreau buttercream. Or, try this update on the classic Lady Baltimore cake: a white cake with a filling of almonds and fresh and dried cherries, topped with Amaretto buttercream frosting."
Get 100 more ideas for spring weddings
Pages