You've set the date. Now, throw a party that celebrates the beauty of that time of year. Here, top wedding planners share their best ideas.
By: Kristen Finello
Summer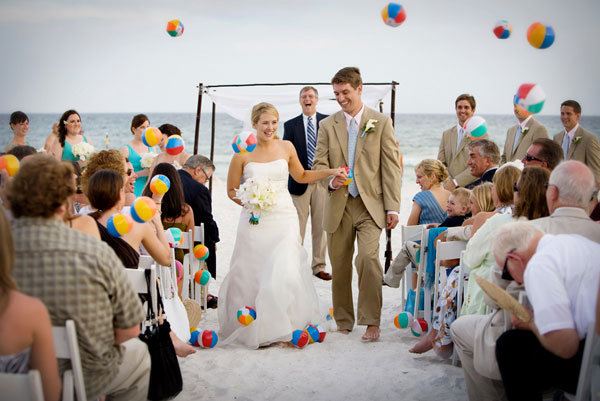 Photo Credit: Meg Baisden Photography
The planner: Karen Bussen, author of Simple Stunning Weddings and the Simple Stunning Wedding Organizer (Stewart, Tabori and Chang).
Hot Colors: "Summer is the perfect time to break out bold, spicy color combinations, like bright red and tangerine or apple green and hot pink," says Bussen. "A nice twist is to use an unusual shade of your favorite color. If you like pink, for instance, you might choose coral; blue lovers should consider turquoise. To create a softer look, select a muted shade of your favorite hue, and pair it with crisp white or herbal green. Whatever colors you choose, remember that less is more. Limit your palette to no more than three colors for the most striking effect."
Flower Power: "Peonies, which look lush and gorgeous when grouped tightly together, come out in late spring/early summer, so they're a great choice for a June wedding. Toward the end of the season, sunflowers, dahlias and cosmos are readily available. To create simple, yet stunning, centerpieces for long tables, line up cylindrical vases or bottles, each one holding a single fabulous cosmos or calla lily. For a fragrant touch, create miniature herb gardens by filling small clay pots with rosemary, thyme, sage and chervil or parsley. Use them as centerpieces, to decorate the guest book or escort card table, or as guest favors."
Easygoing Elegance: "For your tablecloths, choose fabrics like linen, silk and cotton, which are more summery choices than weightier damask and taffeta. For centerpieces, opt against antique silver or dark metal containers in favor of lighter-looking glass or crystal vases, or earthy-looking baskets or vessels made of terra-cotta or ceramic. Have clusters of paper or nylon lanterns in all shapes and sizes hung from the ceiling—it's a romantic and inexpensive touch. And, make sure to incorporate some iconic summer materials in your décor: Grass makes a great base for centerpieces, for instance, and you can tuck sprigs of fragrant herbs into napkins or incorporate them into centerpieces. You could also write guests' names on stones and use them as place cards."
Cool Food: "One of my favorite ideas is to have a Latin-inspired cocktail hour, which is perfect for a sizzling summer night. Guests can munch on ceviche, tostadas and empanadas while they sip mojitos and sangria. For dinner, avoid heavy entrées like braised meats and stews or dishes with rich cream sauces. 'Light' dishes—like chilled soups, salads and grilled meat, fish or chicken—are ideal."
Happy Endings: "Take advantage of summer's sweet, simple flavors. Consider a peach angel food cake drizzled with herb-infused honey, a chocolate cake layered with fruit filling or a strawberry shortcake."
Pages