You've set the date. Now, throw a party that celebrates the beauty of that time of year. Here, top wedding planners share their best ideas.
By: Kristen Finello
Winter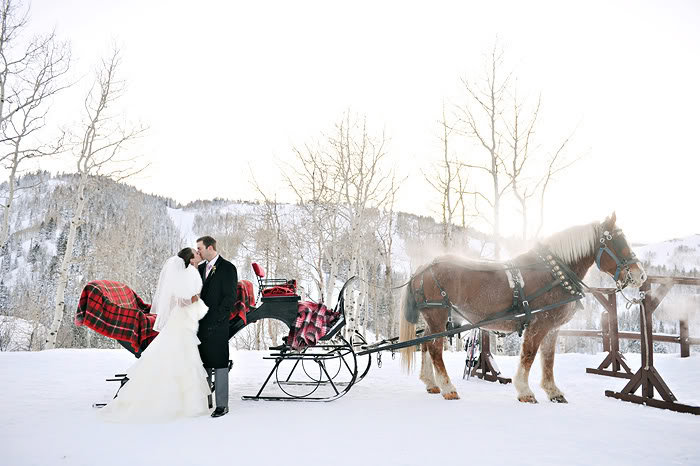 Photo Credit: Rebekah Westover Photography
The planner: Francesca C. Abbracciamento, president of Francesca Events, Inc., a New York City-based party-planning firm.
Color Key: "A white and gunmetal-gray combination works beautifully in both traditional and contemporary spaces," says Abbracciamento. "Feel free to mix whites that are frosted, shiny, matte or textured for interest. If you want a warmer, romantic look, use red as the tone for the tablecloths and flowers and toss in gold, plaid or lace accents. Have the venue's white lightbulbs temporarily removed and replaced with pink- or amber-toned ones, to enhance the romantic red atmosphere."
Bloomin' Gorgeous: "For your centerpieces, combine winter-white flowers like paperwhites, magnolias and gardenias with pinecones, holly sprigs and other seasonal flora. For more drama, arrange to have faux-snow-covered white branches placed in large urns—the branches will 'soar' over the tables. You can also affix flowers to the branches, to make it look like they're blossoming. If you want to create a holiday feel, hang swags of fresh pine garland studded with white roses and berries on mantles and doorways. They will look and smell sensational."
All in the Details: "For decorative touches, choose a symbol of the season, like a snowflake, a bow or holly berries, to grace printed materials like menus and place cards. You could continue that theme by asking your baker to incorporate it into the design of your cake. Wherever you can, use other materials with winter significance, like mistletoe greens, strands of pearls, crystals and even feathers. Add them to centerpieces, tuck them into napkin holders, wherever. And, cast a cozy glow over the room by placing votive candles in red glass holders or arranging gold pillar candles of varying heights on the tables."
A Taste of Winter: "Have fun with your hors d'oeuvres by giving them seasonally inspired names, which waiters can share while serving. For instance, you might want to call phyllo nests filled with rosemary-herbed goat cheese and cracked pink peppercorns 'Holiday Pine Wreaths.' For dinner, serve hot, hearty entrées like warm medallions of brie on a bed of winter greens, followed by filet mignon and sautéed root vegetables."
Cake Magic: "Choose cold-weather-inspired flavors like Swiss chocolate, espresso or vanilla mint. For fillings, think blood-orange or gooseberry preserves. And take advantage of the cool climate to top your cake with buttercream frosting, which is a lot less expensive than fondant and is hard to work with in warmer temperatures."
Get 100 more ideas for winter weddings
Pages