Planning on being a summer bride? Here's expert advice about how to throw a white-hot wedding.
By: Sharon Naylor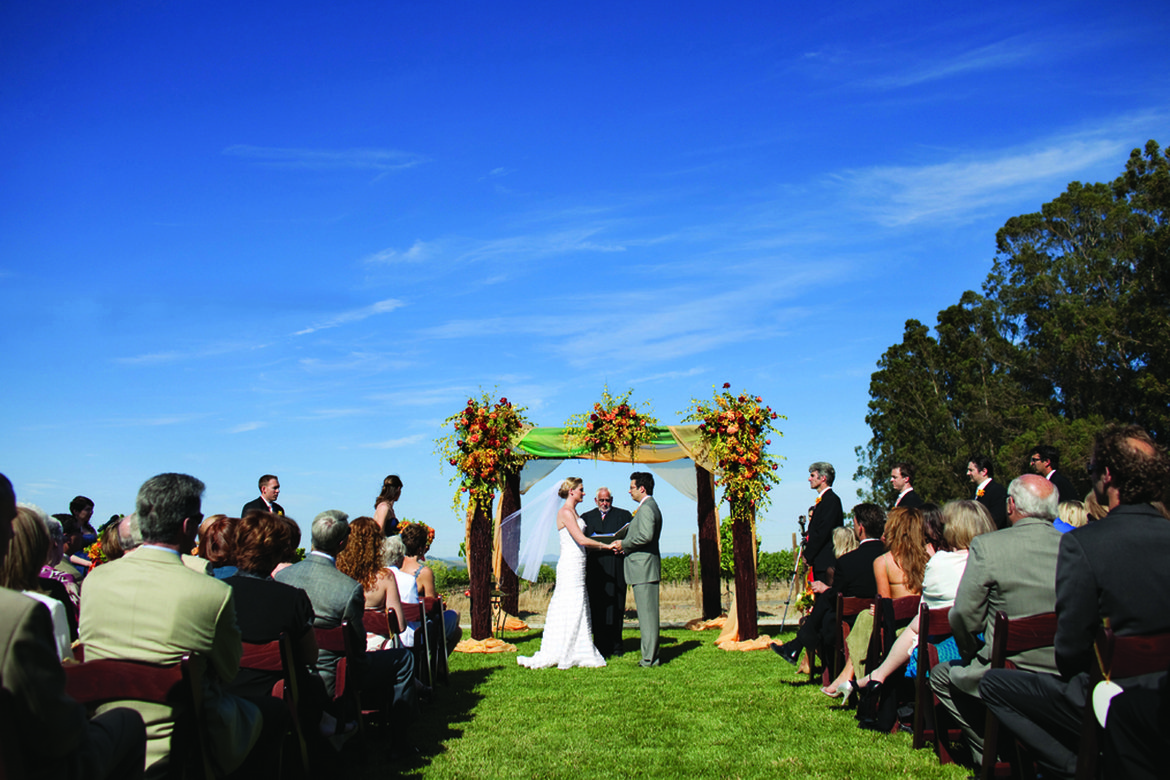 Photo Credit: Sherman Chu Photography
If you're having a summertime wedding, you're probably envisioning a gorgeous, blue-sky day that's like something out of a movie — a sea of perfect, white roses everywhere you look, and your guests in high-fashion ensembles walking through the gardens with champagne glasses in their hands, remarking how this is the most beautiful wedding they've ever seen.
What you're not envisioning is those same guests overheated, dehydrated and slumping in their chairs from the humidity, sweat pouring down the back of your dress, and hundreds of mosquitoes stuck in the icing of your perfect summer wedding cake. Or the guests remarking that they've never been so uncomfortable in all their lives.
Don't let mother nature steal your summer wedding perfection! We have the top tips for preventing the dangers of the dog-day summertime heat and humidity for your guests' comfort, your cake's survival, and your wedding-day bliss. Here's how to plan ahead for cool comforts and a critter-free cake:
Keeping Guests Cool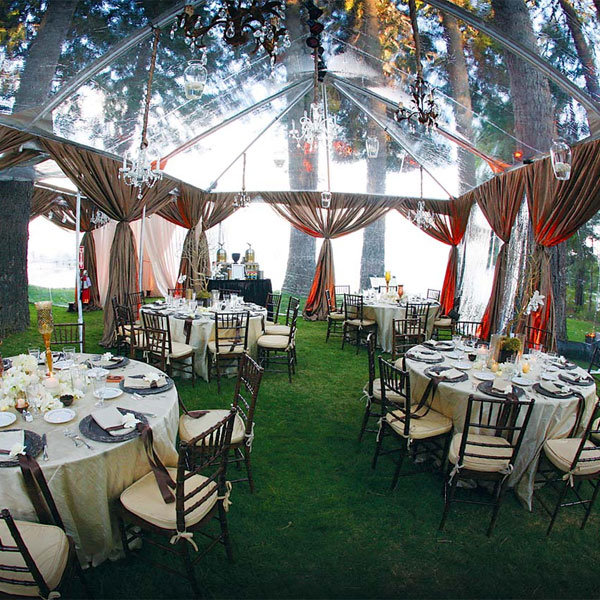 Photo Credit: Annie X Photographie
1. Choose an Indoor-Outdoor location. If you haven't already booked your site — whether all-outdoors or all-indoors — look for a beautiful reception site that offers both outdoor and indoor party areas, such as one with a fabulous ballroom and a lovely outdoor terrace overlooking manicured gardens, a golf course, or the ocean. Guests can decide if they want to be in the outdoor elements, or comfortable inside in the air conditioned building. Especially if you have older or pregnant guests, it's essential to provide a cooler environment option for all.
2. Rent A/C units. If your wedding will be in a tent, or out in the open air, be sure to rent high-quality, portable fans that you test out in the rental store to judge their strength and relative silence. Great party fans now run at a lower volume level so that everyone can hear the toasts and the music. Invest well in plenty of these fans for everyone's comfort, and place them around the seating area, the bar, anywhere guests will gather.
3. Provide cooling gadgets. At hot outdoor weddings, and even on the tables of the terrace, set out vases or theme-appropriate containers of little hand-held, battery-run fans, or pretty paper fans for guests to cool themselves with.
4. Provide sunscreen. If guests will spend hours out in the sun, you're a terrific host to set a spray bottle of high-SPF sunscreen at each table as well.
5. Serve lots of ice water in stylish glasses with pretty slices of lemon, lime or orange. Who says your water can't coordinate with your wedding colors? Guests at outdoor weddings love having fresh, ice-cold water brought to them throughout the event, so be sure to order hand-passed ice water service on silver trays. If you're having a more informal wedding, consider stocking the bar or buffet with a few ice-filled coolers of water bottles.
6. Use natural shade. Scout out your location and ask the site manager to arrange seats and tables under the shade of trees, or with big, bright table umbrellas.
7. No burning their butts! If your site will set out metal chairs for the ceremony or outdoor seating, be aware that metal can heat up in the sun. Either arrange for chair cushions or invest in fabric slip covers for chairs that will be placed in peak sunlight.
Pages