Make your wedding day stand out with these inspiring ideas.
By: Emma Arendoski
Did Someone Say Cake?
If you're unsure where to begin, consider a few popular cake choices that befit the season. In winter, a romantic red velvet or spice cake; in warmer weather, a beachy vanilla sponge cake with coconut filling.
Make a cake more memorable with unexpected embellishments. A beach wedding cake can be adorned with edible chocolate-filled seashells. Or use a coating of brown sugar to create the illusion of sand, then trim the cake with piped starfish. For a nature-inspired wedding, consider sugary faux pinecones or fondant crafted to look like birch bark, trimmed with fondant "twigs." 

Photo Credit: Sellers Publishing, Inc.
Or consider an alternacake idea like cupcakes, which are a fun, festive twist on tradition. And since they are ready to serve, you can skip the cake-cutting fee many venues charge. Stacked cookies — like Oreos, sugar cookies or gingerbread — or doughnuts can combine the look of a wedding cake with the fun of a dessert bar.

Photo Credit: Sellers Publishing, Inc.
Fun Favors
Show your guests some love with homespun, handcrafted mementos. Edible favors are always a hit. Some ideas: Homemade jams, pickles or spiced fruits presented in pretty jars are all tasty choices. (If DIY is too much of an undertaking, there are plenty of mini delicacies for purchase. Just add a thank-you tag to personalize.)

Photo Credit: Sellers Publishing, Inc.

Photo Credit: Sellers Publishing, Inc.
Tiny jars of honey are another sweet option.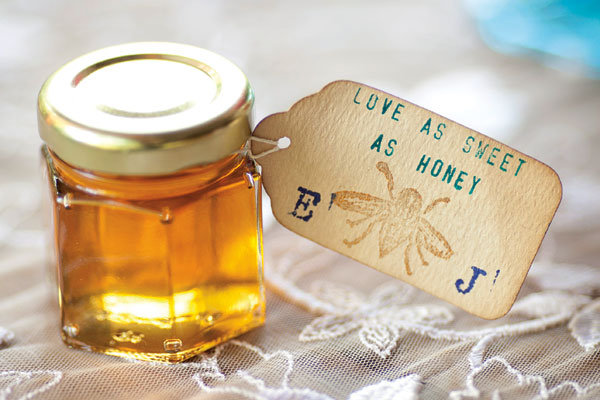 Photo Credit: Sellers Publishing, Inc.
Bring good fortune to guests with custom fortune cookies. You can order them online with a customized message inside.
When it comes to keepsake favors, consider functionality as well as individuality. Who wouldn't love a mason jar lantern? Use them to add a romantic glow to your celebration and after the last song is played, let guests know that the lanterns may be taken home. To DIY, wrap wire around the mouth of a mason jar to create a handle. Fill each jar partway with sand and snuggle a votive down into it, then tie on a thank-you tag. Instead of a take-home favor, why not give back to nature and plant trees in your guests' honor (check out friendsoftrees. org). Include a thank-you note to each guest that also shares the news of the tree being planted in his or her name.
Pages