Add special flair to your big day with these creative, so-you ideas.
By: Debra Witt
-AS SEEN IN BRIDAL GUIDE MAGAZINE-

Photo Credit: Heather Nan Photography
Put it in Writing
Say it with love — and frosting. Pastry chefs today can do just about anything, including calligraphy, says Michelle Cousins, founder of Utah-based Michelle Leo Events. Ask your cake designer to incorporate a favorite quote into your cake's design. For a keepsake, have the same saying made into a sign you can hang at the entrance or over a display station.
Write your own vows. Virginia-based event designer Antonia Christianson says that writing your own vows is the ultimate way to personalize your day. Revisit your courtship and think about what pulled you close and your shared dreams. Then consider what you want to promise to each other and, voilà, you have your own special vows. Take it a step further and have your words printed and bound into vow books that you hand out at the ceremony.
Convey a secret message. "One of our recent grooms proposed at the couple's favorite Chinese restaurant with a fortune cookie," remembers event designer Darci Kendall, who is the founder and creative director of the Los Angeles-based cocktail catering company Hodde Bros Beverage Co. "We loved that detail and integrated it into the wedding by placing a fortune cookie on the rim of each champagne glass for the toast. The cookies held a special message for the guests and kicked off the reception in style."
Brand your bar. Custom signs and decals are a fun and fairly easy way to make your reception area unique, says Kendall. "We designed a bar for an L.A. couple with Oklahoma roots with a sign that read, 'Cold Beer. Good Times. OK People,'" she says. "It was one of the most photographed elements of the wedding and now hangs above the couple's backyard bar."

Photo Credit: Siouxzen Kang Photography
Add Some Animal Attraction
Puppy love. Dogs have become a huge part of wedding ceremonies in recent years, for obvious and adorable reasons. But Lindsey Hartsough, owner of Magnolia Event Design in Southern California, recently worked with a couple who had fallen hard for a stuffed pup, the Louis Vuitton husky mascot. "They both travel a ton for work, so they pack the miniature husky in their luggage to remind them of each other," she says. "We decided to have the toy pup pop up every now and then during the wedding and reception." At the ceremony, for example, the pup peeked out from one of the larger floral arrangements; he hung out with the band and later the DJ during the cocktail hour and dinner; and later on he played bartender.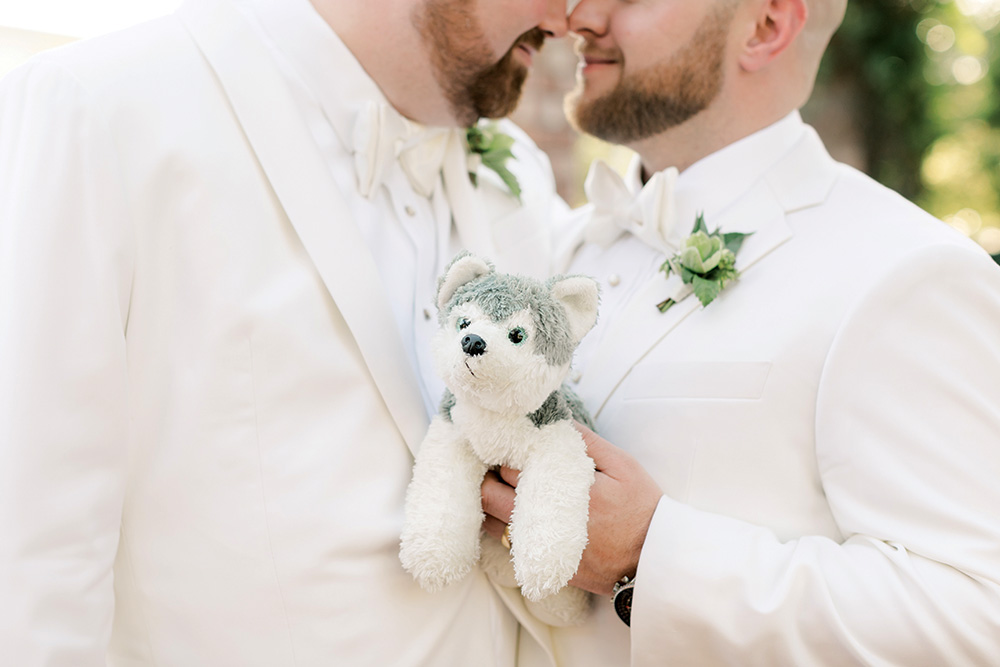 Photo Credit: I Heart My Groom Photography
Tall order. Sarah Chancey, founder of Chancey Charm Weddings, with locations across the U.S., remembers a couple who was wild about giraffes. So wild, in fact, that they tied the knot at a giraffe farm in Florida — the same place where they got engaged. Of course, Chancey had fun incorporating the giraffe theme throughout the event. Place cards were tucked into miniature gold giraffe figurines, for example, and a towering nine-foot topiary giraffe greeted guests at the reception.
Elephants work, too. The design duo at Cherry Blossom Events in Madison, Wisconsin, Sarah Sarbacker and Andrea VandeBerg, had a similar idea. Last summer, they were looking for a way to honor a groom's heritage — his family in Uganda belong to a tribe dedicated to saving elephants. Like Chancey's giraffes, the designers landed on small gold elephants to hold the escort cards. Although tiny, the elephant trinkets were real conversation starters around the tables.
Artistic Expressions
Channel your inner Henri Matisse. If couples are stumped or undecided about the design approach, Sarah Chancey asks them to tell her about their favorite piece of art. "It's a great way to land on a personalized color palette and other details that feel intimate and unique," she says.
Food as art. Kendall recently catered the wedding of a couple who'd met as art-school students. She tracked down images of their favorite paintings and had them reproduced on edible rice-paper disks that were then placed on top of cocktails and mocktails. A special foam sat between the paper disks and the liquid to protect each image. "Garnish art is a hot trend and a great way to personalize your beverages," she says.
Play your tune. If music is central to your love story, borrow a note (pardon the pun) from a couple who tasked Skylar Caitlin, of Chancey Charm Weddings in Houston, to design a music-themed wedding that was elegant and sophisticated. Individual golden music notes became escort cards, which were clipped to an acrylic display "wall" that used lengths of twine to mimic a music staff. Also, along the wall were lyrics from "Glad You Came" by The Wanted — some were printed on vinyl and others were wooden laser cutouts. This all tied into other music-related details that they wove into their day, such as a CD save-the-date, a music-video introduction to the reception, and other signage featuring lyrics to their favorite party songs.
Personality Plus (More Ideas)
Envision your own happily ever after. For a storybook wedding at a historic estate in Georgia, Chancey Charm Atlanta-designer Brie Owens helped a bride fulfill her childhood wish for a Cinderella ending. The bride found a pair of "glass slippers" to match her gown, the couple posed for tongue-in-cheek Cinderella photos, and guests were seated at tables named after heroes and heroines of either a classic love story or a Disney movie.
Have a "just between us" element. Magnolia Event's Hartsough was smitten by the story of a thoughtful groom who surprised his bride-to-be with a glowing pink Himalayan salt lamp as his first gift to her. Doesn't sound romantic, until you hear that he'd watched it sitting in her Amazon cart for several months. "She was so touched that he'd noticed," says Hartsough, "so I made sure we placed salt lamps in the lounge areas as homages to that gift."
Make it with flowers. A devoted couple of Harry Potter fans reached out to the online floral design team at Bloominous for help. Designer Bailey Gonzalez tucked tiny potion bottles and paper owers made from pages of Harry Potter books into each floral arrangement.
Share your dream. When an aspiring flower farmer asked Becca Atchison and the design team at Rebecca Rose Events in North Carolina to help her plan her elegant farm wedding, it wasn't hard to land on a theme. A watercolor artist designed a series of floral prints for the invitation suite. Custom seed packets featuring the prints were made into place cards and clothes-pinned, laundry style, to the escort-card display.

Photo Credit: Heather Nan Photography
Roll out the red carpet. You don't get married in Las Vegas without a VIP reception. Denise Martinez, of the venue-tracking website Here Comes The Guide, got the A-list treatment as a guest at a Vegas wedding. Instead of stopping at every table to greet guests or having a receiving line, this star-struck couple literally rolled out a red carpet, set up velvet ropes, a backdrop, and — cue the paparazzi — took pictures with each guest.
Coin-Toss. A Utah couple working with Michelle Cousins was looking for a way to make the groom's large Swedish family feel at home. Much like American bride's carry something old and something blue, in Sweden custom calls for the bride to place coins in her shoe — a gold one in her right shoe from her mother, a silver one in the left from her father — to ensure she'll never go without. Cousins loved learning about this tradition, and collaborated with 12Thirty Creative to create enlarged coins to serve as the escort cards and table numbers. The coins were elaborately hung in large frames.

Photo Credit: Mikki Platt Photography
Serve Up Your Personal Style
Add extra flavor to your passion. Recent bride Gabrielle Jammal loves tea. Like, really loves it. After all, she's the tea sommelier at the Baccarat Hotel in New York City. Jammal worked closely with her wedding cake designer to create two different tea-infused flavors: Matcha with white chocolate and mascarpone; and rose-tea almond cake with chocolate ganache.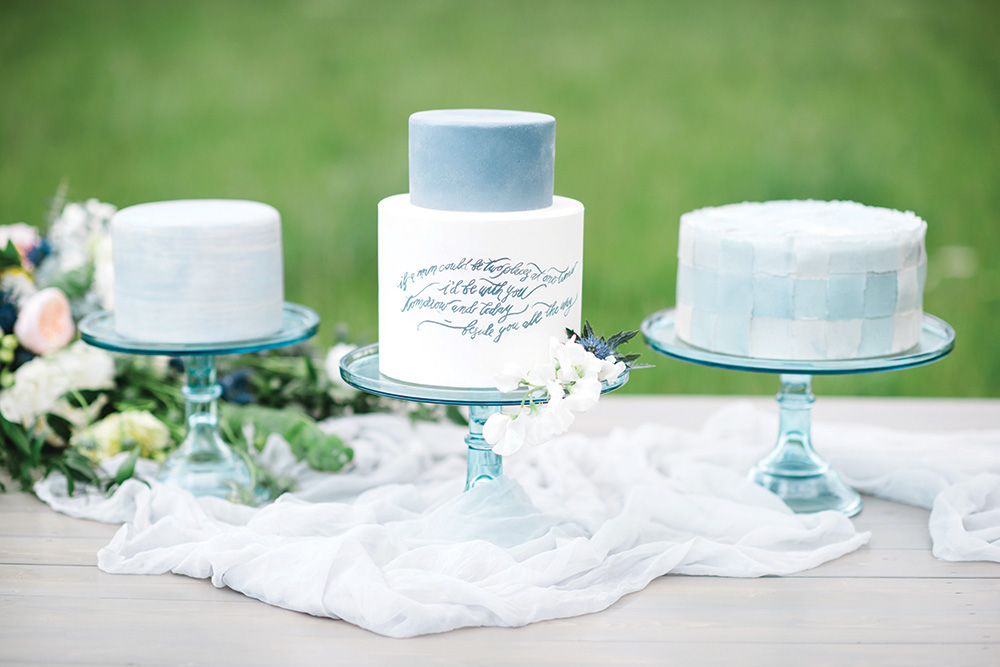 Photo Credit: Heather Nan Photography
Serve a family recipe. Even fancy affairs have room for homemade details, says Tara Guérard, owner of Tara Guérard Soirée. She'll never forget the bride who wowed guests with her Grandmother's Russian-spiced tea, served on coasters printed with the recipe. Later, guests were each given a jar of bread-and-butter pickles made with her mother's treasured recipe.
Next-level drinks. Let's be honest, many his-and-hers cocktails are simply existing sips with a fun play on the couple's names. Hodde Bros' Kendall encourages couples to work with their catering and/or beverage vendor to create a truly personalized drink menu. "Highlight the drinks you had on your first date, tweak a family recipe that is steeped in history, or select a spirit that pays homage to your heritage," she says.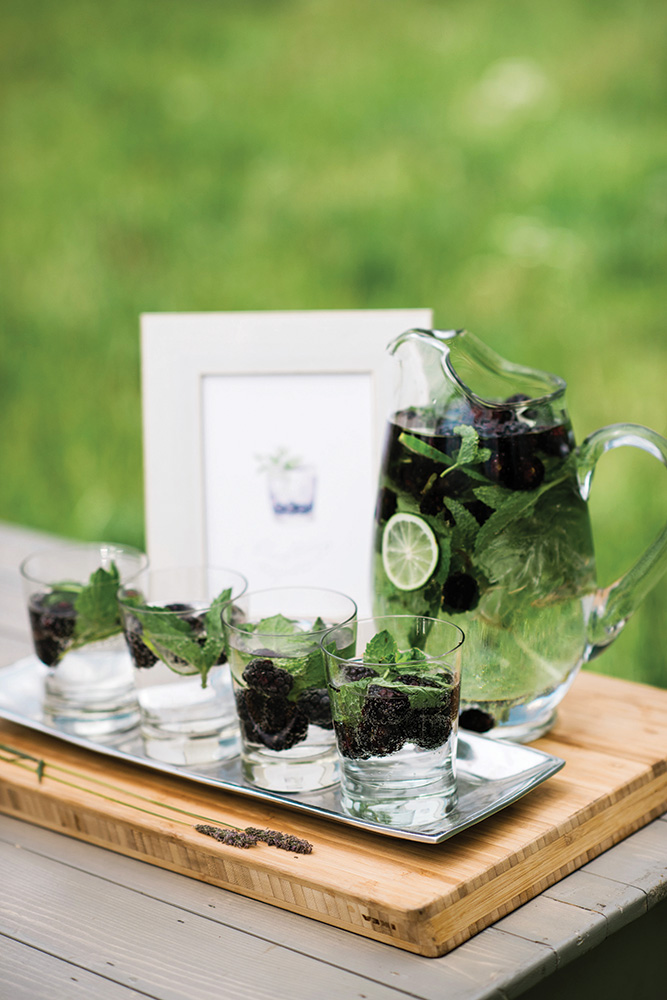 Photo Credit: Heather Nan Photography
Slice of humor. Groom's cakes are notoriously fun — why not make them more personal, too? Guérard had a groom with a serious weak spot for Chinese takeout food. Cake designer Jim Smeal ran with the idea and created a fondant-covered cake that looked exactly like a to-go container, even down to the sweet fortune cookies on top.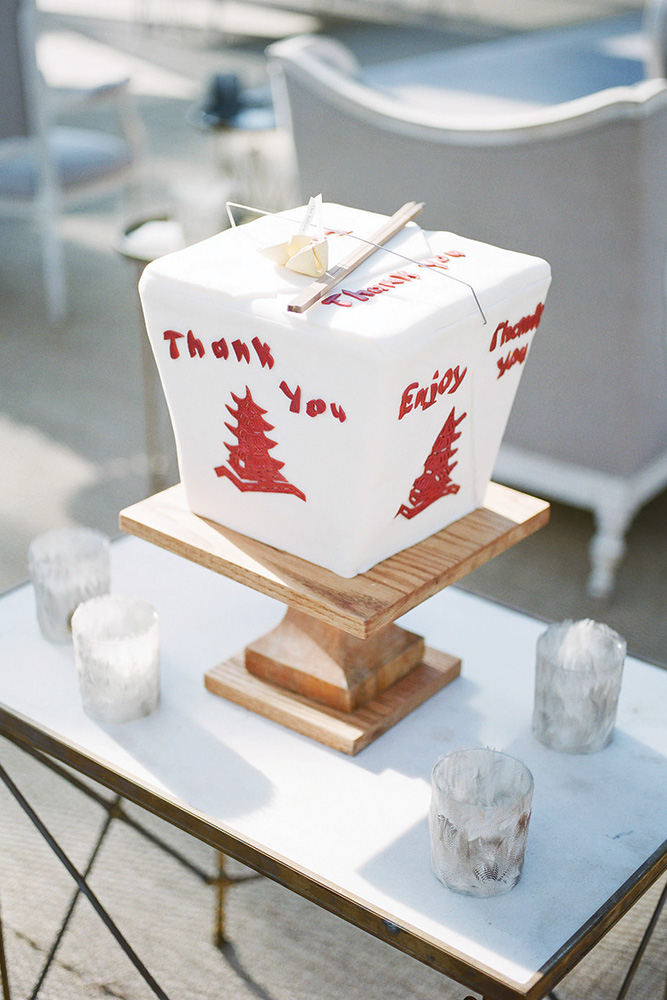 Photo Credit: Corbin Gurkin Photography
Familiar tastes. Atchison says it's not hard to find ways to personalize your food offerings. It's often as simple as mentioning your favorites to your caterer and asking them to find ways to incorporate those items into the menu. Or, fill your welcome bags with goodies from your favorite places, like the couple who gave out sweet and savory bites from their favorite spots in NYC (where they live), Georgia (where they fell in love), as well as from their hometowns.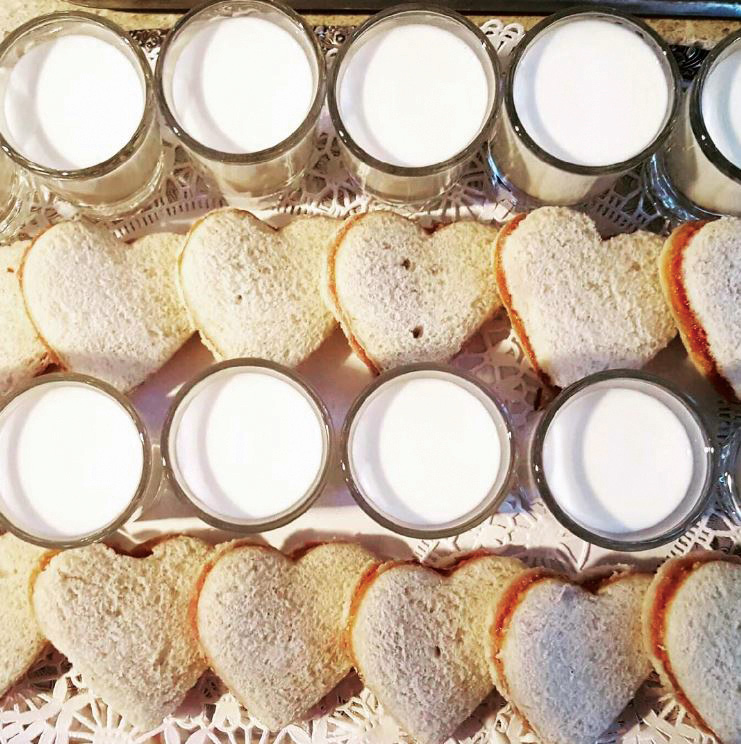 Photo Credit: Dagar's Catering
Stuck For Ideas? Start Here
Sarah Chancey, founder of Chancey Charm Weddings, shares this advice for figuring out the best ways to personalize your celebration.
Think back to your first few dates. Where did you go, what did you do, what did you eat? "It's always a good strategy to revisit your courtship for nuggets of inspiration."
What are your shared interests? "Whether you're both book lovers or adventure lovers, share your passions with your guests. That's all part of your unique story."
What's meaningful to you as a couple. "At their core, weddings are about love and family and friendship. Dig deep and infuse your day with what truly matters."
Have some fun. "Yes, this is a big day, but it's also a big party, so don't forget to let loose a bit and show guests your personalities."