Unexpected and lively touches will make your wedding an unforgettable experience for guests.
By: Elena Donovan Mauer
-AS SEEN IN BRIDAL GUIDE MAGAZINE-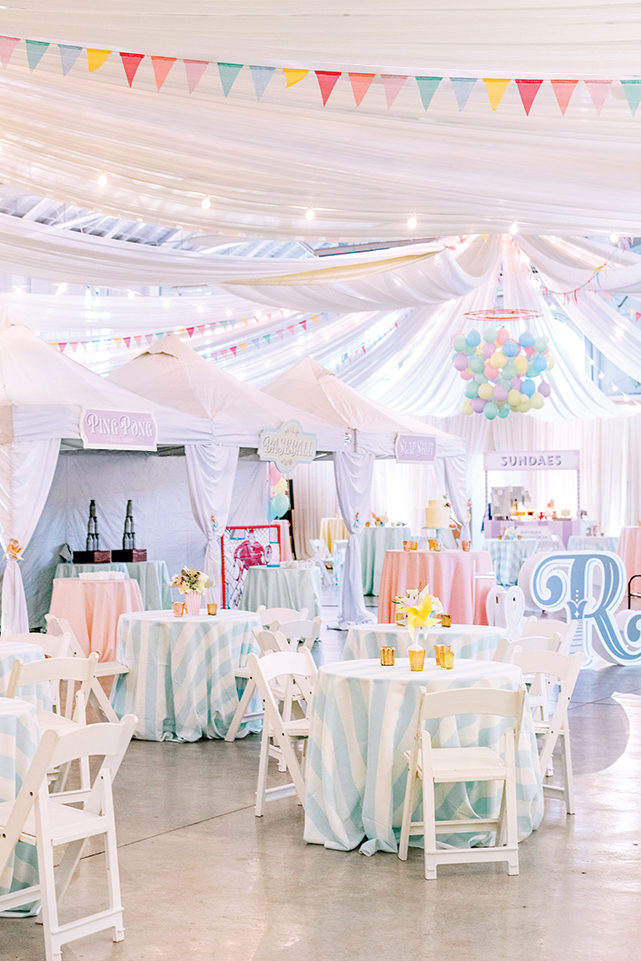 Photo: Heather Nan Photography
At a wedding celebration, guests expect food and music — and thoroughly appreciate both. But what if you could go one step further to create an even richer experience for guests, one that they'll never forget because it was just plain fun? For example, Michelle Leo Cousins of Michelle Leo Events in Salt Lake City recently planned a carnival-themed wedding. The whimsical event was truly out of the ordinary. Instead of a typical wedding reception setup, guests walked between pop-up tents and played carnival games, like balloon darts and a milk jug toss. They also enjoyed classic pinball and other arcade games. To cap off the theme, there were festive entertainers throughout the féte, including a magician, jugglers, pantomimes, face painters, and a caricature artist. "People constantly came up to us saying, 'This is the most fun wedding we've ever been to,'" remembers Cousins. "And you know what? I'm sure it was because it wasn't the traditional recipe for a wedding."
Recipe for Fun
Your wedding doesn't have to be an all-out carnival to be fun for your guests. In fact, it can be as traditional as you want it to be. By simply paying special consideration to your guests' experience, you can create a festive vibe. "Guests might not remember what something looked like," says Kate Turner of Kate & Company in St. Louis. "They'll remember how something made them feel. Planning elements that make them feel good is going to give them such a lasting memory of their time with you." Put thought into what sights, sounds, flavors, and activities will make guests feel comfortable and get them involved and immersed in the celebration. You might use your creativity to infuse a little wow factor as well.

Photo: Amber Lynn Photography
Spark Creativity
There are many amazingly fun wedding ideas out there. The ones that will be the right fit for your unique celebration are those that are meaningful to you as a couple. A few places to start brainstorming:
The Destination: Include a tasting of craft beer, wine, or cheese made in the area. Have a local band play jazz or country or whatever genre the destination is known for.
Favorite Pastimes: What you and your fiancé like to do together can set the stage for a few unforgettable touches. "One of our couples are really big hockey fans and — it was simple but elegant — when they came into the reception, we had all the guests hold hockey sticks and chant their names," says McFann.
Your Heritages: Your and your fiancé's backgrounds can help you plan details like serving your grandmother's empanadas at the cocktail hour or having traditional dancers perform.
Your Love Story: Your first date, your first vacation together, how you got engaged, and many more highlights of your relationship can serve as inspiration for the type of fun you serve up at your reception.
Local Experience
If you have a lot of out-of-towners attending, they may be interested in enjoying a bit of local culture while they're in town. In addition to adding local flair in the food, entertainment, and décor, you may want to plan some ways guests can explore the area. You may provide a list of things to do or go a step further and plan a few experiences, such as a brewery tour, a day of rides and games at a theme park, or a boat ride to see the sites. "Planning fun activities for guests lets them maximize their time while they're here," says Cousins. "It's not just a wedding. It's an experience."
Musically Inclined
Your musical entertainment can certainly liven up the crowd at a wedding. "It's quite common to create a fun experience through music, and the right band is different for every couple," says Cousins. "So we spend a lot of time researching musical groups to find the best one." She's even flown a band from Chicago to Utah to make sure the couple had the combo of gospel and dance music they wanted. Once you've chosen your musical entertainment, making a few requests is fine, but try not to micromanage by dictating all the songs they should play and not play. Instead, trust them. Good entertainers can gauge the crowd, and choose songs based on what guests are responding to or are requesting. Accept that you may hear a couple songs that aren't on your own personal playlists, but that your guests will likely enjoy.
Budget it In
Adding festive details might sound pricey, but you don't have to blow your wedding budget to create fun. You do need to factor in the costs realistically, says Turner. Often, it's a matter of prioritizing. For example, if you want to have food trucks show up at your after party, you might make your table centerpieces a little smaller to make up the cost. You can also look for low-cost ways to infuse whimsy. For example, using playful wording or fonts on your wedding stationery, or creating signature cocktails that are a nod to your own personalities or interests.
A Place for Everything
Planning an unforgettable guest experience starts with location, says Korri McFann of Disney's Fairy Tale Weddings & Honeymoons. She should know. Her staff creates weddings overlooking Cinderella's castle, in European-style villages, on cruise ships and on beaches. "Your setting is the tone, the mood, the ambience, and it's the reflection of the two of you," McFann says. For example, if you're hosting a reception in a barn, you'll already have a rustic ambience that will help guests feel at ease two-stepping on the dance floor. Or, you can host your reception somewhere that's more of a blank canvas. For example, a loft can feel like a swanky nightclub or like a charming French bistro, depending on the type of music, food and decorations you choose for it.
"When it comes to weddings, personalization really defines a great event," says McFann.

Photo: Disney's Fairy Tale Weddings
So Entertaining
To really wow guests, consider going beyond just music by planning some additional entertainment that fits your féte. Turner frequently books live artists to paint or draw scenes from the wedding, like the first dance or the ceremony, as they're happening. "We once had a graffiti artist doing live graffiti at the reception," she adds."Guests could participate too, spraying paint in different colors, and the couple had a piece of artwork they could take home," adds McFann. "Active entertainment is probably the best way to describe it. Something that is not passive, that's touching on all the senses and/or that guests get to participate in is what we're seeing today more than in the past."

Photo: Jacque Lynn Photography
On Trend
Fun experiences our planners are seeing more of include:
Hospitality: Our planners say couples are focusing on guest comfort, especially for out- of-towners. Gift baskets can be delivered to their hotel rooms with local treats, maps, and ideas of things to do while they're in town, and/or an itinerary with plans. Directions to the venue can include an "I spy" game, where guests spot different landmarks as they drive into town.
Double-Duty Foods: At one recent wedding, edible candles made of beef tallow were aglow. Guests dipped their bread into them for a tasty and wow-worthy touch.
Unconventional Timelines: McFann says couples are playing with typical schedules, such as holding the reception until the day after the wedding, so guests can enjoy themselves on their own after the ceremony, and then join again the next day for the celebratory event.
Casual Gaming: Guests are playing fun outdoor games, like cornhole and other lawn games at receptions. These fresh-air novelties encourage mingling and letting loose.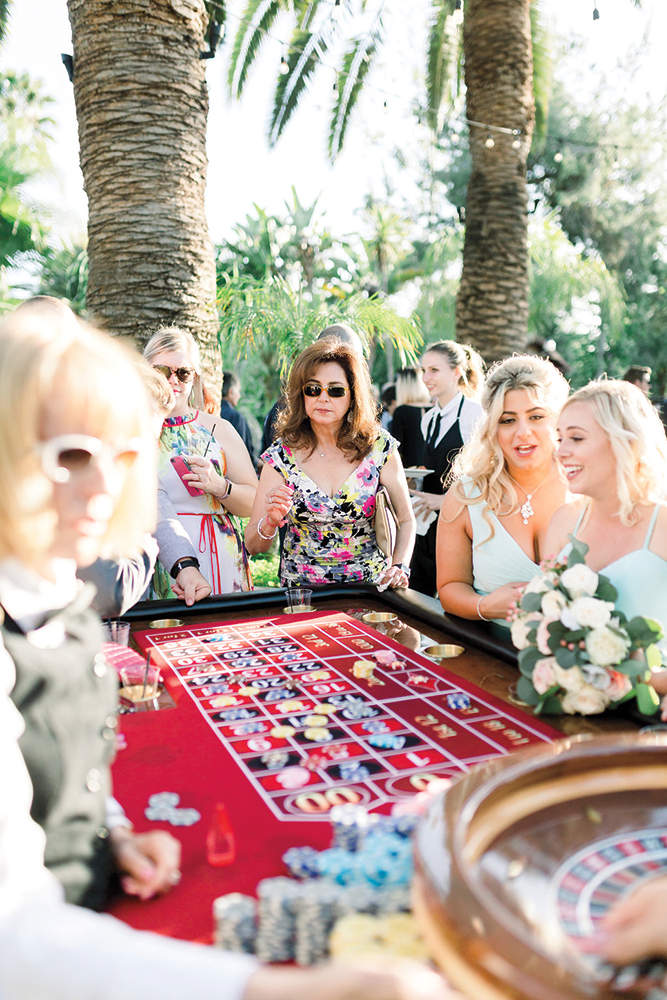 Photo: Rebecca Theresa Photography
Delicious & Delightful
"Food is so meaningful, and to share a meal is such a fun part of an event," says McFann. If you want to add air to the meal you serve at your wedding reception, you can do it with your food choices — for example, chicken wings inspired by your favorite sports bar's recipe. You can also offer guests a more interactive experience, such as food trucks or action stations, like a raw bar with oysters that are shucked right there for guests to watch. Or perhaps the food will be served in a way that's a feast for the eyes, like sushi served on a giant block of ice.

Photo: Jessica Hill Photography
Drink and Make Merry
If you're planning a super-elegant féte and don't want to make it feel less formal, zero in on the cocktail hour, where guests like to let loose. For example, they can play lawn games, like bocce ball or oversized Jenga, checkers or chess before settling down to enjoy a seated, more formal meal. "If you want to have a late-night snack as the reception winds down, take the opportunity to think about how the food will be delivered to guests and make that part of the overall experience," suggests Turner. For example, for one wedding she planned, it wasn't just stacks of boxed pizza that were delivered at the end of the reception. Instead, guests were encouraged to stroll over to a patio that had been lavishly decorated to look like an Italian pizzeria, complete with red and white checkered tablecloths, custom pizza boxes with pictures of the couple on them, and an accordion player serenading the crowd.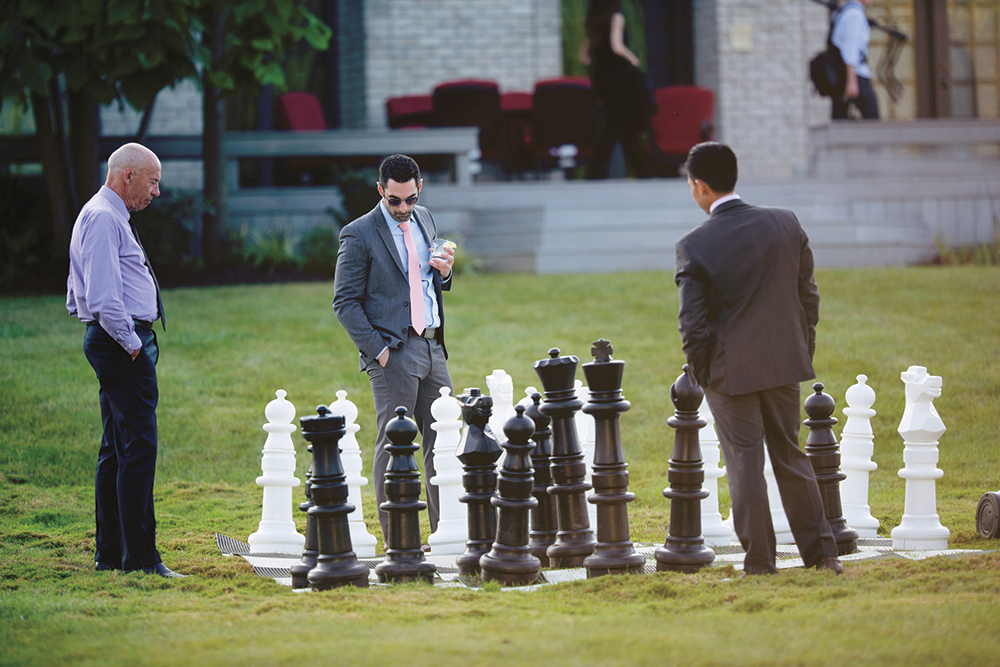 Photo: Making the Moment Photography
Into the Night
Consider an after-party, either at the same venue or a nearby pub or club. Generally anything goes in the wee hours, but since it's usually the young adult crowd that sticks around, take note and plan details or activities that will appeal to them.

Photo: Tap Trailer Co.
Just a thought: You may also provide a day-after recovery kit. Cousins says this goes over well in areas where the altitude can affect how people feel after a night of fun.

Photo: Heather Nan Photography