Not sure what to write? Don't know what to include? Find everything you need to know right here.
Who to Mention
Your bridesmaids and groomsmen can be a simple list of names to acknowledge their participation, or it can be a printed photo op so your guests can easily recognize them. And while you are at it, why not include a line or two describing their most endearing qualities or why you have chosen to have them stand up with you?
Some couples choose to thank their parents and or grandparents during their toasts, but even if it seems a little redundant, a few words of heartfelt thanks — in print, that they can read and look at over and over again — is priceless. Your program is also a beautiful place to acknowledge any deceased loved ones. Find an uplifting poem, song, or verse that encapsulates your love for them.
If you had a friend do your flowers or bake your cake, it's a nice touch to acknowledge them in your program. As far as the officiant, couples today have a say in choosing who will marry them; it could be a Judge, a friend or family member. For many, it is the clergy they grew up with, so a listing of who this is and what this person means to you is a lovely gesture.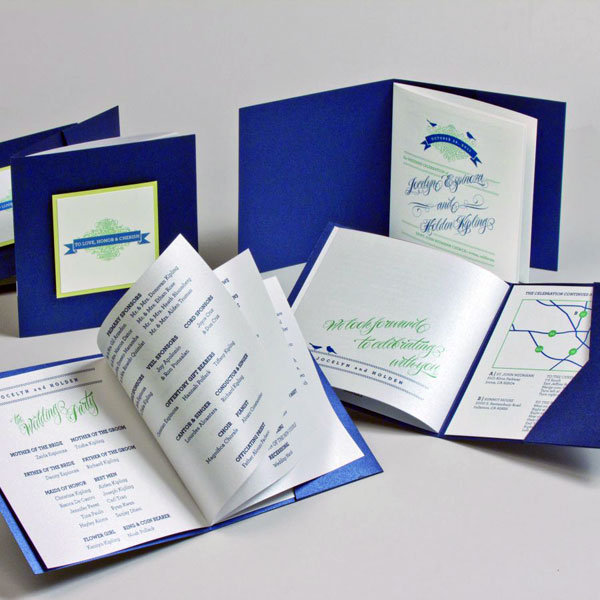 How to Personalize It
A few fun ideas we've had couples add: Wax seals, dried pressed flowers, stitching, ribbon and cording, handmade paper, painted details, photo collages, photo booth strips, badges, and modern monograms. Some couples add small packets of bird seed to toss or bubbles for after the ceremony.
Finding the Right Fonts
Font choices have never been more interesting or diverse. Choose something fitting for your occasion. You wouldn't use a Western-style font for a formal wedding, nor is a flourished script font the right choice for casual event. Look at various font options and see what reflects your wedding style. It's often helpful to use more than one font; this will help you highlight various portions of your program. Choose a stylized font (or the same or similar to your wedding invitation) and mix it with a very clean and simple one. Use the stylized fonts for names and the simpler font for the body of the text. Give your program some more pizzazz! You don't get married every day. Just be careful about not overdoing it. The first rule in design is to be legible.
The Back Cover
A joke, a puzzle, a photo, and a sweet "thank you for joining us" message from the bride and groom are popular options. Youc an also use your wedding logo.
How Many to Print
Depending on the size of your wedding and your budget, you can either give every guest a program or give one per couple. To keep costs down, plan for two to a family if you've invited children.
Who Distributes the Programs?
This is where you put your bridal party to work! They can hand them out at the door. This is especially helpful if you need to be mindful of how many you are handing out. Other options are to place the programs on each seat, in a basket at the entrance, or have your groomsmen hand them to your guests as they escort them to their seats.
Pages