Save-the-dates are often an integral part of the planning process, as it allows you to touch base with your loved ones and gauge your headcount early on. Here's everything you need to know about these announcements.
Get the information out as early as you can. "With today's fast-paced world, I think this is even more crucial for those guests out of town, state, or country to give them a heads up on your special day so they can go ahead and get it on their calendar along with the travel time they might need. Also, if your wedding is in a destination that might serve as a great vacation place, guests might stay longer, so giving them notice helps them plan." —Wendy Kidd, Each & Every Detail
But don't jump the gun. "Our primary advice is to tour and book a venue before sending out save-the-dates. By booking a venue, your date is solidified and unchanging. Likewise, your location will have a maximum guest count available with their services. For example, a wedding with a maximum of 150 guests will dramatically change a list from a site accommodating 300 people. With a venue, you can more accurately create a guest list for your wedding day." —Sarah Jobe, Twickenham House and Hall
Finalize your guest list first. "Most stationers will not put your save the dates into production until you have also given them the final address list. Therefore, I would start working on this list far before you think you need to, as it can be a tedious process!" —Laura Maddox, Magnolia Celebrates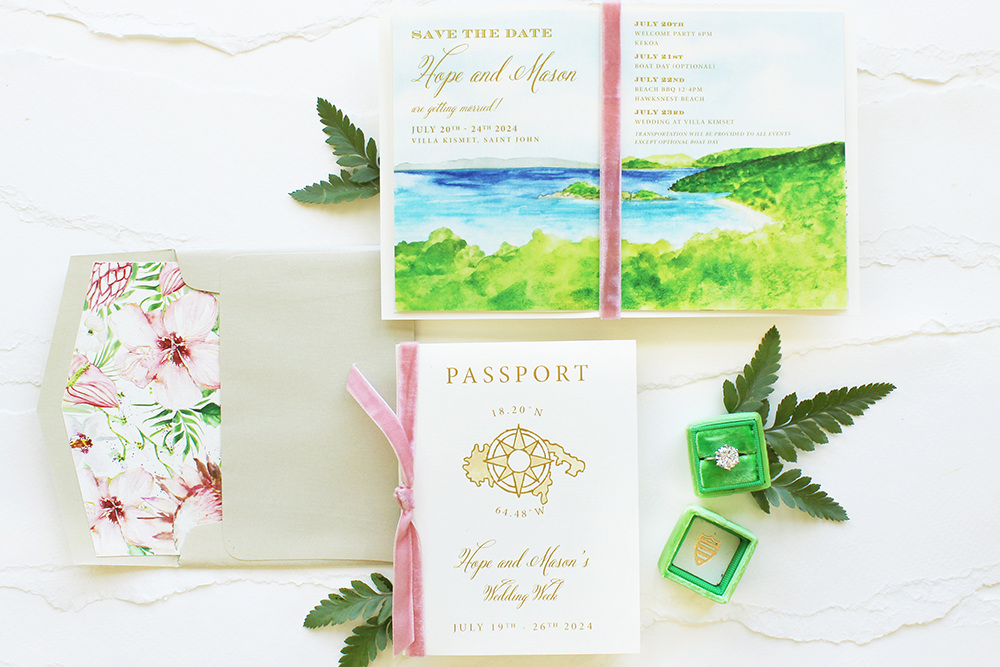 "Do not send a save-the-date to anyone on your 'B-List.' You want to ensure only those you are positively inviting receive one. I also suggest keeping a save-the-date in the mail, not electronic, so that no invites can be easily forwarded to someone via e-mail." —Diane Kolanović-Šolaja, Dee Kay Events
"When designing your save-the-date, remember that it should reflect your wedding. Using a design that flows with your ceremony and reception gives guests an elevated experience — the more intentional the design, the more cohesive the wedding look." —Christina Lovelace, Lovelace Design
"A save-the-date creates excitement about the wedding and allows the couple to give their guests a glimpse into what to expect. We see couples include the aesthetics or theme of the wedding, giving their guests a sneak peek of the theme, mood, and overall aesthetic of the wedding. This can include details such as the color scheme, location, and any unique elements that will feature at the wedding. We love when couples include hidden elements that act as 'easter eggs,' giving subtle clues on what to expect aesthetic-wise. This can consist of a vintage stamp, a custom watercolor crest, or a map of popular landmarks around the destination." —Mary Angelini, Key Moment Films
"For destination weddings in particular, a save-the-date with an initial voluntary RSVP is becoming popular. This way, the couple can gauge who they think will attend. Of course, this doesn't hold the guest to their initial answer, nor does it take the place of a real invite and RSVP. But it can help with planning, especially if your venue has a guest count limit that you plan on maxing out." —Jamie Chang, Mango Muse Events
"Couples should consider adding a wedding website to their save the dates, so guests can visit the site to find more helpful information regarding the wedding. Wedding websites are incredibly helpful tools for guests who need information about accommodations, flights, dress codes, a timeline of events, etc. Having all the information at their fingertips can also help reduce the number of questions the couple would have to field otherwise. Some websites even have an RSVP function, which can be helpful to include in the event if guests would like to submit an early RSVP. Simply listing the URL on the save the date is all that is needed to ensure the guests are armed with all the information they need regarding the wedding." —Kelley Nudo, Momental Designs
"If you want to include your engagement photos on your save the date, keep the timing of when they need to go out so that you can schedule your engagement session accordingly. I often see a mad dash in the fall of couples trying to book their wedding photographer so they can squeeze in an engagement session before the winter. If they miss the boat on a fall session, they typically have to wait until the spring, which is typically too late to use the photos on a save the date if their wedding is a few months later." —Jessica Feiden, Jessica K Feiden Photography
"Don't follow a tradition you don't believe in. A save the date is your statement to your dearest friends and family (and the world on socials) about your big news. Just like your wedding, your announcement should feel like you!" —Katie Mast, Rock Paper Coin
Sending out save-the-dates can help you out immensely with RSVPs and other planning nuances, and your guests will appreciate the heads-up! Whatever you choose to do, make sure that your announcements show off your personality and include all of the necessary details.
Photos: Momental Designs