Not sure what to write? Don't know what to include? Find everything you need to know right here.
By: Deborah Hefter, Co-Founder and Lead Designer of Envelopments
Your wedding program is an opportunity. It can be used in its classic form — a list of what, when or whom, or you can take this keepsake of your wedding and use it to narrate your day. You can be poetic, informative, funny and inclusive. You can give give your guests a glimpse inside your head as to what inspired all your choices. It can also second as a fan or sun shade on a hot day, and small children can even use them as a telescope to get a better look at you. But mostly, your program can bring everyone into your inner sanctum just by the way you choose to express yourself. Here, we'll break down exactly what goes into creating the perfect wedding program.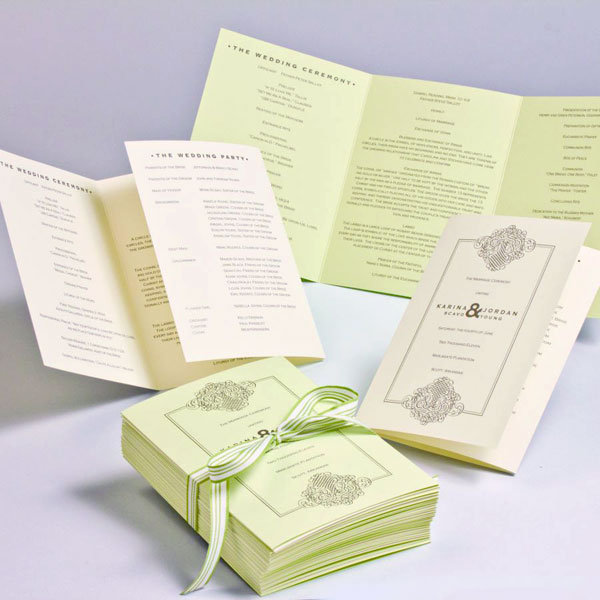 Choosing the Right Format
Some weddings are formal and classic, while some are playful and edgy. Bearing that in mind, your program should represent the wedding you are hosting.
The most common format is a single or folded card. But, I have also seen wacky ones, such as Cootie catchers, fans, cartoon drawings of the bridal party, and games and puzzles (like bingo, crosswords, and sudoko puzzles). If you don't have the time (or the wherewithal) for something like this, just changing the dimensions can add a whole new level of drama to your program. Long and narrow is elegant; large squares are grand; rolled and coned are lovely; and tied up with ribbons are celebrated. Z-Cards that keep unfolding can be fun. Sepia-toned booklets are hip, and sewn-down-the-seam is edgy and cool. Finding the format to fit your personality and your event is key.
The Cover
Covers can be as simple or as elaborate as you would like. Most couples will print their names, wedding date, and location. Some will use a photo from their engagement photo shoot or candid photos of their courtship. I have seen couples use dried pressed flowers, wax seals, ribbons and bows, dangling charms, and monograms to adorn the covers of wedding programs. The programs can easily mimic your own aesthetic and carry forward some of the details and colors of your invitation.
The Order of Information
Information should follow the logical order of your wedding so that your guests can follow along. There are no hard-and-fast rules. Some couples have a beautiful knack for communicating; they enjoy the opportunity to share themselves with their guests in a candid and heartfelt way. Others prefer just to give an outline of their day and save the sharing for toasts.
What to Include
Weddings can be a fantastic opportunity to bridge cross-cultural and religious divides. Letting your guests in on religious rituals and traditions you'll be incorporating in your ceremony will allow them to enjoy them more. The program is a fantastic vehicle to inform your guests about the particulars of your day. It is usually the first printed item your guests will see on your wedding day, and it sets the tone for what's to come.
When writing about rituals and traditions you will be including in your ceremony, lean on the many tools at your disposal to get a definitive paragraph on their history, origins and meaning. Then be a good editor, keep it brief, and interesting make sure to add your own personal touch to it — for example, why it is meaningful to you? A great writing tool, visualthesaurus.com, can help brings words to life.
Reception information is unnecessary in your program unless you missed something in the invitation or if you need to give your guests a heads up about new information. But, it is a place you can put a map or directions to the reception venue.
Next: Who to Mention, How to Personalize It, Finding the Right Fonts, and More ►
Pages