Style-savvy insiders share secrets to creating a celebration that will impress your guests — without breaking the bank.
By: Sharon Naylor
Tabletop Design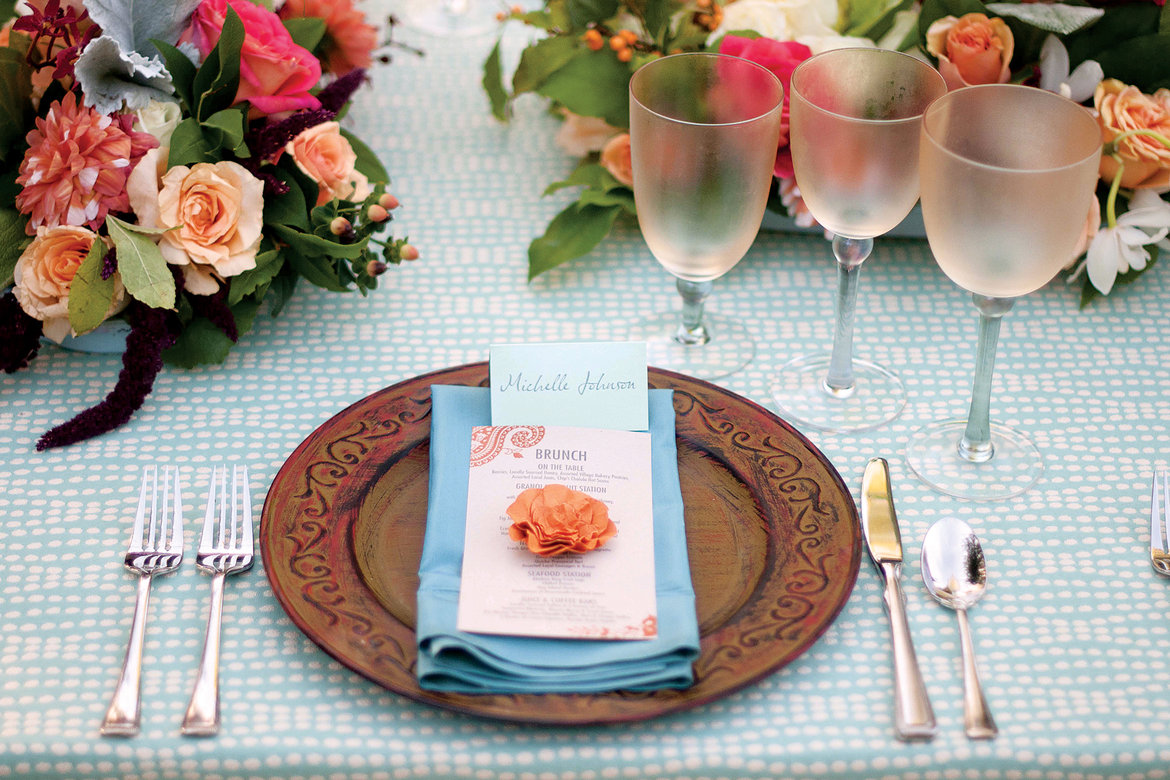 Photo Credit: Shawna Yarbrough & Damion Hamilton
Linens
Skip the pricey organza or silk linens, which can cost $7 to $27 apiece, depending on the type of table. "Many venues offer standard cotton/poly linen at no charge; some also offer a choice of color. Opting for color makes an impact without spending a dime," Frugoli says. "A dark color linen set under a white plate and napkin provides a nice contrast and looks richer."
Add DIY runners or overlays. Table runners or shimmery overlays are easy to make, offering an elegant, expensive-looking pop of color and texture to your tables. Seek out discount fabric shops for the lowest prices and biggest selections, saving a lot over runners or overlays that can cost $5 to $12 apiece to rent, compared to the $30 it might cost you to make runners. If you have 25 guest tables, for instance, renting runners alone would cost $300 or more, compared to the $30 to $40 for your easy DIY project.
Let your free napkins add special effects. "Napkin folds that take up more space, like a lush fan shape or a generous oblong that drapes off the sides at each place setting, will make your table look fuller," says Frugoli.
Place Settings
If you must rent tableware, choose simple styles. According to costhelper.com, stainless steel flatware rents at around 35 cents per piece, while gold-plated flatware rents at 75 cents per piece. Simple wine glasses rent at 40 cents each, while crystal wine glasses can rent at $1 apiece. It adds up. A better idea: Use the basic flatware and stemware offered by your site.
Ask about gratis items. Many reception sites will allow you free use of their colored charger plates.
Shop at closeout stores. Says Denise Galanakis at Barefoot to Black Tie Events in Astoria, NY: "You can find mismatched-yet- coordinating chargers, plates and other tabletop items for 99 cents apiece."
Set out menu cards. Some reception locales create them gratis, but you can also print them yourself to add extra color to your table décor. Heather Bula, owner of Invites By Design (invitebydesign.net) says, "Try slate or mandarin-orange ink."
Side note: If you have the time and talent to make your own centerpieces, Galanakis suggests buying your blooms from a reputable online wholesaler such as bloomsbythebox.com or globalrose.com. Craft stores and arboretums often hold free flower-arranging courses, and you'll always find plenty of how-to visuals on YouTube.
Next: Cost-cutting strategies for your centerpieces ►
Pages