Wedding experts share insight on how to throw a wedding while coping with a departed or sick loved one, a job loss, a partner who is stationed overseas, and other life challenges.
By: Stefania Sainato

Use wedding planning as an escape.
In this current economic climate, April Abernathy's story is all too common: Less than three months after starting a new job and moving into her first house with her fiancé Chris, she was laid off. Unemployment took a month to kick in, and it was barely enough to cover the grocery bill. She applied for job after job after job every day, but the only responses she received were for life insurance or telemarketing. "I found myself slipping into a state of depression, fearing we'd lose our home and never get married," she said.
Abernathy hit rock bottom when she accidentally left her purse in the car while it was parked in her driveway, and thieves broke in. By 7 a.m., they depleted her bank account, sending it almost $1,000 in the red, changed the pin number on her unemployment card, emptying out that account as well, including the $500 she had saved up to buy her wedding gown. Despite this, Abernathy's bridesmaids forced her to keep her dress shopping date. "I didn't even have $5 in my account when I went looking during an annual sample sale—my maid of honor put a down payment on my dress because she knew it was important to me."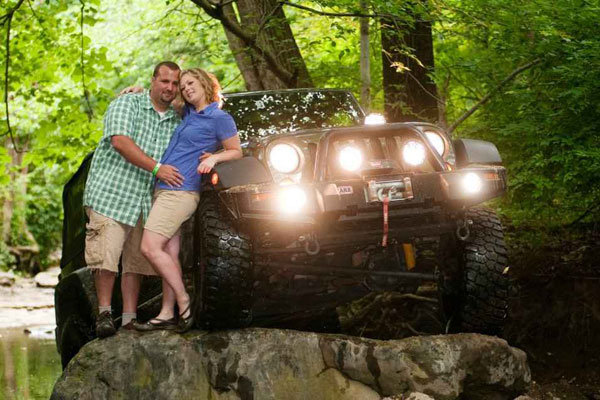 Use your resources.
The couple used all of their personal connections to help cut down on wedding costs. For example, the grooms' friends tipped them off to the Indiana War Memorial, a reception venue that granted them a military discount. Also, one of the bride's former coworkers shot their engagement photos for free.
Book everything as early as possible.
Abernathy booked everything for her wedding ahead of schedule, which gave her the financial flexibility to pay off fees in smaller increments. 
She's happily employed again and looks forward to tying the knot: "Chris and I met each other over six years ago. The early years were a roller coaster ride, because we were still figuring out who we were and growing up. Our wedding will definitely be that 'it finally happened' moment."
Next: When you or your fiancé are deployed overseas ►
Pages