Wedding experts share insight on how to throw a wedding while coping with a departed or sick loved one, a job loss, a partner who is stationed overseas, and other life challenges.
By: Stefania Sainato

Leave some wiggle room.
Bride-to-be Donnaly Natividad's fiancé Ezrael is an Air Support Liaison Officer in the U.S. Marine Corps. His unit will be one of the last to leave Afghanistan. Although he's expected to be home by Feb. 2014, they won't wed until May 24 of that year. Event planner Sasha Souza advocates getting married more than a month after you or your fiancé are scheduled to return, just to be safe.
Include them in the planning process as much as possible.
Before Natividad and Ezrael dove into the nitty-gritty, they had a long conversation about their wedding vision. One way she involves him in the planning process? She puts together viable vendor options, and then Skypes with him so that they can make decisions together. "We joke that this is an ideal situation because he doesn't have to be bothered with wedding flowers, favors, and all of that 'girly' stuff. All I have to do is send him an invitation, tell him what to wear, and what time to show up!"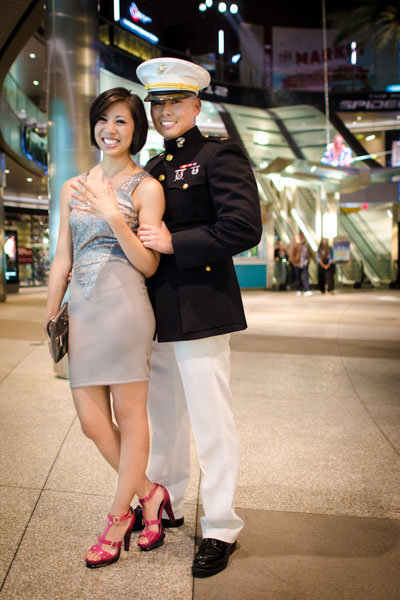 Although including your fiancé in the decision-making process is ideal, sometimes it's just not possible, so do your best to make them feel involved. Bride-to-be Sergeant Erica Garfield is currently deployed in Afghanistan with the Army through OEF (Operation Enduring Freedom). Although she uses wedding-planning as an outlet ("for my sanity and happiness") her hands are tied planning-wise, since the 8.5-hour time difference makes it very difficult to make business calls.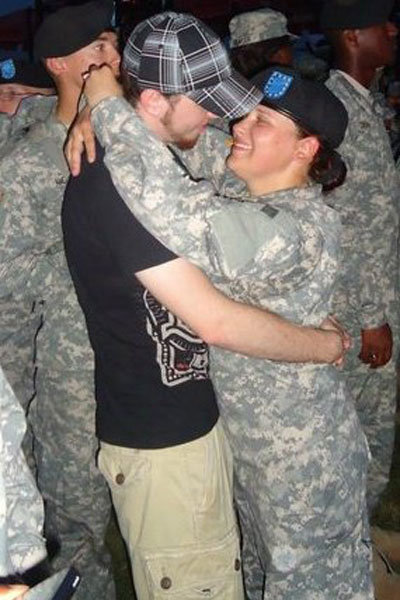 Use this time to develop separate interests and activities.
Pursuing interests you wouldn't otherwise have time for is an excellent distraction when you're forced to be thousands of miles apart. For example, Natividad is taking grad school classes while her fiancé is away in Afghanistan. Applying for that dream job you've always wanted, traveling with friends and setting up your future home together will help you cope with loneliness.
Keep your eyes on the prize. 
Garfield tells us that she and her fiancé have experienced crippling doubts during her deployment. It's been "impossible" to focus on a positive future. Nights are the worst: She keeps a teddy bear from their first Valentine's Day together and he'll have to do until she gets home. She also got a tattoo of a puzzle piece on her hip to represent their relationship. "We are reminded every day of what we're really fighting for, which is each other. I learned that I am very lost without him and I'm not as strong as I thought I was, without his presence near me."
Natividad agrees: "It's easy to feel overwhelmed with choosing the right flower, fabric swatch or font when your fiancé can't reassure you in person. But in the end, a hiccup in the wedding planning doesn't equate to a horrible marriage."
Next: Golden rules for any couple in crisis ►
Pages