Wedding experts share insight on how to throw a wedding while coping with a departed or sick loved one, a job loss, a partner who is stationed overseas, and other life challenges.
By: Stefania Sainato
One of the most frequently-asked questions we receive from BG brides is how to plan a wedding when life hits you the hardest. I've seen my loved ones struggle with this firsthand: One relative got laid off (after 10+ years on the job) a month before she got married. Another friend reached her low point when her father-in-law was diagnosed with cancer and underwent chemotherapy a few months before her big day.
Google "wedding ideas" and you'll get about 9.89 million results, but there's no guidebook for what to do when you don't have a mom to wedding dress shop with you, or you're forced to Skype cake options with your fiancé who is stationed overseas in the military. The lack of information out there on how to plan a wedding during tough times led us to some of our favorite wedding pros for practical advice that will not only help you get through this challenging period, but also find some joy in the process.
We also reached out to real brides who have walked in your shoes and we were inspired by their stories of perseverance and hope that you are, too!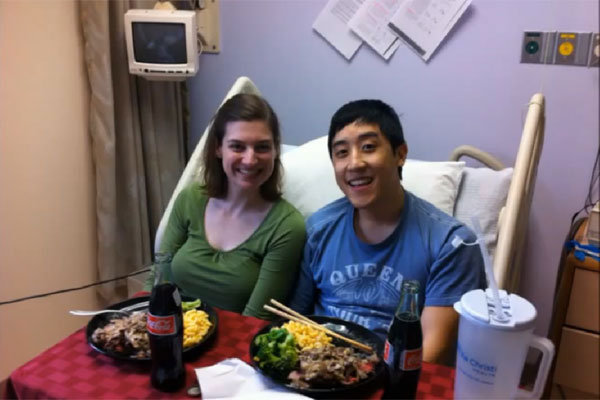 How to cope when...
► A loved one passes away
► A loved one is sick
► You or your fiancé lose your job
► You or your fiancé are deployed in the military
► Golden rules for any couple in crisis




The first challenge for any couple in crisis is whether they should cancel, postpone or move forward with their wedding. "The right decision needs to be made by the couple based on their means, the health of the individuals, and if rushing it will cause them too much stress," said Sasha Souza, a celebrated California-based celebrity wedding planner and author of "Signature Sasha: Magnificent Weddings by Design."
Souza has guided clients through this difficult process for Wish Upon a Wedding (where she's the Founding National President), a non-profit that grants weddings to couples faced with terminal illness and serious life-altering circumstances. So far, they've granted 50 wishes to very special couples: "The adversity they overcome each day and the level of faith they have that they will overcome whatever obstacles are placed in front of them is incredibly inspiring." (Find out how you can donate to this worthwhile cause here.)
Although your first inclination may be to just throw a quickie ceremony followed by a larger reception at a later date, Souza's clients tend not to choose this option since it can also be quite stressful. In addition to considering the emotional ramifications, it may be necessary to meet with a lawyer to discuss the legal/tax consequences of getting married while you or your spouse is sick or incapacitated. Be flexible—Souza recommends asking vendors in advance if they will credit you for a sooner date (most likely a weekday) should you need to change your plans on short notice.
If you've already hired vendors under contract, you may be charged cancellation or postponement fees, so in some situations it may be smarter to stick to your original wedding date. If, for some reason, a loved one can't make it to your big day, talk with your photographer and videographer about providing footage that they can see quickly once it's over.
Next: When a loved one passes away ►
Allow yourself to grieve.
It's devastating when someone you care about deeply is taken away from you—no matter how joyful getting married can be, it doesn't negate this loss. Grieving reminds you of the important things in life that sometimes create a shift in your planning. 
Bride-to-be Michelle Taylor thinks of her late mom at every step in her wedding planning. "Your mom is supposed to be there when you find The Dress, she's the one who calms you down when you freak out over your budget, and, most importantly, she nags you about what she feels is right for your wedding. It might sound weird, but I actually wish that my mother was here to nag me." Taylor and fiancé Wesley have been together since they were just 14 years old (they're 23 now), and she's grateful she got her Mom's blessing before she passed away three years ago.
Honor their memory by including them in your wedding.
There are many ways to honor a lost loved one at your wedding: big and small, private and public. Taylor's wedding will incorporate purple (her Mom's favorite color), New Orleans' architecture (her Mom's favorite city) and even a heart-shaped swatch of fabric (from her Mom's clothing) hidden in the folds of her gown. Instead of buying a new wedding band, Wesley will place her mother's ring on her hand at the altar. Souza tells us she's had clients whose mothers have read the speech that their father would have given (incorporate it in the wedding program, instead, if you feel that the potential for tears is too high).
Stop feeling guilty.
After Taylor's mother died, "I felt like I didn't even want to eat, let alone think about planning a wedding. So often, when people lose someone, they feel as if life shouldn't be happening, and they forget to live, or feel guilty for having wonderful experiences happen to them, because they feel that if their loved one can't enjoy it, then they shouldn't either."
Don't underestimate the power of weddings.
In the book "A Practical Wedding: Creative Ideas for Planning a Beautiful, Affordable and Meaningful Celebration" by Meg Keene, the author describes how during a painful moment in her own wedding planning, she came across a passage from Elie Wiesel's A Jew Today that forever changed her perception of weddings. It says that when a wedding procession encounters a funeral procession in the street, the mourners halt so as to allow the revelers to proceed—the wedding takes precedence. They serve as a symbol of hope and promise for the future, and give families a chance to heal.
"Weddings are a brief shining moment in the sun. They are a little bit of magic. Often, as a bride, you don't know this yet, but every elderly person at your wedding who dressed up and got themselves there knows it well…we need moments where we can get together and celebrate someone's joy. So in that way, a wedding isn't just yours. But this time, it's your turn to host," said Keene.
Next: When a loved one is sick ►
Communicate your worst fears.
Groom-to-be Binnan Ong was diagnosed with Spinal Cord Ependymoma when he was in medical school: A slow-growing and more-often-than-not recurring tumor. He had surgery to remove it, but the surgeons weren't able to extract it all, so he underwent radiation to try and knock it out, which subsequently damaged the nerves to the lower half of his body (specifically, his left leg). Afraid he would never walk again, his worst nightmare was that he would become fully dependent on his fiancée, Melanie Robbins.
The following weeks after diagnosis were very emotional for both of them. "Our value systems are very similar, but our mechanisms for processing the world around us are different. Binnan is contemplative and stoic, while I prefer talking to sort out my thoughts. He began learning more about his feelings, and I learned when it was better to just sit together quietly," said Robbins. During this time, they learned more about each other's priorities by discussing life, death, paralysis, family…there was no taboo subject.
"It's easy to think, 'let's just get through the wedding and then deal with it. But it won't change, get better, or go away. Working through fears, concerns and frustrations before getting married will not only make the wedding planning less stressful, but it solidifies your commitment to each other," said Ong.
Wendy Larsen and her fiancé Russell plan to wed on 12/19/12 in Las Vegas. They went through a similar grieving process after they found out Russell had Retinitis Pigmentosa: A rare, hereditary disease that affects the light-receiving cells in the eye, causing vision loss, and even total blindness in some cases.
Night situations outside of home are difficult, social interactions are challenging and safety is a big concern. Russell often walks into things or knocks them over because he's not able to see them; "definitely one of the more frustrating aspects of the disease to deal with." He can't perform basic activities such as driving or sports—things he misses dearly—and he was forced to give up his job as a firefighter.
"I was faced with loving somebody at their lowest point. At times, I would look at Russell and wonder, how would this disease alter our future plans of creating a family? How would I deal with loving somebody who would eventually live in total darkness? Sharing multiple life-changing events together created an unbreakable bond between us," said Larsen.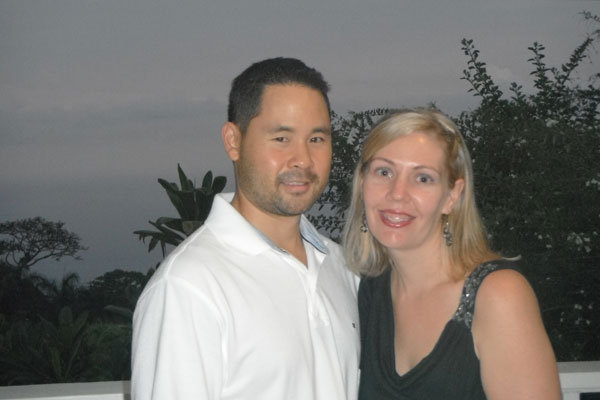 Keep things in perspective.
Through their illnesses, both couples learned that jobs, life goals and wedding details are all secondary to being with a person who genuinely appreciates them for who they are. Instead of worrying about choosing the perfect wedding gown and wowing guests, these couples concerns' were more along the lines of "Will I have to wait for my bride-to-be in a wheelchair instead of standing at the end of the aisle?" and "Will I be able to see my beautiful wife's face during our first dance?" 
Witnessing your partner at their weakest, and returning a stronger, more capable, more in love couple than ever, reaffirms what's truly important and puts everything in perspective. "When she looks you straight in the face and tells you she'll marry you, even if you're a paraplegic and she'll wipe your butt every day, you know it's real," said Binnan.
This experience will better prepare you for marriage.
When you promise each other until death do you part, these words will take on greater significance than they would have pre-illness. So often, we never really stop and think about the meaning behind 'til death do us part, but "a couple going through a life struggle before marriage has the advantage of understanding those vows before they make them." Binnan plans on becoming a rehabilitation doctor and Russell is studying to be a nurse: Having been on the other side of that hospital bed, they both hope that their profound sense of empathy will better aid their patients.
Next: When you or your fiancé lose your job ►

Use wedding planning as an escape.
In this current economic climate, April Abernathy's story is all too common: Less than three months after starting a new job and moving into her first house with her fiancé Chris, she was laid off. Unemployment took a month to kick in, and it was barely enough to cover the grocery bill. She applied for job after job after job every day, but the only responses she received were for life insurance or telemarketing. "I found myself slipping into a state of depression, fearing we'd lose our home and never get married," she said.
Abernathy hit rock bottom when she accidentally left her purse in the car while it was parked in her driveway, and thieves broke in. By 7 a.m., they depleted her bank account, sending it almost $1,000 in the red, changed the pin number on her unemployment card, emptying out that account as well, including the $500 she had saved up to buy her wedding gown. Despite this, Abernathy's bridesmaids forced her to keep her dress shopping date. "I didn't even have $5 in my account when I went looking during an annual sample sale—my maid of honor put a down payment on my dress because she knew it was important to me."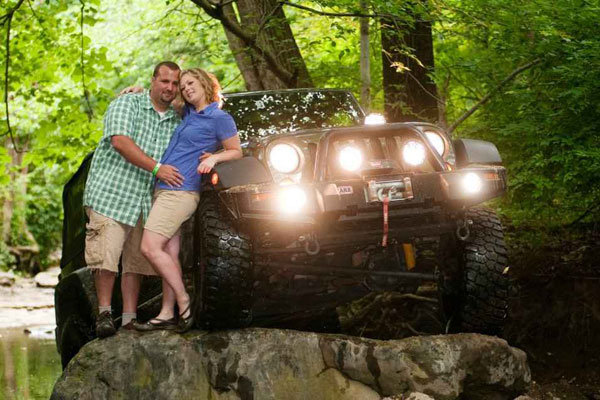 Use your resources.
The couple used all of their personal connections to help cut down on wedding costs. For example, the grooms' friends tipped them off to the Indiana War Memorial, a reception venue that granted them a military discount. Also, one of the bride's former coworkers shot their engagement photos for free.
Book everything as early as possible.
Abernathy booked everything for her wedding ahead of schedule, which gave her the financial flexibility to pay off fees in smaller increments. 
She's happily employed again and looks forward to tying the knot: "Chris and I met each other over six years ago. The early years were a roller coaster ride, because we were still figuring out who we were and growing up. Our wedding will definitely be that 'it finally happened' moment."
Next: When you or your fiancé are deployed overseas ►

Leave some wiggle room.
Bride-to-be Donnaly Natividad's fiancé Ezrael is an Air Support Liaison Officer in the U.S. Marine Corps. His unit will be one of the last to leave Afghanistan. Although he's expected to be home by Feb. 2014, they won't wed until May 24 of that year. Event planner Sasha Souza advocates getting married more than a month after you or your fiancé are scheduled to return, just to be safe.
Include them in the planning process as much as possible.
Before Natividad and Ezrael dove into the nitty-gritty, they had a long conversation about their wedding vision. One way she involves him in the planning process? She puts together viable vendor options, and then Skypes with him so that they can make decisions together. "We joke that this is an ideal situation because he doesn't have to be bothered with wedding flowers, favors, and all of that 'girly' stuff. All I have to do is send him an invitation, tell him what to wear, and what time to show up!"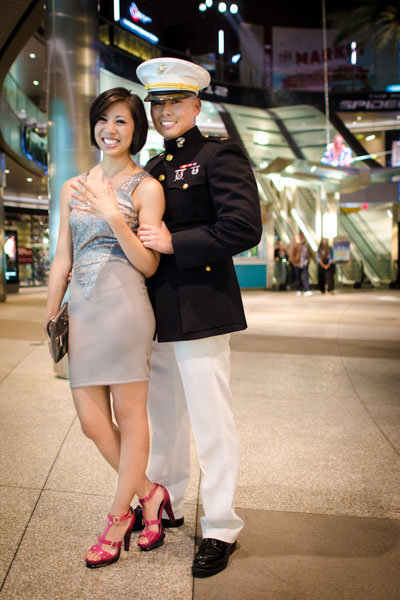 Although including your fiancé in the decision-making process is ideal, sometimes it's just not possible, so do your best to make them feel involved. Bride-to-be Sergeant Erica Garfield is currently deployed in Afghanistan with the Army through OEF (Operation Enduring Freedom). Although she uses wedding-planning as an outlet ("for my sanity and happiness") her hands are tied planning-wise, since the 8.5-hour time difference makes it very difficult to make business calls.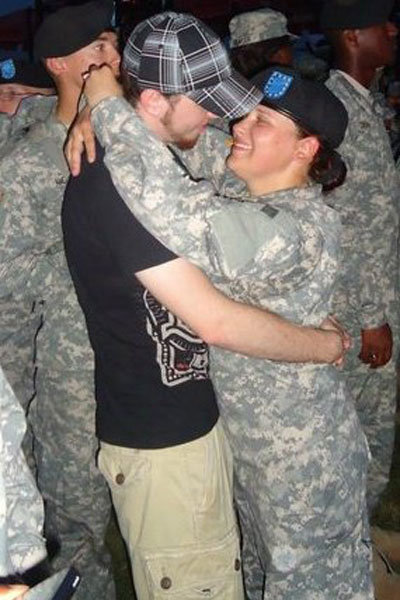 Use this time to develop separate interests and activities.
Pursuing interests you wouldn't otherwise have time for is an excellent distraction when you're forced to be thousands of miles apart. For example, Natividad is taking grad school classes while her fiancé is away in Afghanistan. Applying for that dream job you've always wanted, traveling with friends and setting up your future home together will help you cope with loneliness.
Keep your eyes on the prize. 
Garfield tells us that she and her fiancé have experienced crippling doubts during her deployment. It's been "impossible" to focus on a positive future. Nights are the worst: She keeps a teddy bear from their first Valentine's Day together and he'll have to do until she gets home. She also got a tattoo of a puzzle piece on her hip to represent their relationship. "We are reminded every day of what we're really fighting for, which is each other. I learned that I am very lost without him and I'm not as strong as I thought I was, without his presence near me."
Natividad agrees: "It's easy to feel overwhelmed with choosing the right flower, fabric swatch or font when your fiancé can't reassure you in person. But in the end, a hiccup in the wedding planning doesn't equate to a horrible marriage."
Next: Golden rules for any couple in crisis ►
Create a strong support system.
There's one coping method that all of these couples have in common, which is that they've created a support network—a team of bridesmaids, family, friends, and even groomsmen—who they can rely on. Although it can be hard to muster up the courage to ask for assistance, Nativdad says it's a must: "I've been the girl tearing up at a bridal expo all by myself…it's not fun!"
Keene believes that at their best, weddings are an exercise in community. But it's not enough to simply ask for help—you need to figure out what you need and be specific about it. "Say, 'I'd like you to come wedding dress shopping with me,' or 'I'd like you to ask me when we talk how wedding planning is going,'" she recommends. Of course, everyone won't always live up to the expectations, but it doesn't hurt to ask.
Make planning easier on yourself.
In addition to hiring a wedding planner, there are measures you can take to make the planning process smoother. Souza advises keeping the guest count lower (this helps keep finances and stress levels at bay) and throwing the wedding closer to home so you don't have to worry about traveling. Choose an easy-to-serve menu and sit-as-you-wish seating. Keene also recommends keeping a spreadsheet that details what object is getting hauled where and when ("that beer isn't going to get itself to the venue!").
Coming to terms with what we hoped would be, and what is.
If we could leave you with any advice, it would be this: We've been trained to think that wedding planning is a time when everything in our life magically comes together. Every person in our life is supportive and comes out to celebrate us. But once you actually start the process, it may not be exactly what you envisioned, which can leave you disappointed.
"The wedding industry has built a marketing machine around the idea that wedding planning is the time we'll form the closest bond with our mothers, and the time that our fathers will show their love for us in the most concrete way. In reality, this often isn't true, even if you have two parents involved in your wedding."
But here's the good part: Even if your planning process wasn't "perfect" and didn't resemble a fairytale, that's OK. The end goal is the same: You get to spend the rest of your life with the person who loves you the most, and that reality will be even better than you can imagine.