Our favorite pros share news from the wedding-planning frontlines.
By: Carol Straley

Photo: Sylvie Rosokoff Photography
Weddings came roaring back in 2022, and the bubble shows no signs of bursting. There's a strong spirit of both fun and inclusiveness as couples ask friends and family to be "persons" or "friends" of honor, enlist pals as officiants, and pets as members of the wedding party. Here, more noteworthy trends we're eyeing.
Big Weddings are Back

Photo: Towards the Moon Photography
"The approach from most of our clients in 2022 was 'go big,' and they did!" says Michelle Leo Cousins, owner of Michelle Leo Events based in Utah. "The budgets were bigger, the guest counts were bigger, and the details were abundant throughout."
"Big weddings are back!" agrees Jove Meyer, event planner and designer of Brooklyn-based Jove Meyer Events, and co-host of Tara Lipinski's new TV series, Wedding Talk, airing on Crackle and Chicken Soup for the Soul. "After a couple of years of seeing micro weddings and elopements on the rise, couples are back to having larger weddings — and hosting full weekend events for everyone they know and love."
Tyler Speier, owner/creative director of Tyler Speier Events in Santa Barbara, CA, is on the same page. "Couples are crafting a full weekend of experiences for their guests. After not seeing everyone for so long, couples want to invest in quality time and experiences over the course of the weekend vs. just the wedding day itself."
Location, Location, Location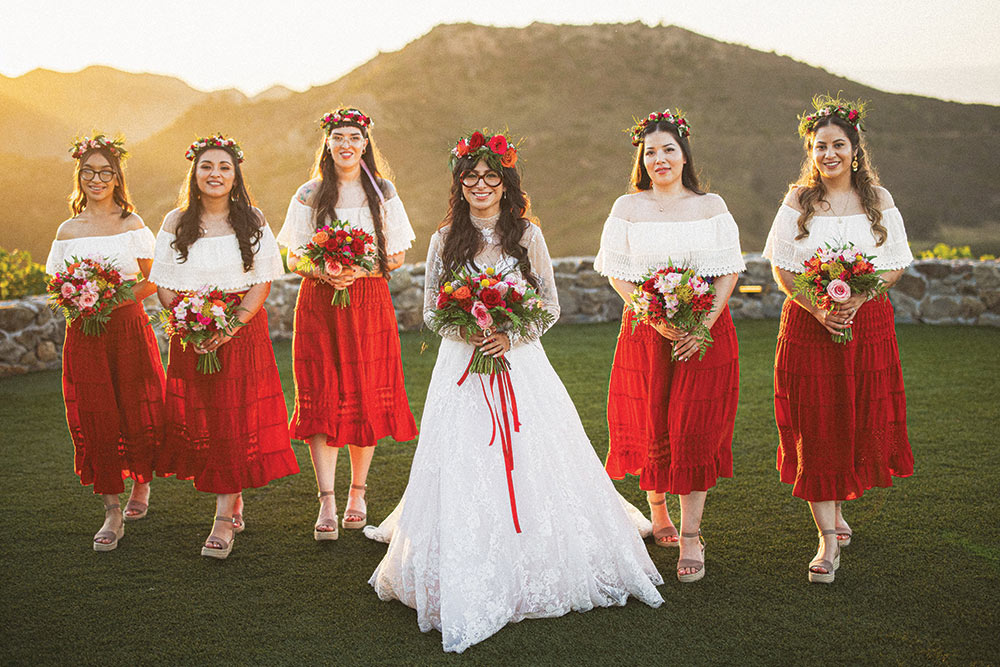 Photo: Montana Dennis Photography
"Couples are planning as far out as 2024 to secure their destination wedding venue," says Donielle Warren, owner of Elegant Events in Philadelphia, PA. "The Caribbean remains a top pick, thanks to its all-inclusive resorts, effortless travel from the US, and bang for the buck."
Noting the rise in couples "who are having mini destination weddings inside their own country," Andrew Roby, planner and designer of Andrew Roby Events based in Washington, DC adds, "We are also getting inquiries from couples who are hosting their weddings in more rural locations stateside, away from busy cities that may have higher fees."
"A lot of my couples are seeking destination weddings, especially Mexico and Europe, specifically Greece," says Sneh Diwan, founder of Diwan by Design, based in Jersey City, NJ. "The idea of a 'wedding season' doesn't really exist anymore as destination weddings allow the couple to pick any date that works best for them."
Whether couples are tying the knot on their home turf or at a far-flung destination, a love of the outdoors abides. "Even those getting married in the city want some sort of outdoor space, so they can feel the wind in their hair and be hugged by nature," says Jove.

Photo: Electric Sugar Elopements
Themed Celebrations
"We've had a Bubbles and Butterfly brunch, an Under-the-Sea welcome dinner, a pirate-themed sailing excursion, and luau-themed welcome events," Tyler says, "and they are so much fun!"
"We've done a Miami meets Euphoria theme for a couple that wanted a modern twist — think disco balls, flamingos, neon signs, and bright colors — to a traditional occasion," says Sneh Diwan, founder of Diwan by Design, based in Jersey City, NJ.
Goth-themed celebrations are also taking hold. "Think Bridgerton with a darker twist," says McKenzi Taylor, founder of Electric Sugar Elopements in Las Vegas, NV. "It harkens back to Old World romance, when people were more keenly aware of their mortality and how that impacted love and marriage. Many of our couples want to express that their love has overcome something dark or challenging, and cannot be broken."
To capture the mystery of traveling back in time, McKenzi looks to "locations that mimic enchanted forests, haunted warehouses, anything with spiral staircases, Victorian homes, old churches, or a Victorian garden."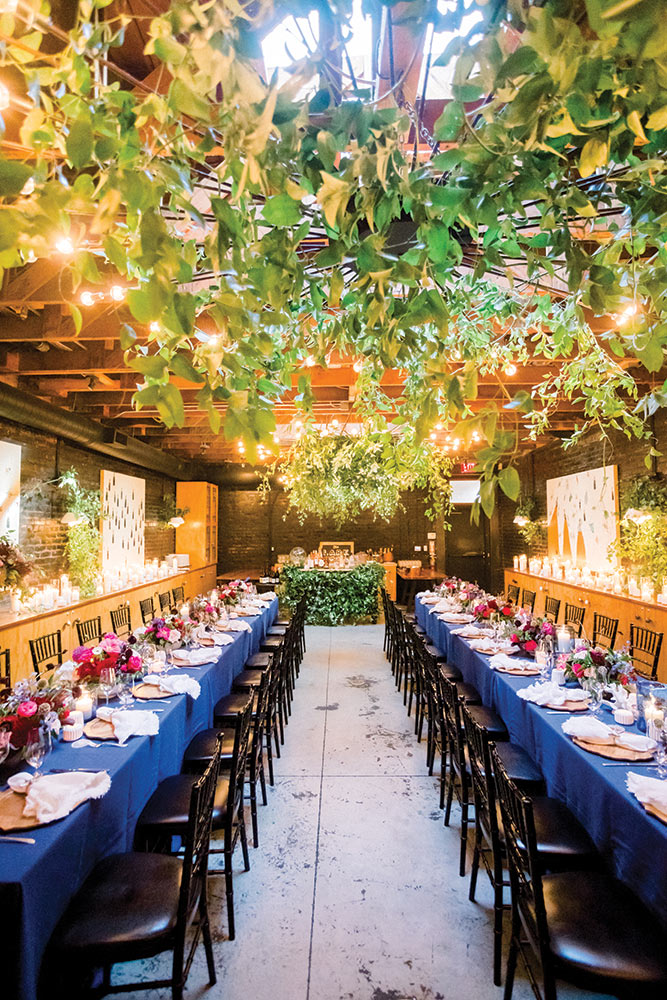 Photo: James and Jess Photography
Décor Details
"We're seeing more patterns and color, as the typical white wedding isn't as popular as it once was," Jove says.
"Colorful weddings can still be ethereal and timeless," says Michelle. McKenzi is loving tabletop decor that features "heavy fruits like grapes, pomegranates, plums, papaya, rich succulent fruits" as well as "melted candles and candelabras and vintage glassware."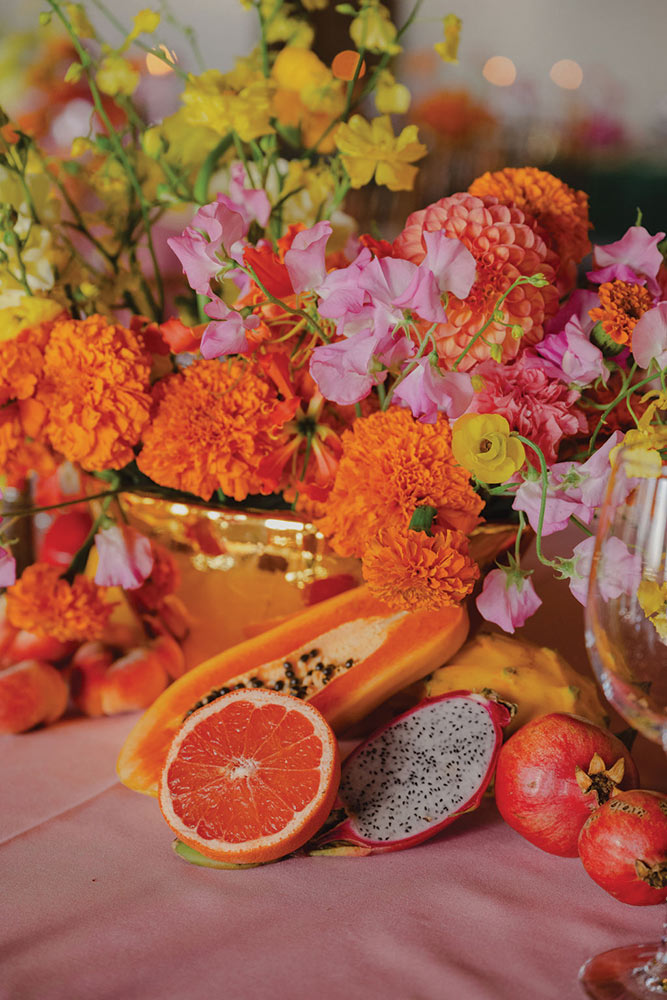 Photo: Mili Ghosh Photography
"Our couples have definitely budgeted for mood lighting!" says Michelle. "Whether it's an installation over the dance floor that includes clusters of chandeliers and floral elements or thousands of strands of little white lights."
For a number of Jove's clients, it's back to the glamorous '70s with a rise in disco balls. "Couples cannot get enough of them," he says of the dazzling orbs.
Sneh is seeing couples light up their celebrations by customizing neon signs for photo-booth backdrops or for their sweetheart table.
Stunning floral installations are edging out smaller flower arrangements. "We're seeing big requests for ceremony backdrops, statement pieces framing the head table and venue entrances, hanging installations inside tents and venues, tall centerpieces layered with shorter ones for depth and so forth," says Michelle. Donielle finds that her clients are leaning into "ceiling installations, flower clouds, and floral arches."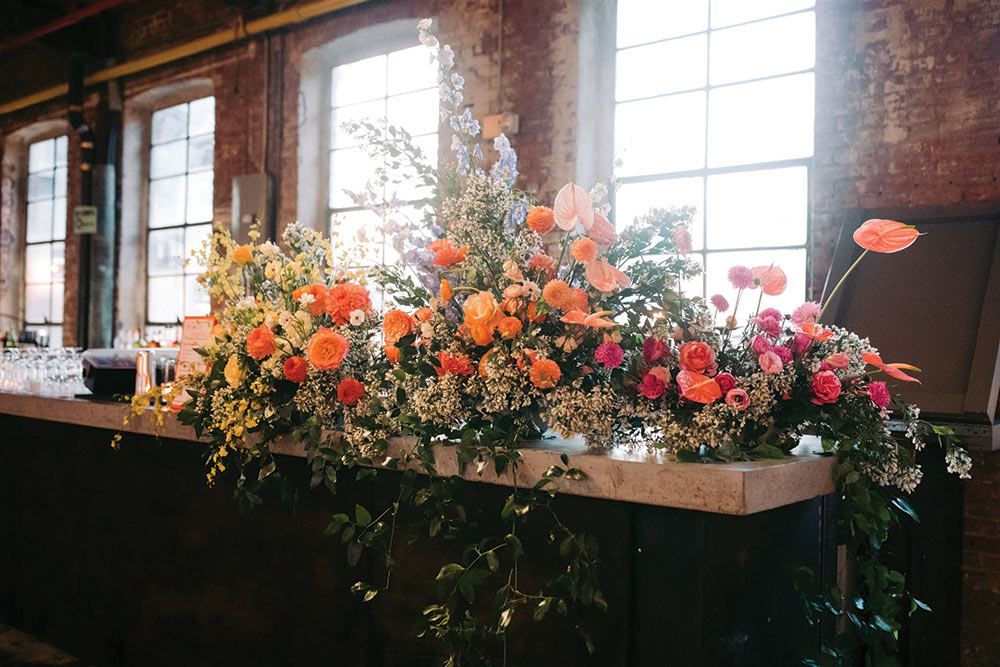 Photo: Sylvie Rosokoff Photography
Tyler and Jove are excited that sustainability is an important consideration in selecting florals. Noting that flower composting is on the rise, Jove adds, "Florists are working with companies who compost wedding flowers, so they go back to nature, not to a landfill."
As for the flowers of the moment, says Kristeen LaBrot-Widmyer, found of Kristeen LaBrot Events in Southern California, "I'm seeing a lot of couples taking their inspiration from Dutch Masters painters — lush, opulent with very rich colors."
Inclusivity
Role Playing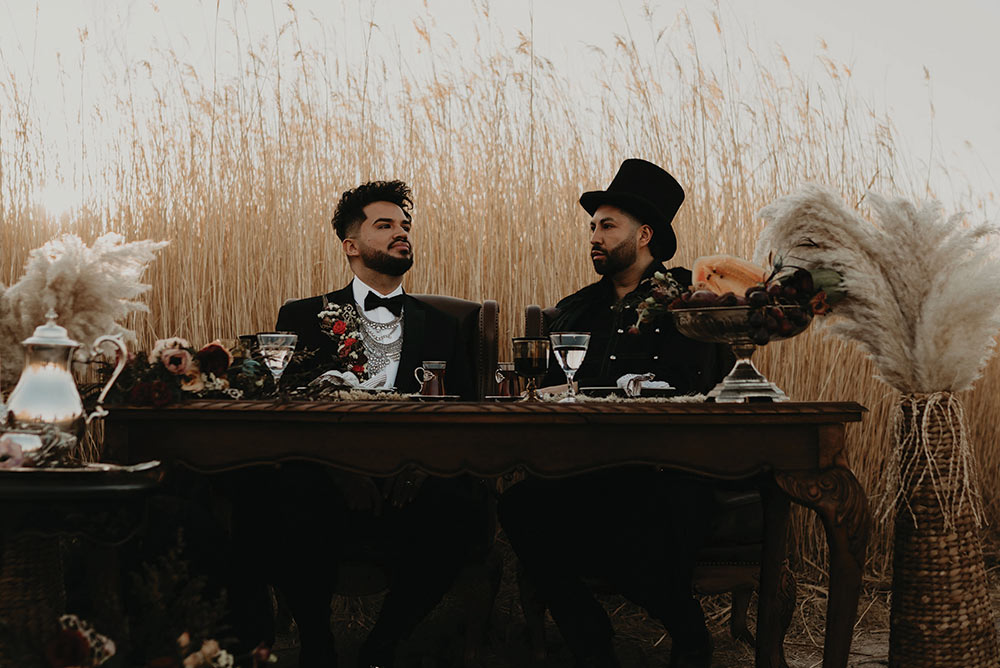 Photo: Electric Sugar Elopements
"I would say 75% of my couples use a friend to officiate their ceremony," says Kristeen. "It helps with the budget and makes the wedding feel a lot more personal." Says Jove, "Instead of flower girls, we have flower people or children, as they no longer need to be young or a girl. It can be anyone that will bring joy and love moments before the ceremony begins!"
Pets are also in the spotlight! "Every wedding I have worked on this year has had the couple's dog be a part of the ceremony," says Kristeen.
"We had a couple call their dog from the ceremony site and he ran all the way to them with a basket of petals that scattered as he ran down the aisle," recalls Jove.
"We encourage our couples to make the day about all the things they love. My last wedding featured the couple's dog, Scooby, on all the paper goods. Scooby was the ring bearer on the day of as well," says Kristeen.

Photo: Kenzie Kate Photography
Language Lessons
We are watching our words more than ever. "Gone are the days of the 'bridal' party, as the newer terms are 'wedding party,' 'wedding attendants' or VIPs," says Donielle.
Andrew Roby agrees. "Using the term 'bridal party' to describe both sides of a couple is reverse sexism and exclusive. With so many people having pronouns that are different from him/he or her/she, the most appropriate thing to call either side of the couple getting married is wedding party. This also supports LGBTQIAP+ couples who are either gay men or non-binary."
"Inclusive language is so amazing. Instead of bridal parties, we have 'wedding parties,' 'wedding crews,' or 'wedding squads.' Weddings are about people in love, and if we focus on the love, the rest will fall into place," says Jove.
Food and Drink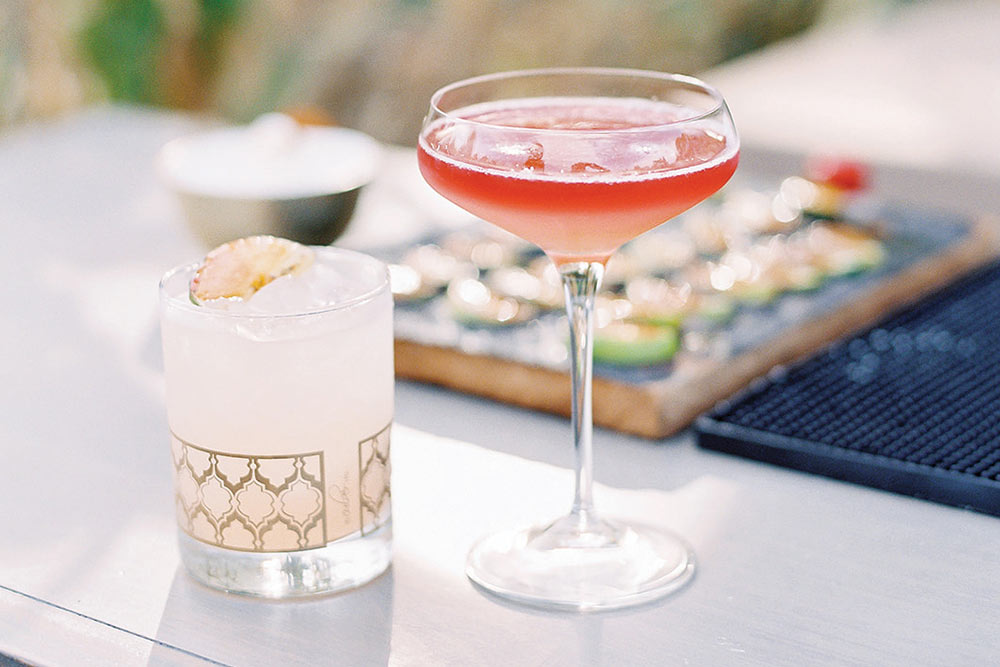 Photo: Dear Lovers Photography
Will certain pandemic lockdown-era safety measures for food and drink still persist into 2023? "Now that the CDC has relaxed its guidelines I think venues and couples will do the same," says Jove.
What's on the menu? "We are finding that rich, but also easy-to-eat, dishes such as braised short rib, fresh salmon, hand-made pasta dishes and scallops are the most popular," says Tyler.
Along with farm-to-table menus, Tyler is seeing that "Quality vegan options are also incredibly popular — from creative tofu dishes to cauliflower steaks."

Photo: Mili Ghosh Photography
"We're seeing lots of prohibition-era inspired cocktails at weddings," says Tyler. "The espresso martini is on the rise," adds Meyer. "Especially during dessert and dancing! Couples are also being considerate of those that do not drink, so zero-proof drinks are also being included more and more."
Wedding cakes are running the gamut from elaborate, over-the-top creations that Jove describes as "throwback" designs "that feel and look like an elevated 1980s wedding cake" to the utter simplicity of elegant minimalist cakes as turned out by pastry-chef extraordinaire Nicolle Lugo, owner of NYC-based A Simple Cake. For 2023, Nicolle predicts less focus on naked cakes, a no-fuss approach to cake flavors, and buttercream frosting in lieu of fondant finishes.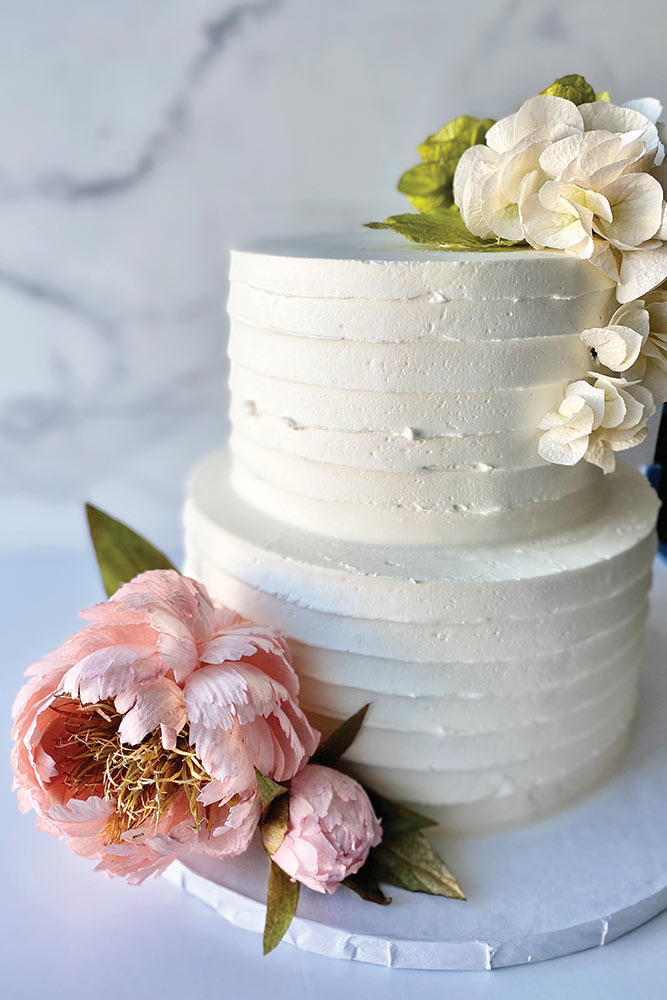 Photo: A Simple Cake
Cake alternatives abound. "I did a wedding featuring Mexican desserts displayed in pieces the bride had collected in East Los Angeles," says Kristeen. "They also had a churro cart and a beignet truck."

Photo: Montana Dennis Photography
Guest Experience 
Michelle, Jove, Tyler and Sneh agree that the comeback of the packed dance floor is here to stay. "A live band is our number-one requested service from clients," says Michelle. "One of our clients had dancers on stilts, a robot with streamers and lights to bring the energy onto the dance floor with the music to match," Sneh reports.
"Cellists and classical music are popular," says McKenzi, along with "tattoo artists, mixologists making classic vintage cocktails, speakeasy retro-style bars, and the like."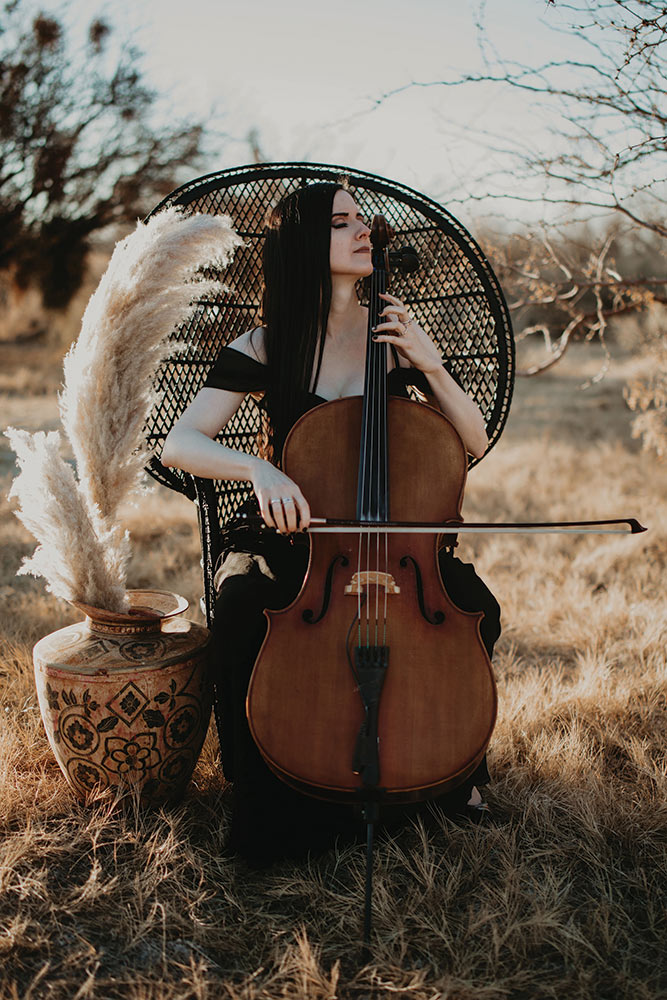 Photo: Electric Sugar Elopements
"Couples are taking their guest experience to the next level with live entertainment," says Donielle. "Our couples have enlisted live entertainment for the ceremony, such as a quartet, second line band for processions to the cocktail hour, a cocktail-hour band ensemble, large reception bands, and performances by recording artists for the bride's entrance and couple's first dance."
Capturing Memories
First Look moments captured on camera are prevailing over the Big Reveal at the ceremony. "The first look session is generally 45 minutes to an hour spent with your significant other, taking in the surroundings and the significance of the day without an audience," Michelle says. "I think it's one of the most genuine moments of the wedding day."
"We are seeing more and more couples do a full wedding guest shot," says Jove. "Honestly, it is not easy to achieve — but I get why couples want it!"
When it comes to photo booths, "We are seeing less is more," says Jove. "Back to the printed black and white strips, no props, no gimmicks, just an old-school photo booth moment." As for innovation, Michelle says, "We've seen a spike in booths that offer video and other photo formats that can quickly be shared on social media."
Let's Party
"Our most popular package is the wedding weekend, which covers everything from the welcome party and/or rehearsal dinner to the wedding, after party and farewell brunch," says Michelle. "Couples want to entertain their guests all weekend to thank them for traveling long distances to celebrate."
"We love when our couples start off the weekend with welcome drinks or a welcome dinner," says Tyler. "This gives the couple the opportunity to greet all of their guests and for everyone to meet each other. Then, the wedding day is about celebration, not introductions or formalities."
"After-parties are a must as many guests are looking to keep the night going," adds Donielle. "Some couples are foregoing a traditional honeymoon and inviting their wedding party to join them for the getaway. The couple then extends their vacation for a last moment of togetherness before returning home."