When it comes to perfect weather settings, Mother Nature knows best. Here, three glorious fresh-air fêtes make the case for an outdoor affair.
By: Elena Donovan Mauer
-AS SEEN IN BRIDAL GUIDE MAGAZINE-
Lakeside
The key to dressing up the grounds surrounding Spokane's Zephyr Lodge was in the flowers, says wedding planner Natalie Good of A Good Affair. Good and her team created lush floral arrangements of peonies, roses and ranunculus, with plenty of greenery to add a touch of wildness."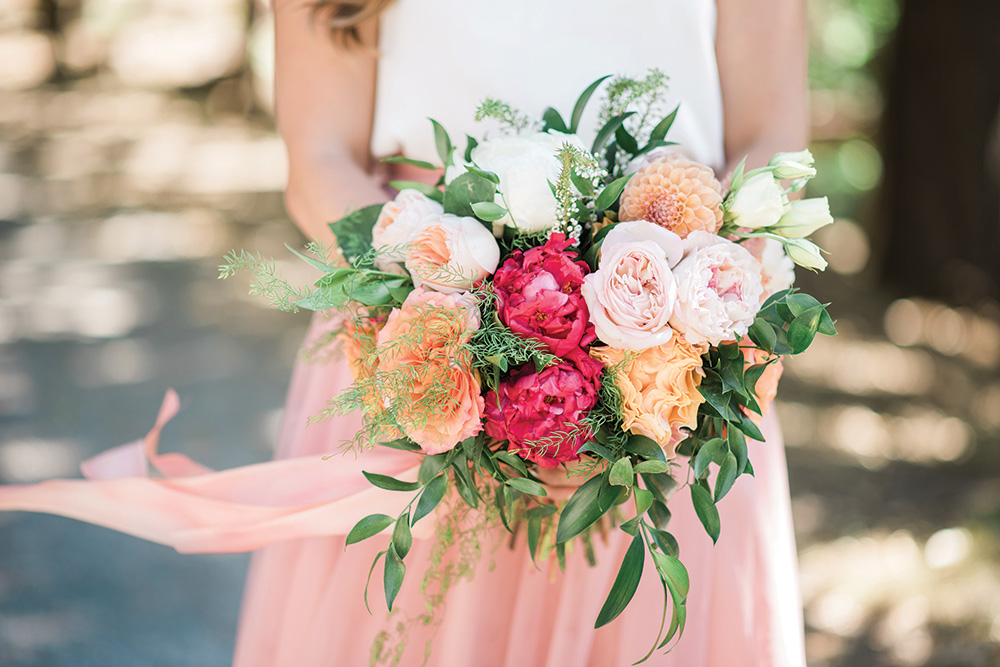 The groom is big on fishing and hunting, so I played up the outdoorsy vibe," Good says. Earthy details like leather napkin rings and antler décor were offset with vibrant color, chosen to reflect the bride's sunny disposition.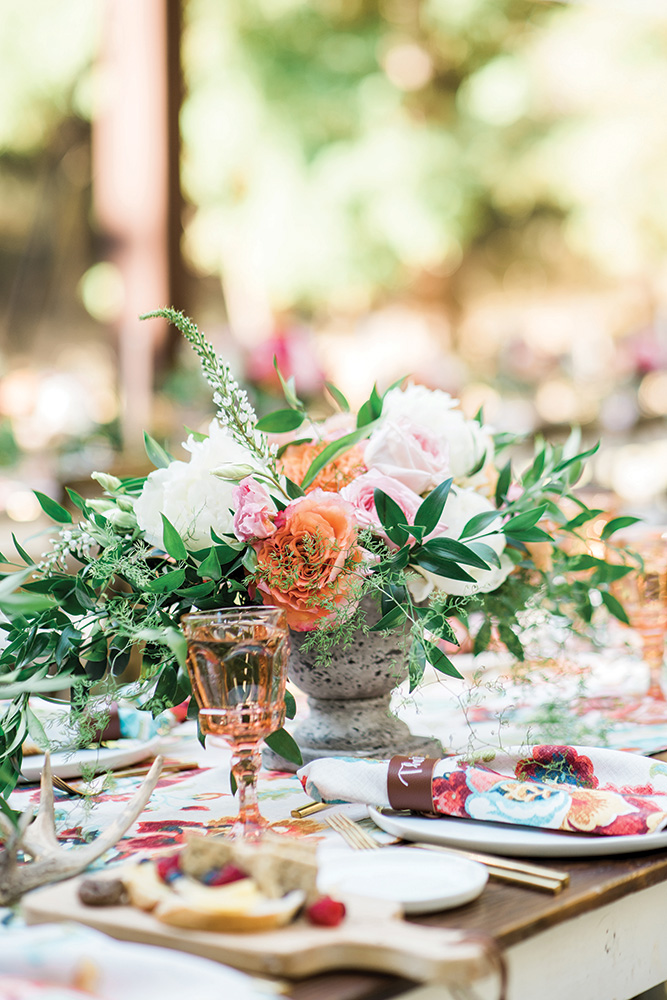 On a 95-degree day, the couple exchanged vows on a deck overlooking the lake. Afterward, guests cooled off with frozen rosé, beer, and cocktails. As day turned to dusk guests followed a luminaria-lit path to an open meadow where dinner was served beneath a canopy of twinkle lights.
Floral-print table runners in the same hues as the flowers accented the tables.
Guests nibbled an array of locally sourced cheeses, berries, and honey served on individual cheese boards that served as favors. Also on offer: platters of pulled pork, roasted vegetables, and grilled prawns.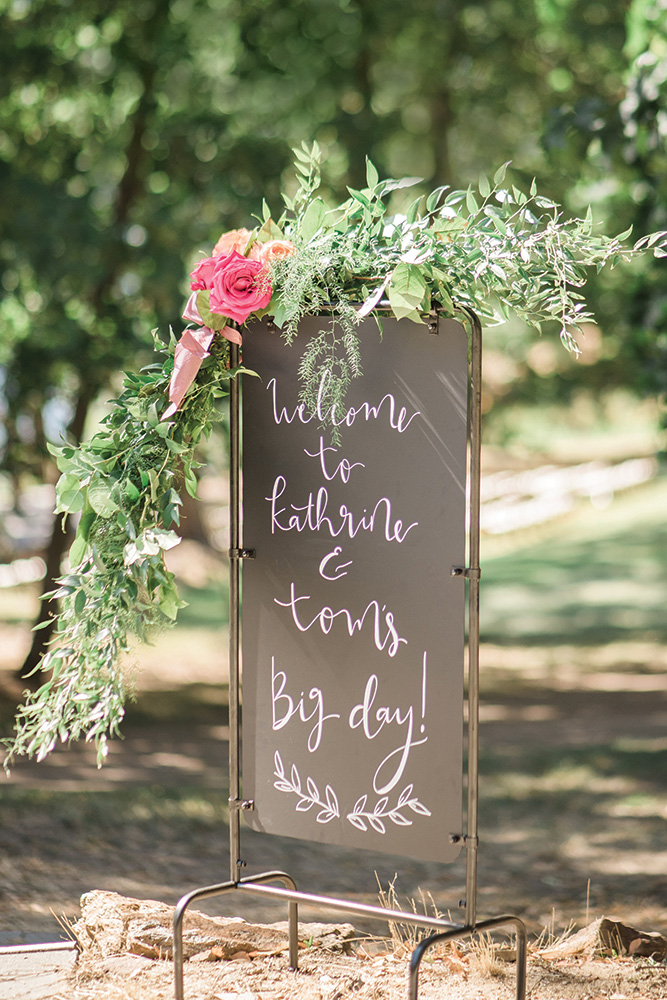 After dancing in the meadow, everyone headed back to the lodge for an after party. "It was comfy and homey," Good says. "Just what you'd imagine for a setting like this."
Photo Credit: B. Jones Photography
"This part of Malibu really speaks for itself," says First Pick Planning's Jen Bergmark. "I wanted the décor for this summer wedding to be romantic without overpowering the natural beauty of the venue — Saddlerock Ranch."
To that end, the couple was married in front of a towering willow and framed by a rustic arch.
A flurry of roses and eucalyptus ensured the ceremony space felt special yet still part of the natural surroundings.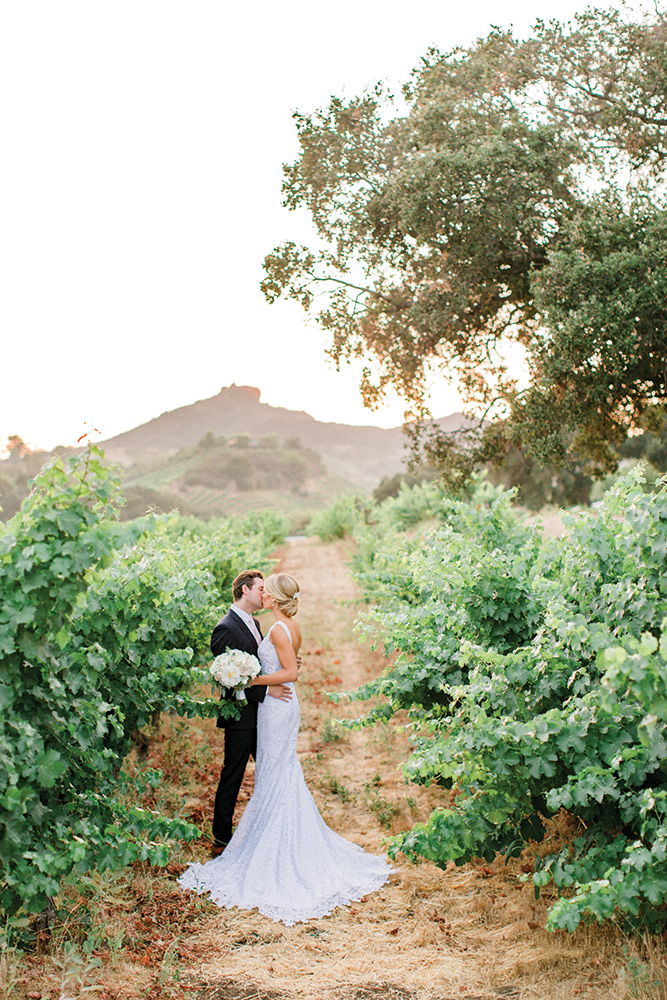 After cocktails in the garden, guests found their escort cards, each adorned with a vintage brass key.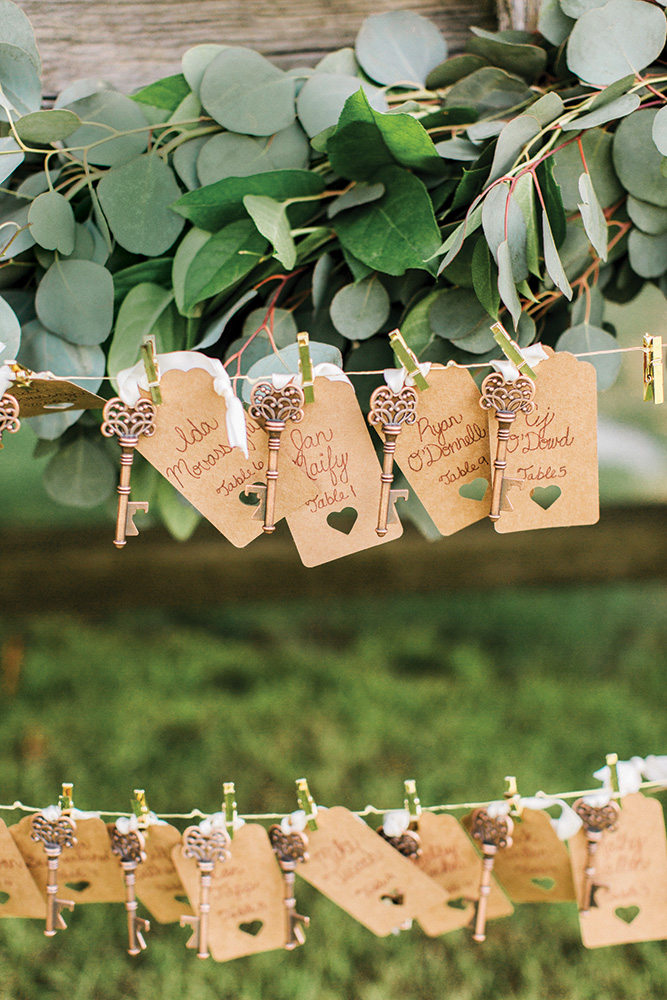 A lush lawn lit with string lights and set with tables and chairs served as the reception space, while above, chandeliers hung from trees, casting the crowd in a romantic glow.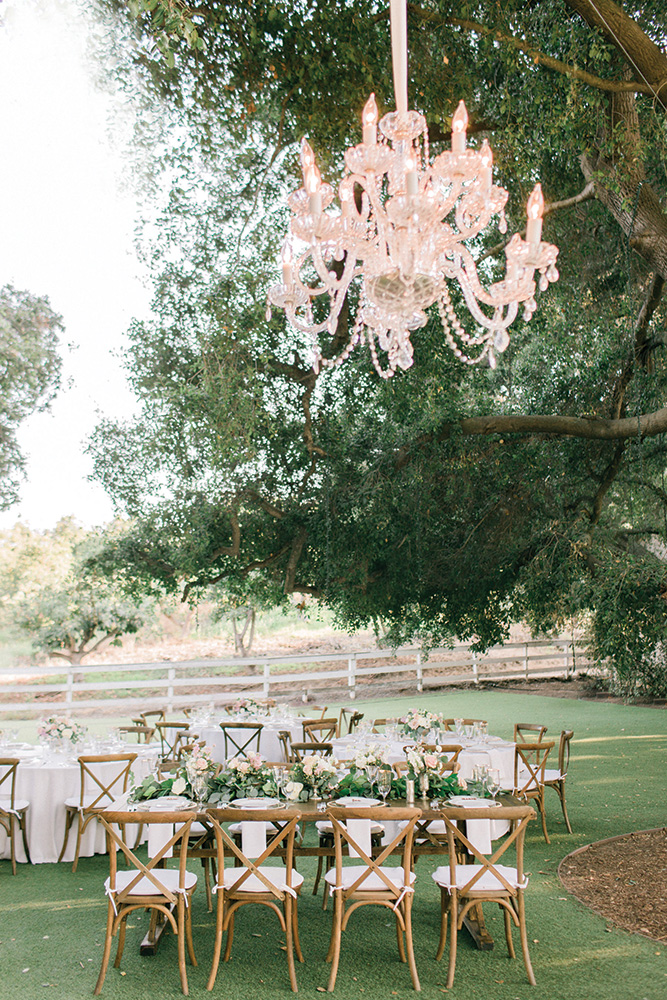 Glass chargers were topped with an eclectic mix of vintage floral-patterned plates — a gift to the bride from a close friend.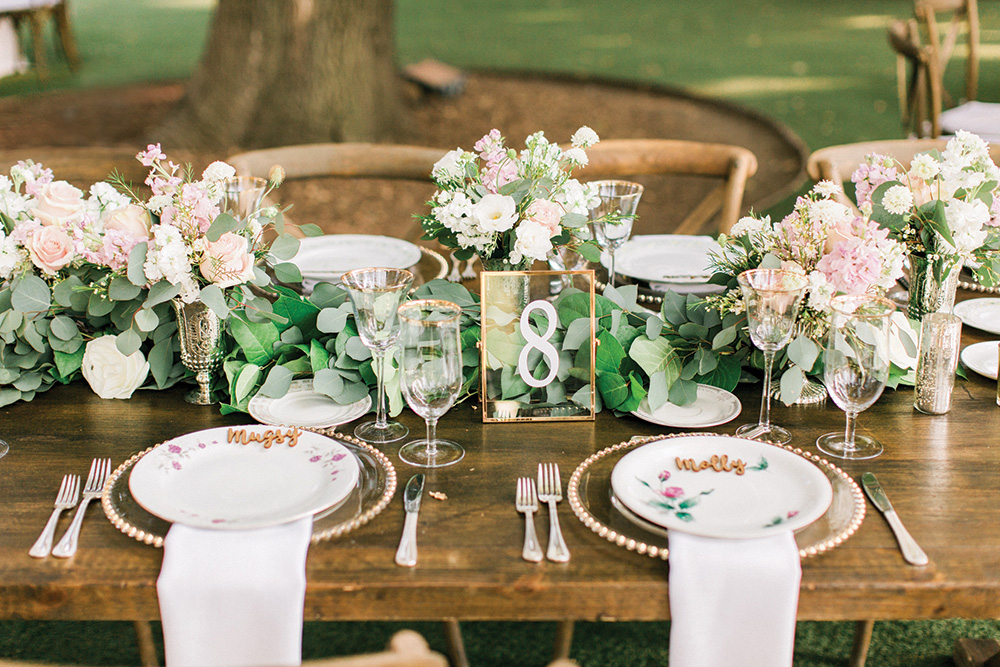 The formal dinner — featuring short ribs and chicken — took some doing, as there is no kitchen on the property. Bergmark rented, transported, and assembled a mobile kitchen so everything could be prepared on site and individually plated.
"It all made for an elegant alfresco dining experience," Bergmark recalls, adding, "so many brides worry about the look of the wedding and neglect to think about the logistics that go into planning an outdoor wedding like this one. It's a proud moment when it all turns out so beautifully."
Photo Credit: Koman Photography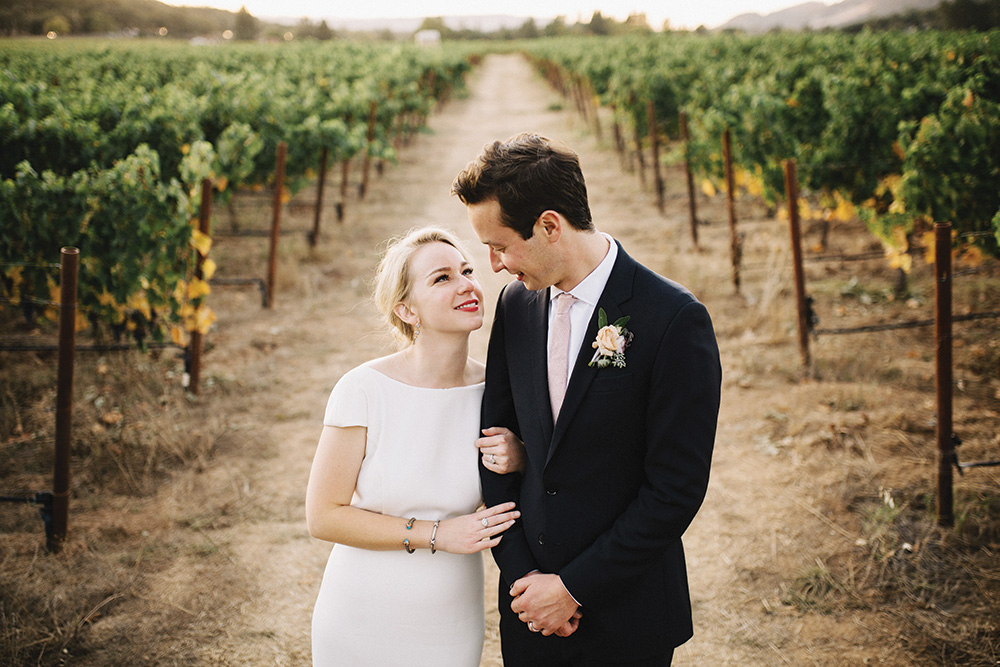 Vineyards offer more than wine. Take this one: Annadel Estate Winery in Santa Rosa, California also cultivates heirloom roses and organic produce.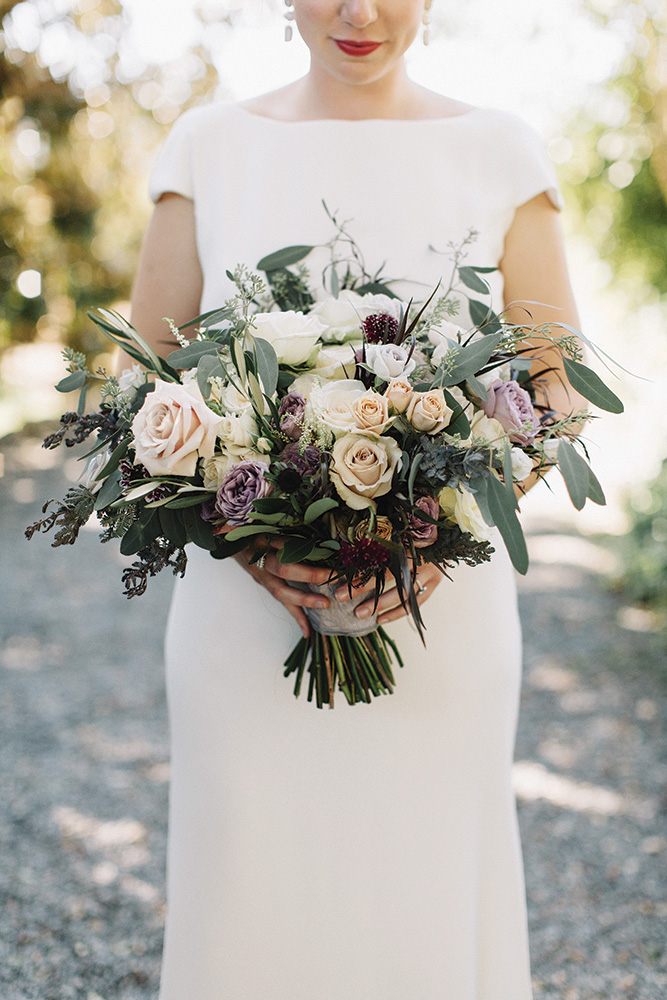 "It's in the middle of wine country, but it has a garden-like feel," says Lindsey Relyea, creative director of L'Relyea Events.
To plan a fête at this captivating venue, Relyea followed the stylish couple's lead. "The bride has this beautiful style," she says. "She pushed me to take a different approach than usual."
To wit: an unexpected color palette in moody, sophisticated shades of slate blue, grey, and burgundy accented with dusty greens.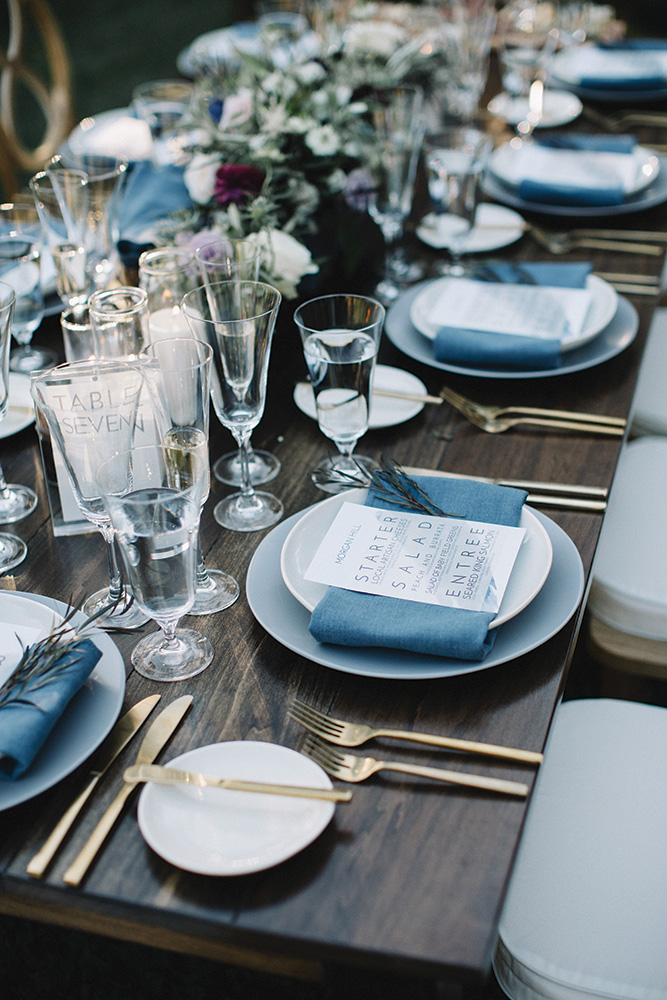 Upon arrival, guests were escorted through a rose garden to the stone ruins of the original 1880s winery for the ceremony. "It's truly a 'secret garden' type of space," Relyea says. Guests dined on pork tenderloin and seared salmon served family style.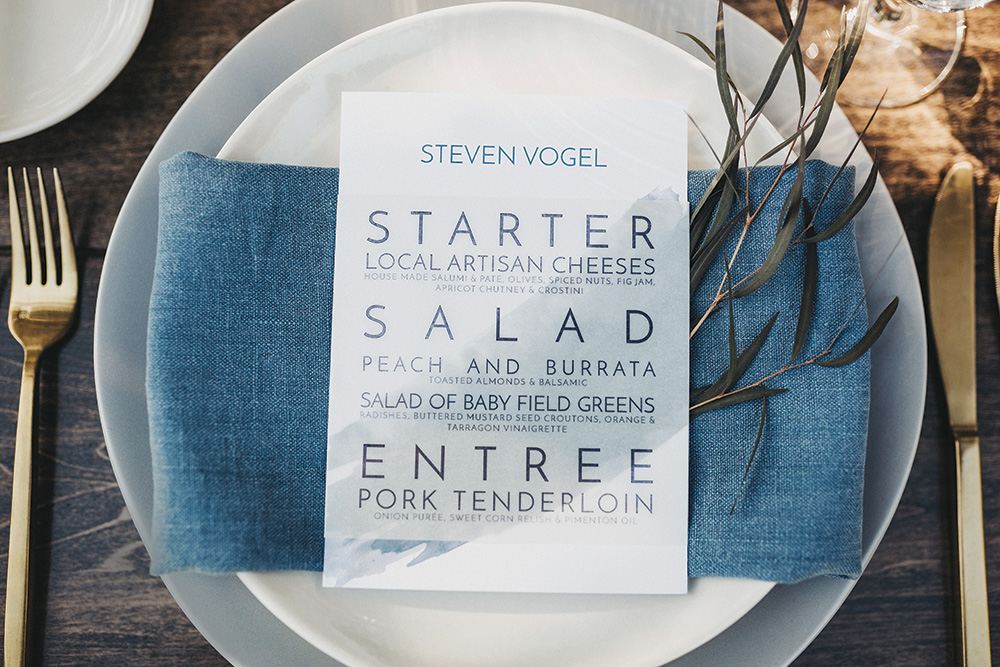 "The couple described how they love going out to dinner with friends and ordering lots of different plates to share, so it was important to recreate that fun and camaraderie."
Dancing took place in the property's barn, "It was definitely a sophisticated crowd," Relyea says. "There was an expectation for a certain level of quality: great food, great wine, and great ambience. But once people moved from the meal to the barn, they were ready to shake it on the dance floor and really have some fun."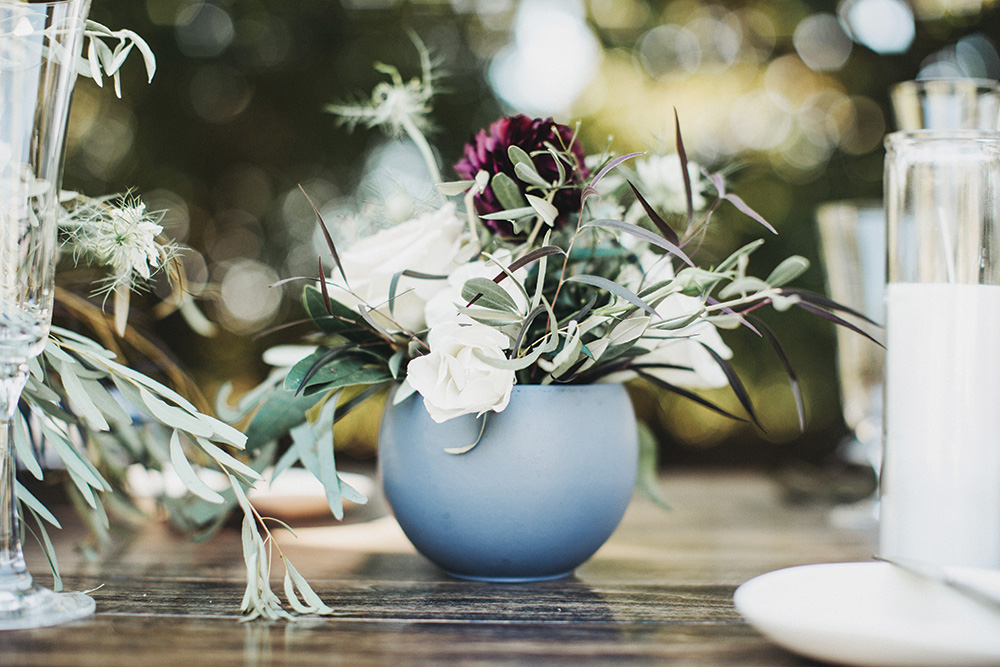 Photo Credit: Hugh Forte Photography