Celebrity event designer Preston Bailey pulls out all the stops for a lavish Las Vegas celebration.
"I try to approach weddings in a very theatrical way," says Preston. So what more fitting a big-day venue than the Smith Center, a theater complex rich in Art Deco details and soaring sight lines. The ceremony was held in the grand lobby, followed by a reception for 250 on a sweeping stage.
"The bride understood the importance of drama," Preston says. "Together, we created something powerful."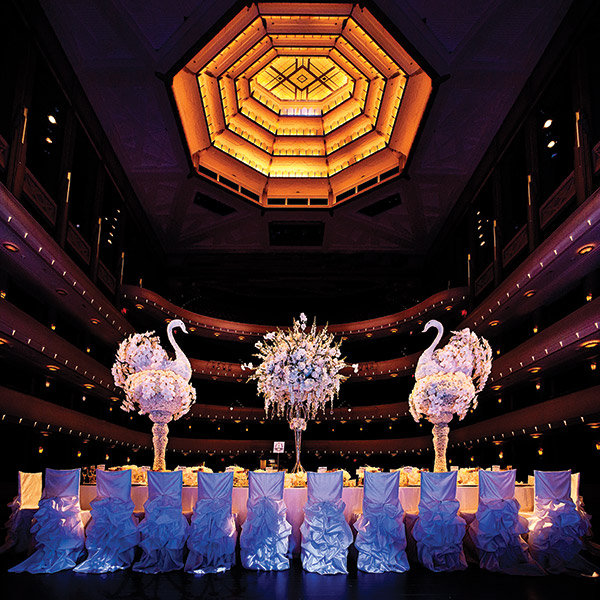 The custom-built gilt-framed ceremony altar covered in roses, peonies, orchids, white stock and hydrangea; the stairs lead to the vast concert hall where the reception was held (on stage!). The couple's child was wheeled down the white-carpeted aisle in a rose-covered carriage.
The sweetheart table featured swans, which were created with crystals, feathers and fresh flowers. 
In a floral nod to the culinary experience to come, a rose and crystal pink pig is placed at the head table. 
The other table arrangements featured soaring centerpieces with roses, peonies, orchids and hydrangea. Each towering centerpiece was further embellished with crystals.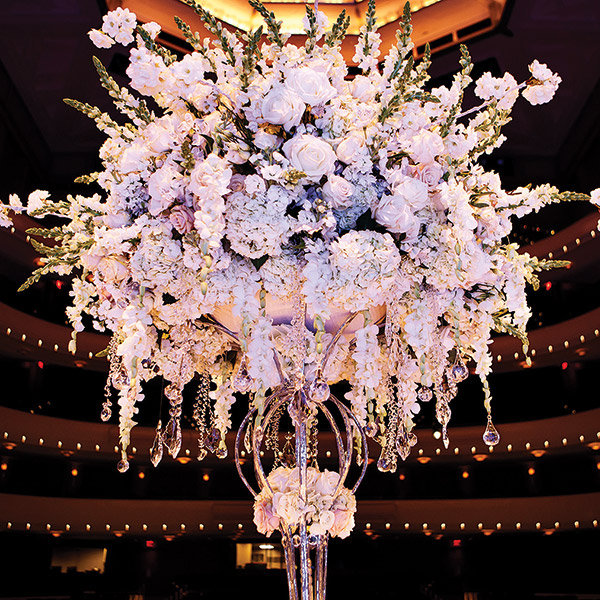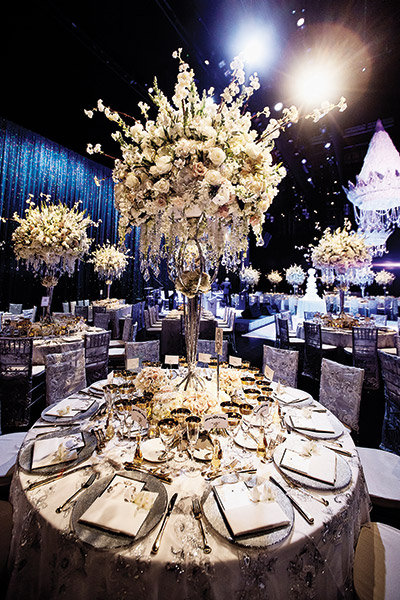 Gold accents were everywhere, from stemware to flatware to the menu cards, which featured a regal crest.
The pièce de résistance: "We created a tall centerpiece dripping with garlands of pearls and attached the escort cards to the ends," Preston says. "It's important that my guests are transported to another world. My goal is for them to say, 'OMG, I have never seen anything like this!'"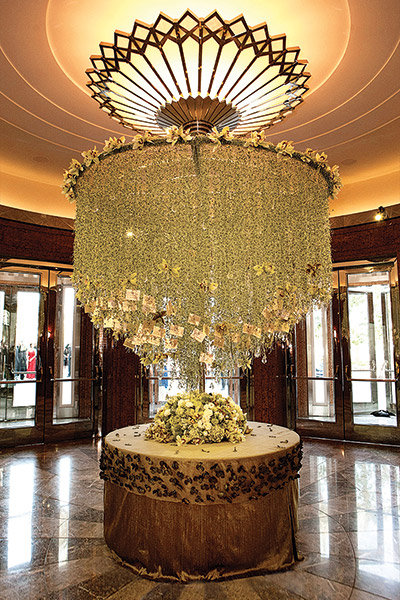 The lavish, sugar-blossom wedding cake by Sylvia Weinstock featured tiers of chocolate and red velvet. "The most exciting part of a wedding is the element of surprise. It could be a change of lighting or a new scent in the air. I know I've succeeded when at the end of the evening the guests don't want to leave."
All photos courtesy of ALTF Photography