Guest Blogger: Leila Lewis
Leila Khalil is the founder of Inspired by This, your go-to source for inspiration as you wed, dwell and grow. Are you newly engaged? You'll love their posts featuring engagement sessions and real weddings to gain insight for your big day! They've also got exclusive home tours to help transform your new place into something incredible, and sweet maternity sessions and nursery inspiration when you're ready to grow your new family. 
If you and your significant other love the outdoors, why not try a camping themed wedding? Use wildflowers and acorns to decorate, and even let your guests roast marshmallows at the end of the night! Whether you host your ceremony at a local park or rent out a summer camp for the weekend, these fun ideas are sure to make your wedding memorable.
The Location:
1. Say your vows beneath the trees — the natural beauty of your surroundings make the best decorations. 

Photo Credit: Jos Studios
2. Think about hosting your reception in a rustic mess hall. Guests will love to reminisce about their days spent at summer camp. 

Photo Credit: Our Labor of Love Photography Event Design: Jove Meyer Events
The Décor: 
3. Create custom wooden signage to incorporate natural elements into your décor.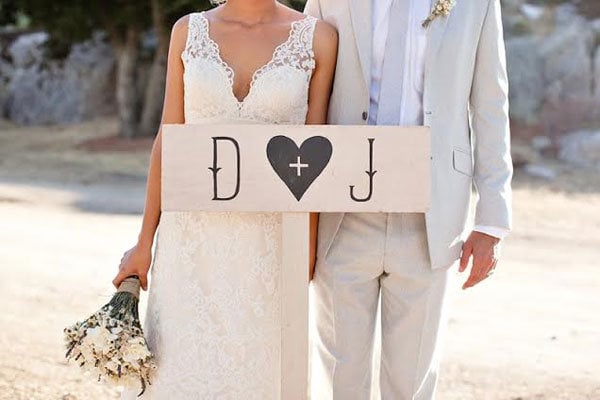 Photo Credit: Sean Walker Photography / Event Design: Couture Events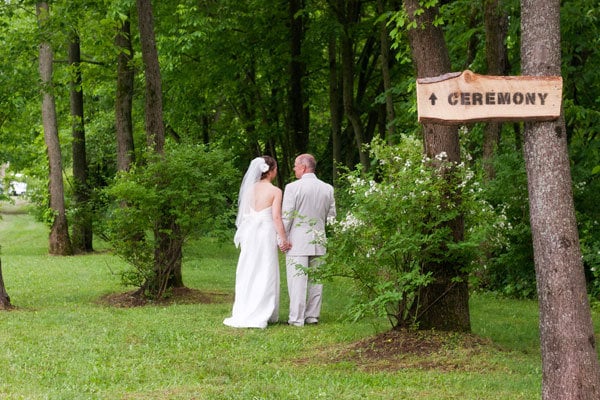 Photo Credit: Lauren Kearns Photography
The Food:
4. Have a camping-inspired appetizer table with snacks like dried fruits and nuts (yum)!

Photo Credit: Krista Mason Photography / Food: Contemporary Catering
5. Bring a campfire feel to your reception with a make your own s'mores station. You can put a unique spin on the traditional treat with a variety of unexpected toppings, like caramel, peanut butter, or pretzels. Before you begin planning, double check your venue's rules on having open flames. 

Photo Credit: Robin Proctor / Event Design: Bluebird Productions
The Photography:
6. The beautiful verdant scenery of the woods makes the perfect backdrop for wedding photos. 

Photo Credit: Kayla Adams
The Flowers:
7. Use wildflowers to create natural-looking arrangements.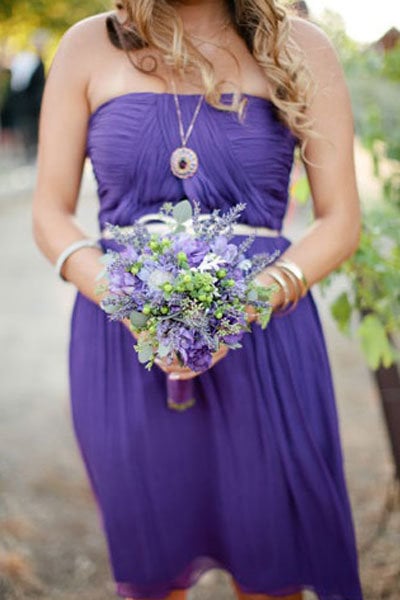 Photo Credit: Majesta Patterson / Dress: Donna Morgan / Bouquet: The Flower House

Photo Credit: Lindsey Orton Photography / Event Design: Attention 2 Detail Events
The Details:
8. Don't be afraid to use fun props like canoes and tents to make your guests feel like they're actually on a camping trip!

Photo Credit: Sarah Wight Photography
9. Mix natural elements like acorns and flowers with man-made lanterns to create a rustic escort card table. 

 Photo Credit: Anne Hebert Photography / Stationery: Little Bit Heart 
Tell Us: Which idea is your favorite?
— Leila Lewis