Let your big day shine with these magical geode-themed wedding ideas.
From balloon arrangements to three dimensional cake toppers, this year's hottest wedding trends are bold and unconventional —  and the latest craze is no exception. Enter: geode details. Perfect for a bohemian or dark romance wedding, glittering gemstones make for exceptionally mesmerizing décor. To help you nail the look, we've rounded up the most breathtaking ways to add stones to your big day beyond the sparkler that's on your finger.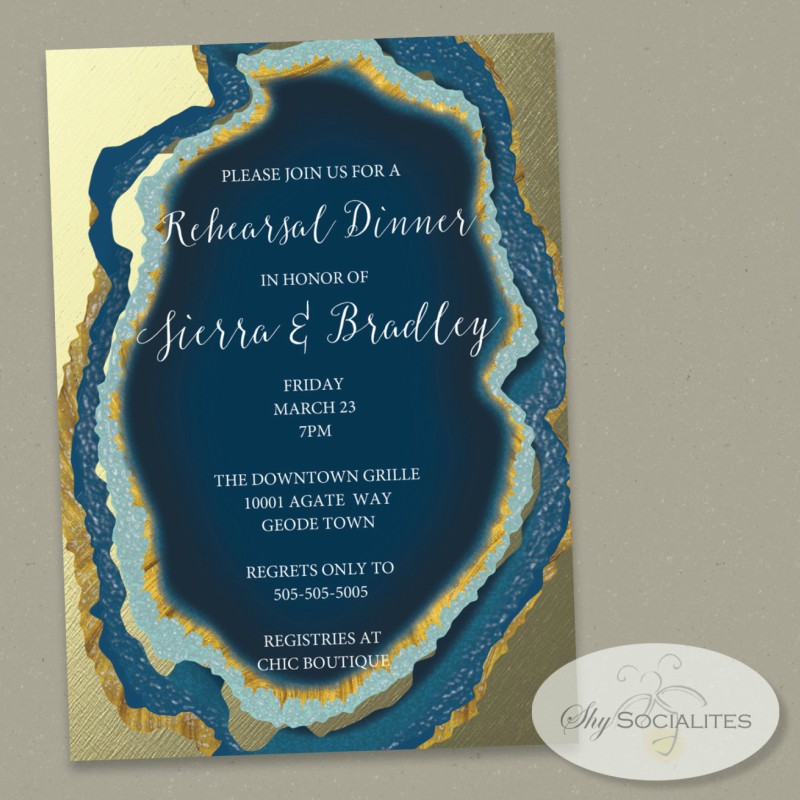 Photo Credit: ShySocialites via Etsy
Give your guests a glimpse of the stunning visuals to come with geode-themed invites. When choosing your colors, make sure to opt for ones that coordinate with your wedding palette.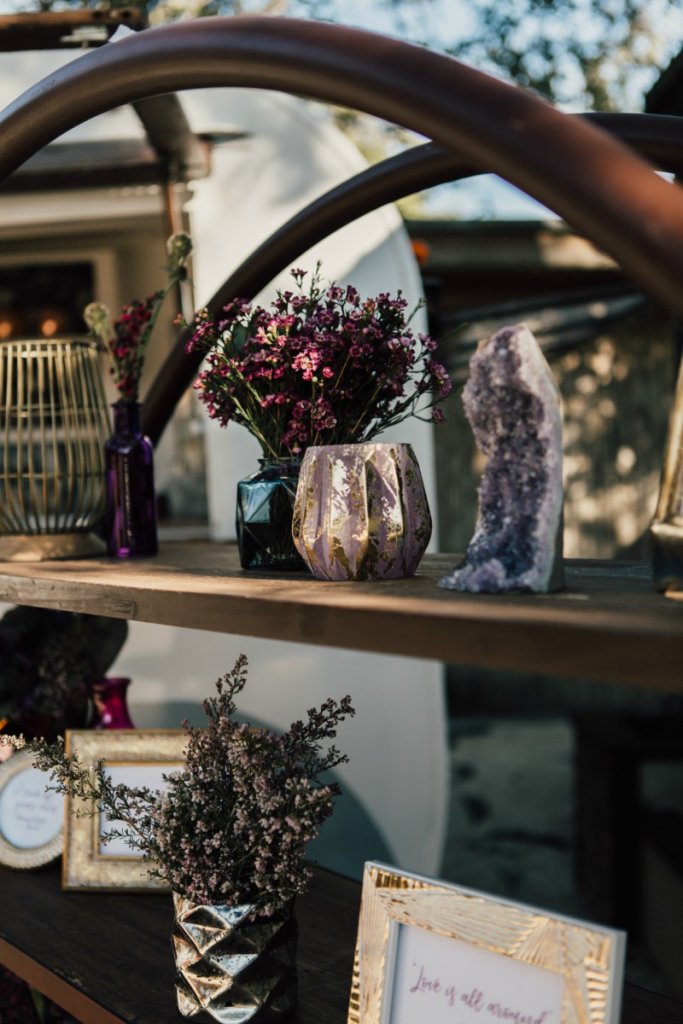 Photo Credit: Laura Memory Photography & Videography
Alongside candles and framed love quotes, place a pure slab of stone (like amethyst) on a shelf for the ultimate DIY effect. The cut stone will also elevate the natural theme of an outdoor reception.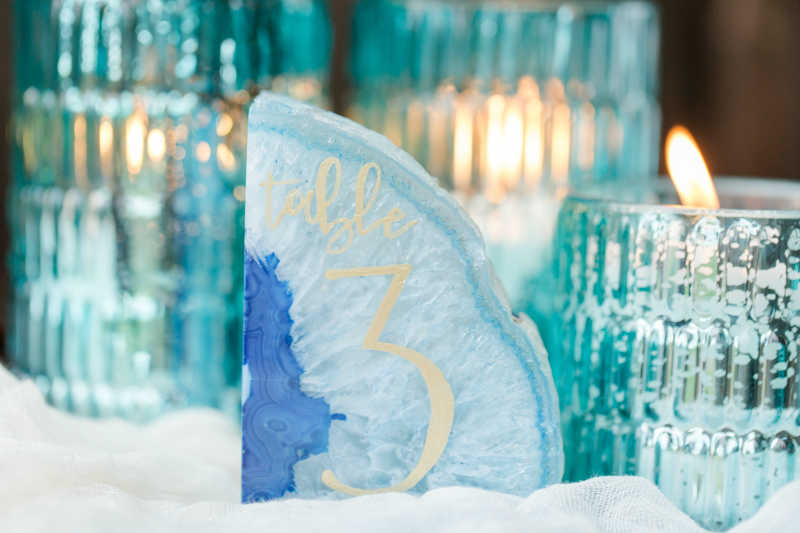 Photo Credit: McSween Photography
Agate accents also look great during dinner hour. Instead of using traditional paper table numbers, paint table numbers on chunks of stone to help people find their seats. One word of warning: Don't be surprised if some start to fight over who gets to take the piece home!
Photo Credit: McSween Photography
For an affordable alternative to individual geode napkin holders, opt for single slabs of stone for your and your groom's settings. This way, you'll be able to cut costs while still incorporating the look into your dinnerware.
Photo Credit: McSween Photography
A raw stone provides the perfect backdrop to showcase your unique rock in a variety of must-have wedding shots. The vibrancy of the geode will really make your diamond pop!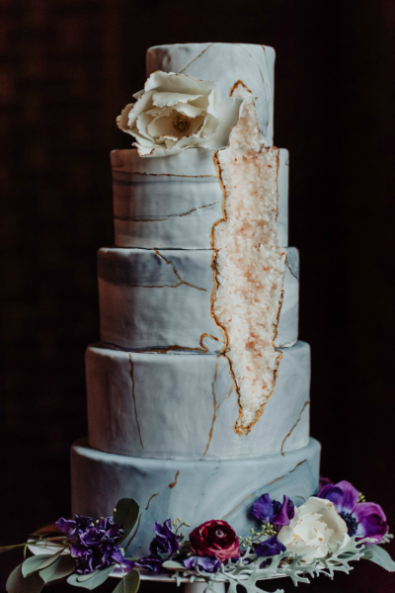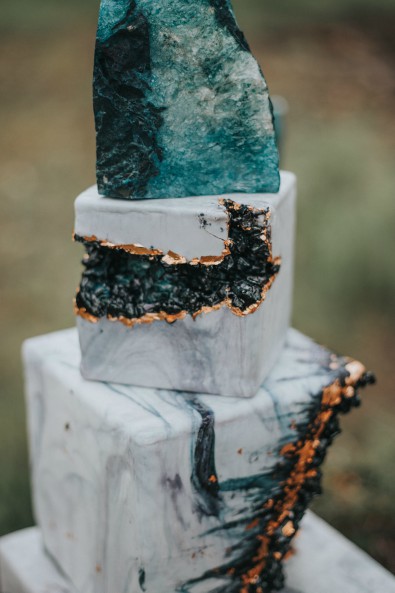 Photo Credit (from left to right): Wilde Company and Ariel Miles Photography
Whether you decide to decorate your cake with actual stones or feature a geode design, the final result is simply spellbinding. When discussing the confection with your baker, don't be afraid to play around with contrasting colors, marble textures and even fresh flowers. For this cutting-edge look, the sky is the limit.
Photo Credit: We The Birds
If you decide on a dessert table in lieu of a cake, these stunning agate macaroons are perfect for satisying guests. The multi-hued, sparkling accents make these delicious treats near works of art. 
Photo Credit: SparklingSweetsShop via Etsy
Your glittering reception wouldn't be complete without rock candy favors. Dip the sweets in gold for an especially alluring effect.
Photo Credit: MadetoLayer via Etsy
Thank your bridesmaids for making your big day special with some delicate geode bracelets. You can customize the looks for each woman or choose a single gemstone to mirror your color scheme. Either way, your 'maids will be eager to wear these lovely accessories long after the ceremony is over.
Can't get enough striking wedding inspiration? Make sure to check out 50 Dazzling Ways to Add Sparkle to Your Wedding Reception and 50 Little Details That'll Take Your Wedding to the Next Level. Plus, don't forget to let us know which geode-themed idea is your favorite in the comments below!
— Sam Peters