Your wedding-day bar should not only look great but also be well staffed and stocked with just the right amount of drinks for your guests. Here, our guide to setting the stage for an unforgettably festive affair.
By: Sharon Naylor
5 Cocktail Classics to Consider

Photo Credit: Ladurée
Classic cocktails are always popular, adding a Mad Men-inspired feel to your wedding. Moratis suggests:
1. Old Fashioned: Bourbon, rye or whiskey, bitters, simple syrup or sugar cube, orange slice, maraschino cherry.
2. White Russian: Vodka, coffee liqueur, cream.
3. French 75: Gin, champagne, lemon.
4. Gibson: Gin, dry vermouth, cocktail onion.
5. French Martini "composed of pineapple juice, Chambord and vodka," recommends Katz.
5 Of-the-Moment Cocktails

Photo Credit: Westminster Hotel Weddings
1. Sangria. Moratis says, "Sangria has become very popular, either in white or red."
2. Sparkling cocktails. Popular options include Kir Royale, Bellinis and sparkling wines infused with fresh garden flavors such as pear or thyme.
3. Signature punch. "Make a splash with an array of garnishes like flowers frozen in ice," suggests Jesse Card, Cruzan Rum master mixologist.
4. Ginger and honey-infused cocktails. Katz says, "People are drawn to the healing qualities attributed to these ingredients."
5. Ginger beer is also on the upswing. Diane Kolanovic- Solaja, owner of Dee Kay Events, in Tennant, NJ. suggests "a Dark and Stormy (ginger beer, dark rum and lime) or a Moscow Mule (ginger beer and vodka)."
Wine Wisdom
Kevin Zraly, wine educator and author of Kevin Zraly's Windows on the World Complete Wine Course, proclaims we are in a "golden age for winemaking," which lets you source terrific bottles of wine without spending a fortune. "Always have a good, good wine on the table—there are many available for $20 and under."
Zraly suggests a sparkling wine like Prosecco from Italy, "which is a hot wine right now and a crowd-pleaser," a Spanish cava or a California bubbly like Chandon. "Sauvignon blanc is a light, crisp wine, and New Zealand varieties are also popular at weddings now," says Zraly. "You can find great inexpensive pinot noirs coming from California and Oregon and even better values from Argentina, using a malbec grape." Pair your wines to your food, says Zraly, going from lighter wines (like a riesling or a pinot noir) to accompany, respectively, a white fish or poultry to heavier choices (like chardonnay and cabernet sauvignon) with tuna steak or sirloin.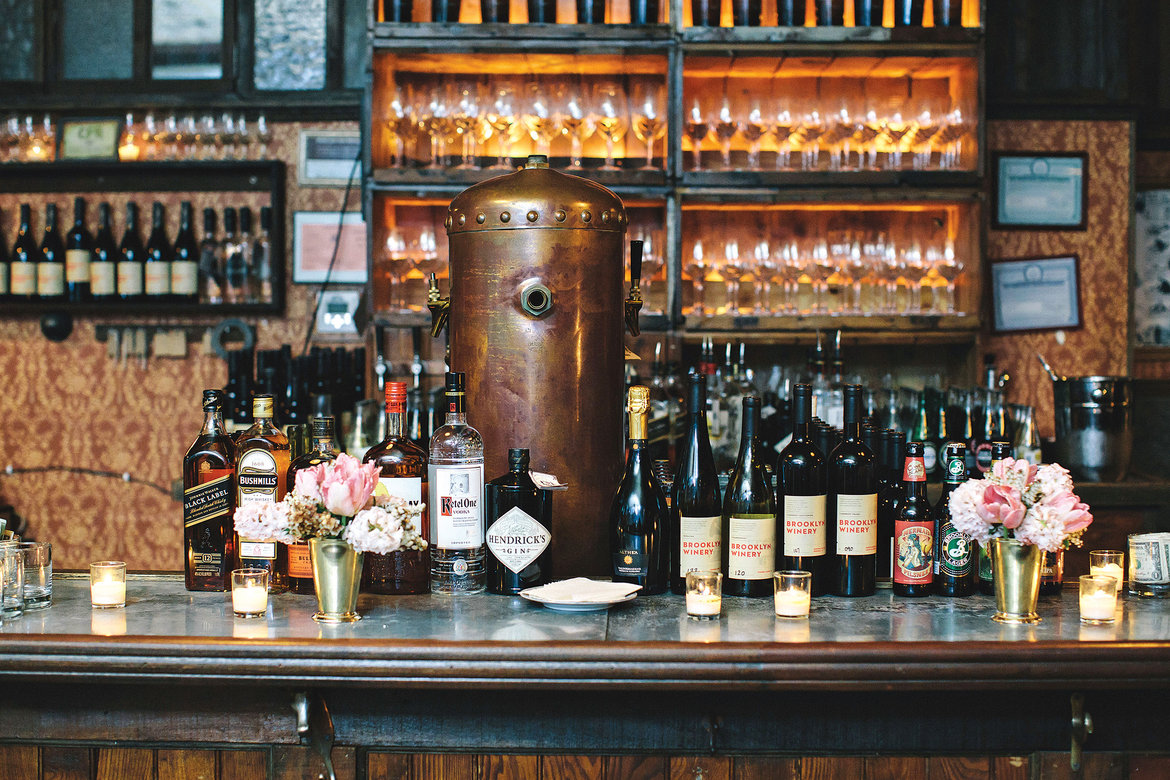 Photo Credit: Brooklyn Winery
Adds Zraly: "Make sure your venue offers the proper refrigeration for wines. Most wines are served much too warm, which affects the taste. A lighter style of red wine needs to be chilled a bit." And champagne should be served extremely cold. "When guests arrive to pre-poured champagne on a tray, that bubbly is often not as cold as it should be," Zraly says.
Pages