Flower girls have the very important role of leading your bridal party down the aisle before you make your own grand entrance. Show her just how special she is with one of these truly magical, memorable gifts. Unicorns, fairies and glitter galore!
By: Amy Schweitzer
Crossbody Bag from Claire's, $14-25 
Accessorize your mini with anything that shines or glitters! It was hard to choose just one satchel she could use to keep her hairbands and lipgloss (and favorite character toy!), so here are three. 

Clockwise From Left: Holographic Glitter Donut, Iridescent Reversible Star Sequin, Ariella the Unicorn
KEDS by kate spade Champion Glitter, starting from $40
Amp up her aisle style with comfy sneakers she can also wear on the dance floor and beyond. Available in rose gold, silver, cream, navy, and black. Get matching pairs for yourself and the rest of your wedding-day crew!
Dogeared "Flower Girl" Pave Sparkling Necklace, $38
Say thank you to the littlest member of your bridal party with this special keepsake she can wear as she leads the way down the aisle. Available in sterling silver or dipped in 14k gold.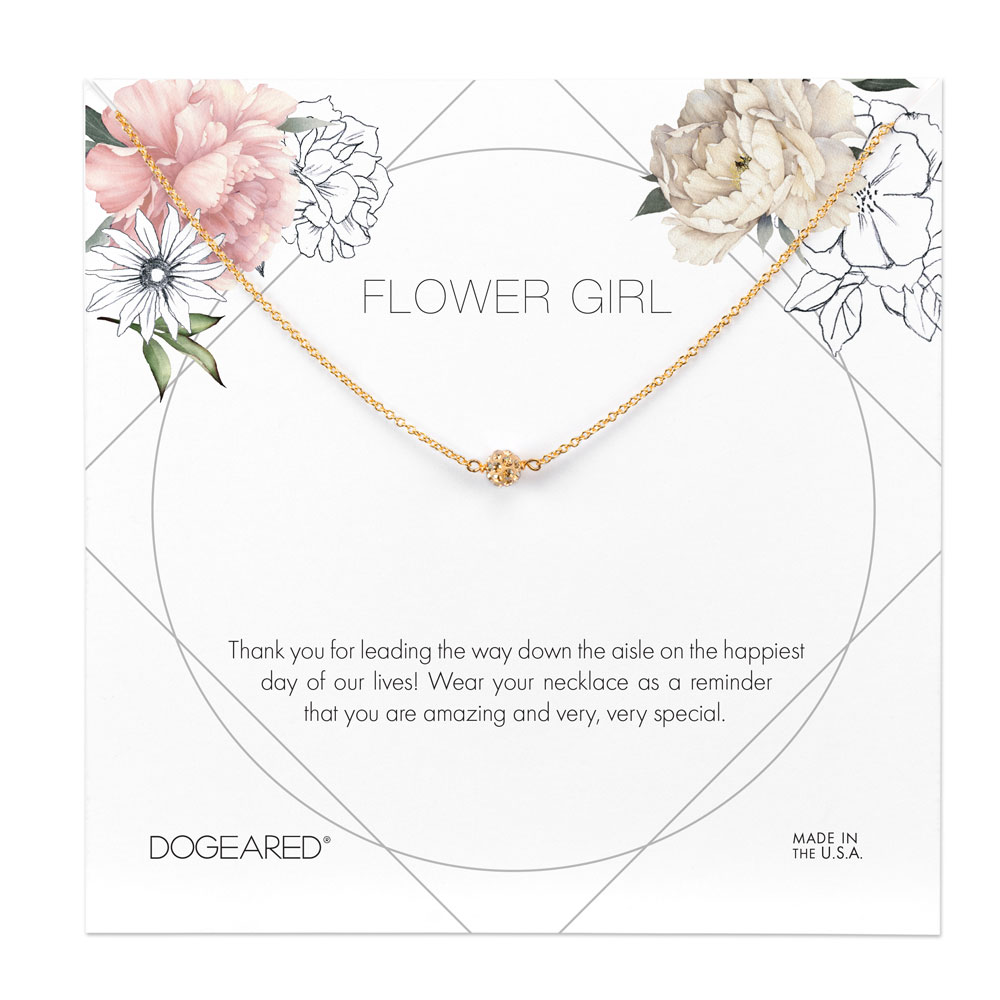 Piggy Paint Gift Set, $10-25
Plan a special visit to the nail salon just for you and your sidekick, and treat her to a take-home set of kid-friendly polish to commemorate the day. Created just for little fingers and toes, Piggy Paint is nature-based, odorless, non-toxic, and offers a vast assortment of gift options. The Tiny Tiaras set, for example comes with four vibrant colors of polish and a sheet of princess-themed nail art.
I See Me Personalized Storybook Gift Set, starting from $35 
Show her how important she is by adding her name (literally!) to a custom storybook in which she is crowned a fairy princess. I See Me's My Very Own Fairy Tale is available on its own or with a matching magic wand and personalized coloring book.
Barbie Wedding Gift Set, $39
Why just get one Barbie bride, when you can get the Barbie bride, Ken groom, plus a Chelsea flower girl, and Stacie bridesmaid!?
Custom Petal Patrol Box Set from CastleHallCreative @ Etsy, $37-46
Give your flower girl the duty of keeping your petals secure until the ceremony music starts. This gift set includes a "petal patrol" box, "special agent" custom ID badge with her name and photo, plus personalized sunglasses; and a coloring book and crayon set. "Ring security" box set also available.
Flower Girl Dog Dresses by David's Bridal, $20-25
While she may not be expected to throw petals (although there are tricks for that!), your furbaby will certainly get some appaws by your side in one of these adorable frocks. 
From Left: Pink and White Floral Embellished Dog Dress, Glitter Script Dog Dress
Now that you have your flower girls' covered, find gifts for your bride tribe at Beyond the Big Day: Bridesmaid Gifts for Every Girl in Your Crew.