Here's how to put together a fun-filled multi-day celebration.
By: Lynne Kendall Lawson
Weekend Planning Essentials
1. "Save-the-dates should be sent out 6-8 months before the big day, and can be sent up to a year in advance for destination weddings. This will give guests plenty of time to plan for any necessary travel and assist in securing competitive rates," says Amber Harrison, etiquette maven at Wedding Paper Divas. "Details can be confirmed and shared with guests closer to the event or updated through your wedding website."
2. Make it clear when guests will be expected to pay for their own expenses. The best way to do this is through invitation or wedding website wording. For instance: "On Friday evening, we'll head out to a country bar for drinks and dancing. See the menu, drinks list and pricing at (website.)" When guests see the word "pricing" mentioned, they'll know to bring their wallets. When guests see that an event is hosted by you or someone in the wedding party, the message conveys that the hosts are paying.
3. Share dress codes for each event on your wedding website, so that guests will know what to pack.
4. Send guests a weekend itinerary in advance of the big day, whether print or a link to your wedding website. If a new event is planned just a few weeks before the wedding, send guests your itinerary page link with a message of "New Party Added!" or "Even More to Look Forward To!"
5. Print out copies of your itinerary and add one to each welcome basket, so guests have the schedule and details easily on hand.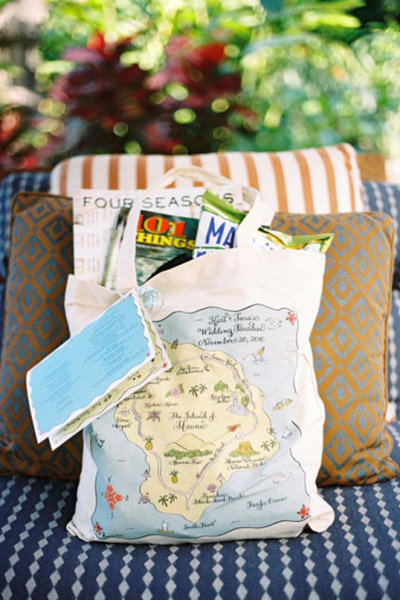 Photo Credit: Laura Hooper Calligraphy via Lover.ly
6. For a twist on the traditional welcome basket, surprise guests with a different treat in their hotel rooms each night, like a plate of fresh-baked cookies or chocolate candy.
Timing is Everything:
7. Space out activities so your guests don't feel drained by racing from one event to the next and will have time to get back to the hotel, shower and change into the next event's appropriate attire.
8. Allow for enough downtime so that guests can make plans amongst themselves, relax by the hotel pool, explore the area or enjoy some alone time.
9. Plan shorter events, not an all-day hike or endless touring excursion. 
Pages