One of our favorite new wedding trends: using your wedding as a wonderful way to give back to your community. Here, get inspired by these creative ideas.
By: Deirdre Kaye
6. Opt for Locally-Grown, In-Season Food
Admittedly, this option might be hard when working with venues that have already contracted specific must-use food providers. However, if being green and eating local is important to you, take this into consideration when booking your venue, and look for a place that will either follow your request or allow you to bring in an outside caterer.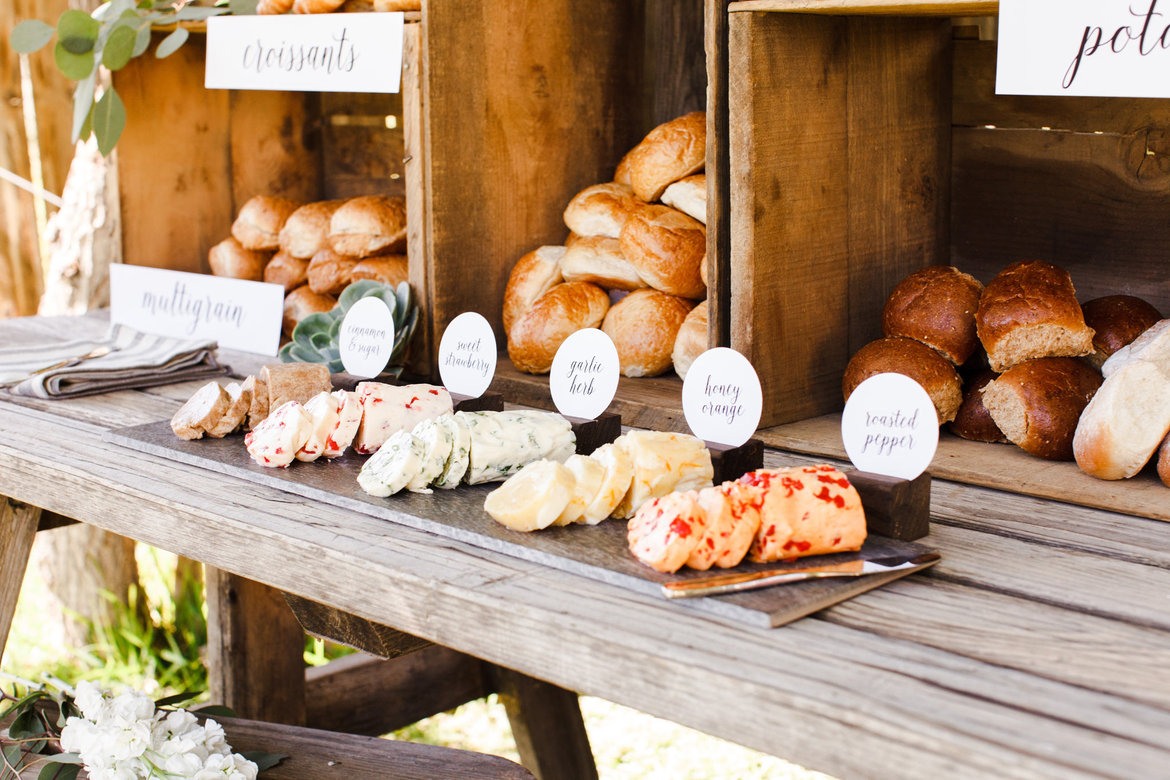 Photo Credit: Rennai Hoefer of Ten22 Studio
7. Know Where Your Flowers Come From
Don't have your heart set on a particular flower type? Shop local and support a farmer in your community instead of importing high-priced blooms. You might even be able to pick your own flowers, which could serve as a wonderful bonding experience with your soon-to-be spouse. Or, give your bouquet a sentimental touch by snipping a few roses from your mom's bushes — every little bit helps.
8. Don't Toss Your Flowers
You probably spent a lot of time picking out your flower arrangements — but where will those flowers end up in a few hours? Suggest your guests take those gorgeous centerpieces to a loved one who's in the hospital, or arrange for a friend to drop them all off at a nearby nursing home. Or, if you have a loved one who passed away too soon to attend your wedding, schedule some time before your honeymoon to deliver the flowers to his or her grave.
Also, consider using potted plants instead of cut flowers. These living, breathing arrangements can easily find a second purpose after the big day. Consider opting for seasonal plants you can find at your local gardening center. Think: Colorful pots of mums set inside pumpkins for a fall wedding, or gorgeous pink, white, or red poinsettias for a winter wedding.
9. Make the Most of Your Leftovers
Elaborate cocktail hours filled with appetizer stations, five-course plated meals, and overflowing dessert displays are a recipe for tremendous food waste. Work with a caterer who will donate leftovers to a shelter, or ask if you can do the honors and pass out food to the homeless in your community — all it takes is a few takeout boxes and a handful of faithful friends to help you pack up and deliver the food.
10. Give Up Your Dress
So many brides save their wedding gowns in case their future daughters wants to wear it one day. But how many of us actually ended up wearing our mother's gown? Sure, you may have played dress-up in it as a kid (or admired it safely from afar in its preserved box), but when preparing for your big day, you decided to go with something that matches today's aesthetic. Instead of hoarding your own lace and taffeta, consider passing it along to a thrift store.
Pages