Need a jump start on your to-do list? Take our crash course in wedding know-how. It's as easy as A-B-C!
By: Kristen Finello
Newspaper announcement
Here's how to spread the good news. Contact your chosen newspapers—some provide forms for you to fill out, while others allow you to craft your own wording. If they run photos with the announcements, get the specifics: Do they accept digital pictures? What size? Will prints be returned? As for timing, engagement announcements can run up to a year before the wedding, but two to three months in advance is customary. Wedding news can be published just as soon as you've said "I do."
Open bar
Having an open bar is common at weddings and is even expected in many regions. If you're concerned about the cost, there are a few wallet-friendly alternatives: Have an open bar for the cocktail hour and then switch to just beer and wine; serve only beer and wine for the entire event; or forgo alcohol altogether and offer a variety of soft drinks.
The one no-no: a cash bar where guests are expected to pay for their drinks. You wouldn't expect your friends to pony up for what they'd drink if you invited them over to your house, so you certainly can't ask them to do so at your wedding.

Photo Credit: Choco Studio
Outdoor wedding
A glorious breeze, the sun setting in the background…ah, the beauty of an outdoor wedding can be hard to top. Just be sure to have a solid backup plan in case Mother Nature doesn't cooperate with your plans. Ideally, you should have an alternate indoor location that you feel comfortable with, but there are other options if you want to ensure that you keep the event outdoors: Have large tents on hold at the party rental store in case of rain; heaters in case of cold; and fans in case you need to create a cooling breeze.
Presentation
When it comes to your wedding fare, you obviously want it to taste terrific—but looks do matter, too! Creative food presentations are a great way to have some fun and to carry through your wedding color scheme. Some ideas: Ask your caterer to serve soup in shot glasses or mousse in martini glasses. Dress the trays for passed hors d'oeuvres and the buffet platters with a few large blooms or interesting leaves, like banana leaves, to add some flair.
Place cards
At a formal wedding, guests are often assigned a specific seat at the table, and that's where place cards come in. These can be as simple as a tented piece of cardstock or as whimsical as a tiny floral arrangement. If you're putting printed menu cards at each seat, they can do double duty as place cards. Just ask your printer or calligrapher to add a guest's name to the top of each menu.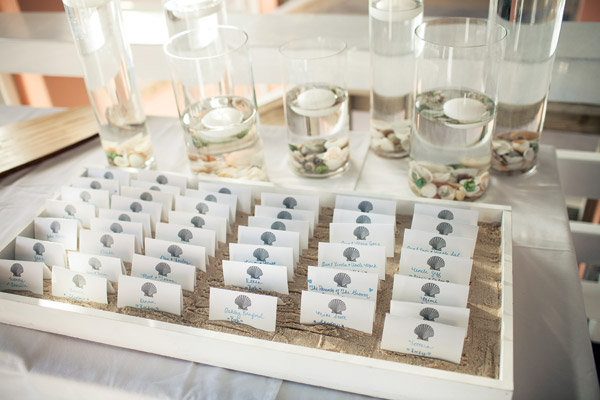 Photo Credit: Sacha Blackburne Photography
Quiet time
Between formalwear fittings, cake tastings and worries over pulling together a guest list, wedding planning can put a serious dent in your love life. So make a point to pencil in some quiet time with your fiancé. Whether you hit a hot new restaurant, take in a movie or just share coffee and bagels over the Sunday paper, keep wedding chat to a minimum (no easy feat!) and just enjoy each other's company.
Registry
Registering for your wedding gifts has never been easier. Almost all major retailers now have full-service online registries and most brides today are registering at three stores. However, if you want a variety of items on your wish list but don't want to juggle (and send your guests to) multiple registries, then Bgregistry.com was made for you. Bgregistry.com allows you to select gifts from multiple retailers so you can add anything you want from any store to one, centralized wedding registry.
RSVP
Wondering how many of your guests are likely to RSVP "yes"? Typically, 25 to 30 percent of guests decline the invitation. But don't count on it! If your venue holds 150 people, for example, don't invite 200 and assume that 50 won't show. If you decide to enclose response cards with your invitation, they should be printed with the date to respond by, a line for guests to fill in their names and a line for them to note how many of those invited plan to attend. Give your caterer your final head count a week to several days prior to the wedding.
Save-the-date cards
These are a great way to give your guests plenty of notice about your upcoming nuptials. Save-the-date cards are mailed out six to eight months before the wedding, but can also be sent as soon as you've come up with a complete guest list and confirmed your wedding date.
Send-offs
Traditionally, wedding guests sent the newlyweds off in a shower of rice. These days, most couples have expanded on this tradition and opted for more creative options. For a special send-off, have your guests ring little silver or gold bells (yourweddingcompany.com), wave ribbon wands (jamaligarden.com,), blow bubbles (nuptialknickknacks.com) or toss pretty rose petals (petalgarden.com).
Pages