Need a jump start on your to-do list? Take our crash course in wedding know-how. It's as easy as A-B-C!
By: Kristen Finello
Escort cards
If you really don't know the difference between these and place cards, you are not alone (even some wedding pros get this one wrong!). "Escort card" is the name for the cards used to indicate each guest's table assignment. These miniature missives, which are usually arranged on a table near the entrance to the dining room, serve a practical purpose, but also offer a chance to get creative. For example, you might write names and table numbers on Christmas tree ornaments for a holiday affair; small gourds or pumpkins for a fall fête; or seashells and sand dollars for a summer celebration.
Favors
Show your guests how much you appreciate their presence with a thoughtful favor. Skip the candle or cookie (old news!) and consider petite treats with a purpose. Think silver luggage tags, cool coasters or corkscrews, or packets of sophisticated cocktail mixes to go. Check out these websites for a creative selection of budget-friendly favors: favorwarehouse.com, myweddingfavors.com, and favoraffair.com.
If you're thinking of something a little more personal, try making a donation to your favorite charity on behalf of your guests. The I Do Foundation offers a simple and easy way to make your donation. You can choose an organization from their list or suggest your own. Place cards are also available for purchase to let your guests know about the special gift.
First dance 
Take a cue from the hit TV show Dancing with the Stars and spend a few weeks polishing your steps for your first dance. Whether you waltz, tango or swing, a little practice (or even a few lessons) can make the difference between shuffling nervously around the dance floor and wowing your guests with your smooth moves.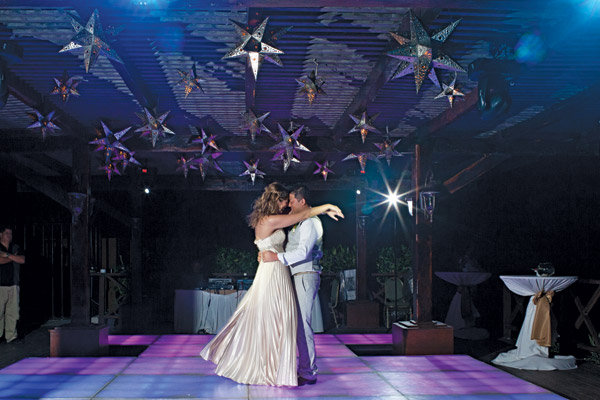 Groom's cake
A tradition that originated in the South, a groom's cake—which can sit near the wedding cake or on a separate table at the reception—is a fun addition. Surprise your guy with a confection that reflects his hobbies or interests. A baseball fan will love a bat- or hat-shaped cake, while a music lover will appreciate a treat shaped like his favorite instrument. You can serve the cake at the reception or box up slices for guests to take home.
Heritage
Looking for ways to put your personal stamp on your wedding? Consider including elements—from food to colors to music—that honor your and your fiancé's family heritage. Be sure to explain the significance to your guests. For example, you can describe specific customs or songs in the wedding program or highlight special dishes on menu cards at each place setting.
Invitations
Ideally, you should start your search for the perfect invitations six to eight months before your wedding and place your order at least four months before your date. If you don't make those deadlines, ask the printer to send the envelopes ahead of the invitations themselves. This way, you can get a head start on the time-consuming task of addressing the envelopes.
Junior bridesmaid
This role usually goes to a close female friend or relative between the ages of nine and 14. Your junior bridesmaid (if you decide to have one) will, of course, skip the bachelorette party and won't be expected to chip in on the cost of a bridal shower. She and her parents should, however, be invited to the rehearsal dinner.
Kids' table
Show your youngest guests a great time by seating them all at a special kids' table designed with them in mind (see page tk for inspiration). Some tot-friendly ideas: Put a coloring book and crayons at each place setting or provide each child with a goodie bag of small treats like stickers, mini games, crayons and cookies. Enlist a willing teenage guest, or hire a local baby-sitter, to supervise the little ones.

Photo Credit: Dana Grant Photography
Lighting
One of the most dramatic ways to transform a ceremony or reception venue is with lighting. If hiring a professional is within your budget (they can be more affordable than you might think!), he or she can do virtually anything from projecting your initials onto the dance floor to spotlighting centerpieces to creating an intriguing "starry night" effect on the ceiling. If you can't afford a lighting designer, try this inexpensive trick: Replace the existing light bulbs with pink- or amber-hued ones which will cast a flattering, romantic glow.
Music
The big music question used to be "Band or DJ?" These days, many couples aren't limiting themselves to one or the other—they're hiring both! Each can take turns performing or the band can play during the early part of the reception and the DJ can take over later on, to create more of a nightclub feel. The latest idea couples like is to use an iPod to play the tunes they want to hear (perfect for in between sets or at the cocktail hour). Just make sure your venue has good speakers.
Pages