Whether you're ready to pop the question or just in need of a quick serotonin boost, these swoon-worthy proposals are sure to inspire.
By: Stefania Sainato
Our Special Place
"My fiancé set up a proposal scavenger hunt in Disneyland since I've always been a huge Disneyland fan. Each clue (there were six) brought us to a different ride in the park, and a staff member at the end of each ride handed me the next clue. The last one took me to Rapunzel's room. Rapunzel told me to close my eyes and make a wish, and when I opened them, he was down on one knee." —Sarah McIntosh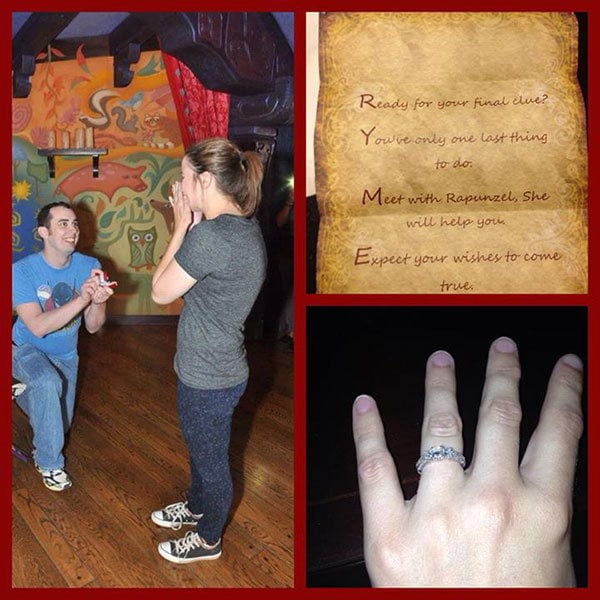 One of McIntosh's friends who works at the park helped out with the logistics of her proposal.
Photo Credit: Sarah McIntosh
"My fiancé proposed right next to the reflecting pool in Washington, DC where we had spent the Fourth of July together a couple of years ago. It completely took me by surprise. I had thought his friend was just being nice and doing a 'couples photo shoot' while we were in town for a family event, but it turned into an engagement session." —Caitlan Keith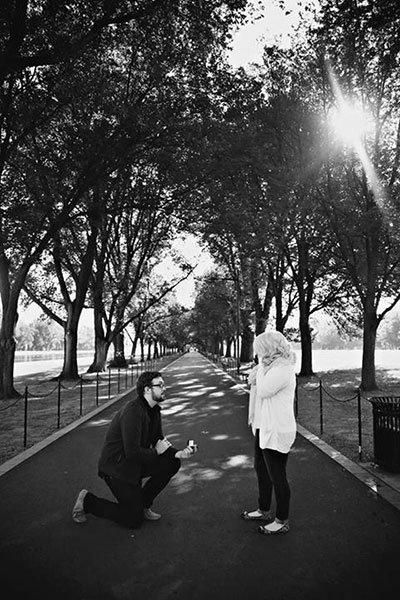 "It was absolutely amazing, romantic and thoughtful!" says Keith of her proposal.
Photo Credit: Caitlan Keith
"My proposal was perfect because the beach has always been my happy place. I am a nurse and I work in a stressful environment so we frequent there any chance we get. Aaron, my fiancé, knew that, and he wanted to take me to 'my happy place' to ask me to be his wife! My dad and I have collected shells together since I was a little girl and that added to the significance of the moment. It was the perfect proposal!" —Kristin Gunnell Price 
"My fiancé Mike faked a leg cramp and said he wanted to go for a walk to stretch it out. He led me to the park by the bay where we had our romantic third date. As we walked beneath the twinkle lights, I noticed that he started to get nervous, and then all of a sudden, he asked me to marry him! His friend was hiding out in the park and took photos of the whole thing (pictured below).
Afterwards, my fiancé said, 'Your carriage awaits!' and behind us was a Cinderella carriage that he had arranged to rent for the evening! He even had champagne waiting for us to enjoy as we rode around the waterfront and watched the moon sparkle on the bay." —Danielle Keen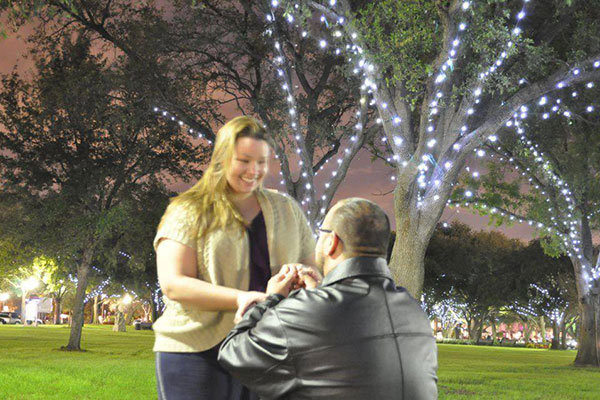 "It was more than I ever could have hoped for," says Keen of her proposal.
Photo Credit: Danielle Keen
"We got engaged in St. Ives in Cornwall, England this July. We've been together for 13 years (it will be 15 years by the time we're married). We've gone there every year for the last six years and we fell in love with this location. Last year, we visited there for my birthday and I took a photo of my fiancé and my two daughters by the shoreline. We blew the photo up, put it on canvas, and it's hanging on our dining room wall. My fiancé chose the same exact spot to propose with our daughters by our side." —Kate Lee
"My fiancé proposed on top of Mount Herman in Monument, Colorado, which is one of our favorite places. The proposal was simple, but perfect. No bells, whistles, and extras — just us. He got a little ahead of me on the hike. When I caught up, he placed the box containing my ring in a rock crevasse. He said, 'Come here, I have a flower for you.' When I saw it, he asked if I would marry him." —Sarah Shank

Shank's flower-shaped box contained a precious piece of jewelry inside.
Photo Credit: Sarah Shank
"When I was 12 years old, I went to Ireland with my family and I told my dad that I always wanted to get married in O'Brien's Tower on the Cliffs of Moher. (The history of the tower isn't so grand but as a little girl, it symbolized that 'princess for a day' idea to me.) Several years later, after moving to Germany to be with the man of my dreams, we went to Ireland to visit family members. He remembered my story, and although we can't bring our families to Ireland to get married, he figured a proposal was just as good...and boy was it ever! Oh happy day!" —Kaitlin Mattes

Mattes' girlhood dream came true when her fiancé asked her to marry him in Ireland.
Photo Credit: Kaitlin Mattes
"My fiancé proposed on the balcony of a restaurant (our spot) in his hometown in Louisiana. It was perfect." —Betsey Gooch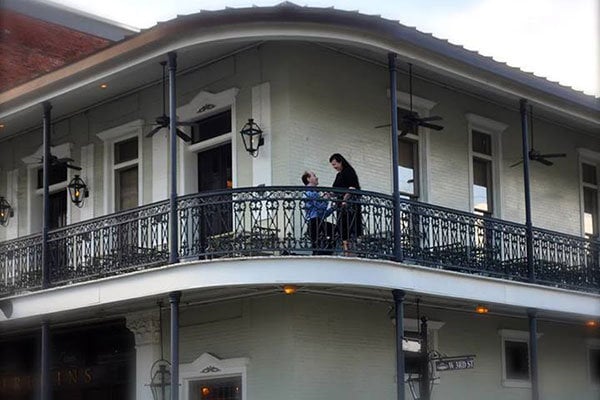 Photo Credit: Betsey Gooch
Next: Down on one knee, daredevil style ►
Pages