Whether you're ready to pop the question or just in need of a quick serotonin boost, these swoon-worthy proposals are sure to inspire.
By: Stefania Sainato
It's a Family Affair
"My fiancé's family lives in Puerto Rico. I had met his sisters, who live in New York, but I had never met the most important women in his life: his mother and his grandmother. We scheduled a 'vacation' to Puerto Rico in April for me to meet the rest of his family, knowing that I was going to hopefully get their approval!
Instead he asked me to marry him in front of 20 of his closest family members on April 20th. The surprises kept coming and coming. It was (and will always be) one of the most amazing nights of my life." —Celena Simerly

Simerly will marry her best friend on April 12, 2014.
Photo Credit: Celena Simerly
"My fiancé proposed to me in front of both of our families. I always told him I wanted to be proposed to with a ring pop so his mom, aunt, and sister all put ring pops on my hand and asked me to marry them (I had no idea what was going on). Then he asked, 'What about me?' He put a ring pop on my finger, then said, 'Wait, I have something better.'
He pulled out a real ring box this time and started playing 'Marry Me' by Bruno Mars. I was completely speechless and was crying my eyes out, but I did say yes and we are getting married on May 25, 2014!" —Christine Ann
"My parents called and told me to organize a business dinner at a nice restaurant — I had no idea what was really going on behind the scenes. So I planned dinner at an amazing Brazilian restaurant in Atlanta, Georgia. Afterwards, my fiancé told us how much he loves us all and how special my parents are to him.
He turned to me and said it would be his honor if I married him. He got down on one knee, and it finally hit me: The man of my dreams and my best friend was proposing to ME! That was the best night of my life so far." —Tuti Cunningham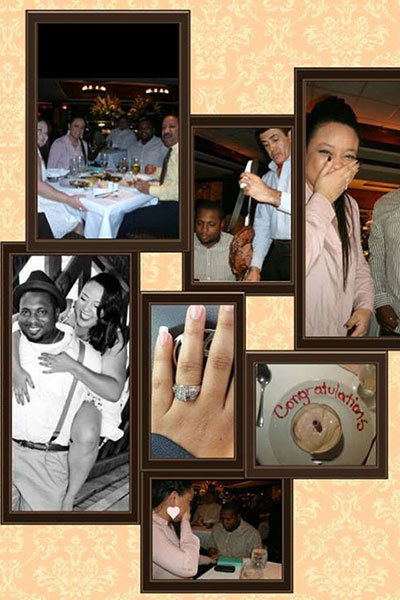 "We are so blessed to have each other," says Cunningham.
Photo Credit: Tuti Cunningham
"On June 15th, my fiancé and I had plans to meet friends for a double date lunch. Before leaving to meet our friends, he blindfolded me in the car. We surprise each other often, so I wasn't suspicious. He drove to a nearby park and proposed in front of some of our friends, including the ones that we were supposed to meet for lunch. And instead of working, he had set up our engagement picnic at the park. He even put the ring in an antique ring box. I can't wait to marry him." —Sarah Fuller
"We will be getting married on August 9, 2014. My fiancé proposed to me at a lake we frequent often in the summertime, and my friends and family took part in the proposal. It didn't go according to plan — as he was getting ready to ask me, he asked his best friend to idle the boat forward a little, but he actually went full speed ahead, which threw Justin off the boat (ring and all). It was still a perfect day, though!" —Catherine S. Bailey

Bailey is getting married on the bank of the lake where she got engaged.
Photo Credit: Catherine S. Bailey
Pages