Whether you're ready to pop the question or just in need of a quick serotonin boost, these swoon-worthy proposals are sure to inspire.
By: Stefania Sainato
A Vacation You'll Never Forget
"He proposed on the balcony of our hotel overlooking the ocean at Myrtle Beach, South Carolina, and my ring was hidden in this shell! The beach has always been my favorite place." —Kristin Gunnell Price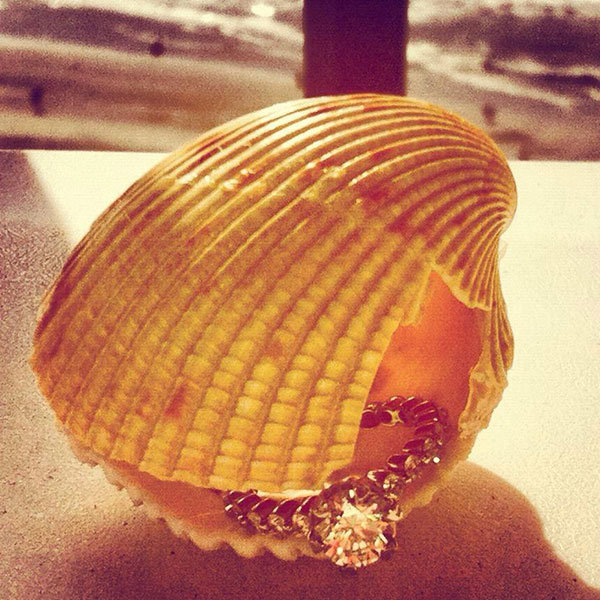 Price's seashell contained a dazzling diamond ring.
Photo Credit: Kristin Gunnell Price
"During the first weekend of December last year, my husband planned a surprise beach trip. He took me shopping, sent me to the spa, and later that night as we were walking along the beach, he wrote 'Will you marry me?' in the sand and he got down on one knee. We've been happily married since June 22nd." —Jordan Davis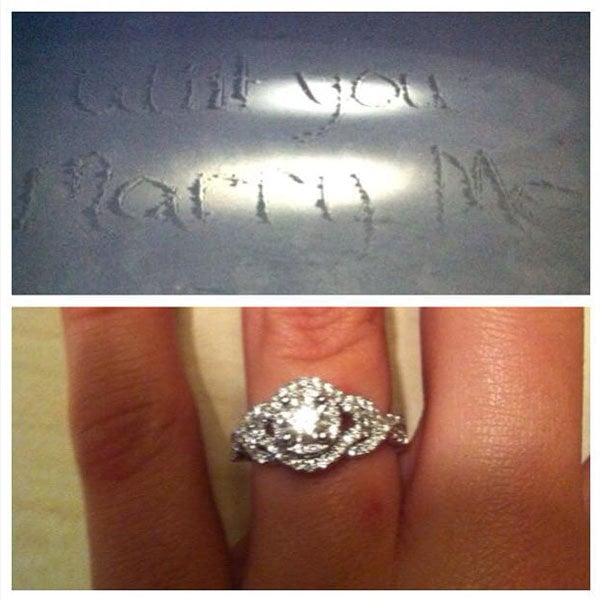 A sweet nighttime stroll lead to the biggest proposition of Davis' life.
Photo Credit: Jordan Davis
"My fiancé and I went to Italy on a family trip last July and our first stop was Rome. The whole week we were there, we skipped over the Trevi fountain — the one thing I wanted to see the most. On Friday the 13th (which is actually considered to be a lucky date in Europe), my fiancé and I wandered off on our own. His parents and his brother pretended to be tired and said they'd meet us at a coffee shop later on, which I thought was weird, but I didn't question it.
When we got to the fountain, he asked if I was going to take any photos, and I said no, since I had already taken some earlier in the week. He told me to take a few more. It was about 8:30 a.m. so no one was around. We sat down and just as I grabbed my camera, I saw that he was on bended knee. He asked me to spend the rest of his life with him and I said yes! We spent the rest of the day at the Colosseum, followed by two weeks in Southern Italy at the beach. We've been together for almost eight years and we're getting married on May 24, 2014." —Megan Krause
"My fiancé proposed on my birthday during a vacation in Cyprus. He took me out in a taxi to Aphrodite's Rock to watch the sunset (we love watching the sun set around the world on our travels; it's a special time for us). We made a pebble heart on the beach, then he pulled champagne, glasses and strawberries out of his bag and he got down on one knee! When we got back to the hotel, our room was filled with my favorite flowers: pink lilies and pink and red roses. Afterwards, he took me out for a fantastic meal. He's amazing!" —Jess Pleasant

Pleasant tells us she enjoyed "special treats" all day leading up to her marriage proposal. 
Photo Credit: Jess Pleasant
"My fiancé proposed to me while we were on vacation in San Francisco and Napa Valley. While we were touring Sterling Vineyard, we went on a private walk amongst the grapes. It was gorgeous. He stopped and told me he had been having such a wonderful first half of our trip with me as his girlfriend. Then he knelt down on one knee and said he would love to spend the rest of it with me as his fiancée. I was so surprised that I had to ask him if I had said 'yes!' We've been together for five and a half years, and we can't wait to spend the rest of our lives together." —Selina Ray
Pages