The dreaded toasts! The potential death sentence to any great party... unless you can apply these simple rules.
By: David Tutera
Let's start with the basic rules:
Rule #1: Do not have more than four toasts. 
Rule #2: Set a maximum length of three minutes.
Rule #3: Follow rules number one and two! 
And now, some tips for making your toast a big hit.
Don't ever consume alcohol before you give a toast. Trust me on this one. Also, this is not a comedic roast — keep it sweet, keep it endearing, and move it along quickly. I really don't need to hear about the funny things that happened in college or the things the bride and groom did with their ex-boyfriends and girlfriends... awkward! It's a wedding, not a college party. If you want to add humor, a little comedy goes a long way. 
Photo Credit: Maria Angela Photography 
One important thing many toasters forget — give equal time addressing the bride and the groom. The sister of the bride, for example, should devote one and a half minutes to talking about how much she loves her sister, and one and a half minutes talking about her new brother-in-law.
The heart of the toast is consistent with the purpose of the wedding; you're expressing the unity of the couple, and you're wishing them well on their journey as husband and wife. It's that simple, so don't overthink it!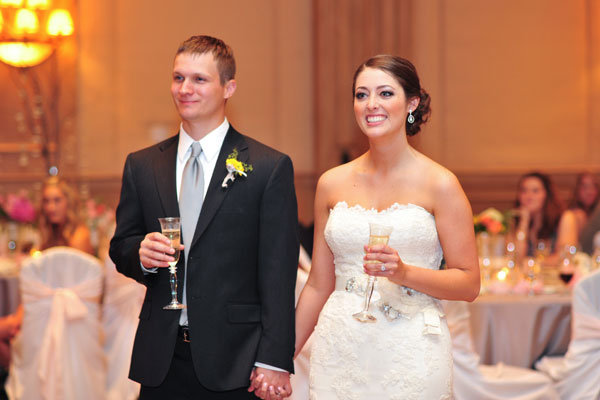 Photo Credit: Holli B Photography
Before giving a toast, make sure these three things happen:
1. Check if the bride and groom are in the room.
2. Make sure you have something in your champagne glass.
3. Verify that the microphone is turned on.
You'd be surprised by how often at least one of these things doesn't happen.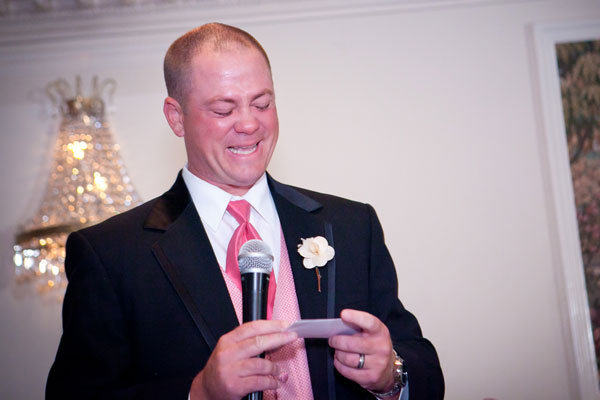 Photo Credit: Timecut Photography
And finally, toasts should take place when guests are seated and enjoying their meals so you'll have the attention of every guest. 
When determining the order of the toasts, the first honor should be given by the person who's financially responsible for the wedding (traditionally the mother and father of the bride). The second toast would be from the other set of parents. At that point, there should be a break of about 30 to 45 minutes.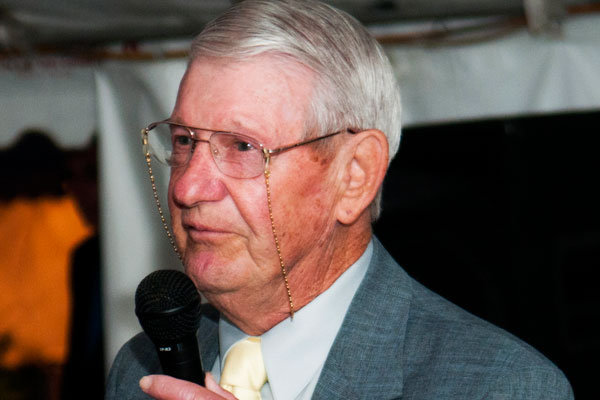 Photo Credit: Two One Photography
For the second grouping of toasts, it's time for the maid of honor and the best man to speak. And I'm a strong advocate of adding a fifth toast-giver: the bride and groom. It's so nice to hear a quick word from the bride and groom — just a short and sweet "thank you" to their guests for coming. This toast should happen before the cake is cut, since people tend to start filtering out after that.

Photo Credit: Muriel Silva Photography
Down the Aisle in Style,
David Tutera