How the star of WEtv's David Tutera: Unveiled masters the to-do list.
By: David Tutera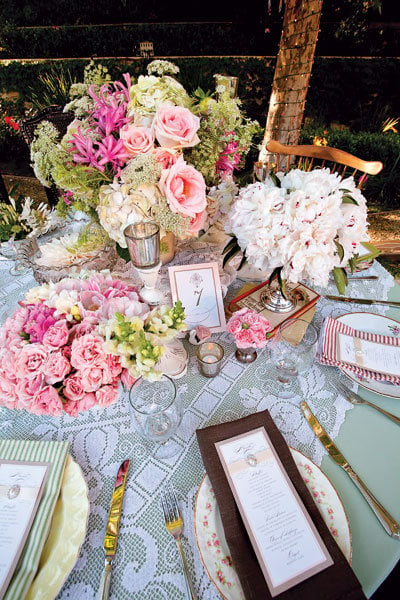 Let the wedding planning begin! This should be one of the most enjoyable and creative processes you will ever experience. Yet many couples tell me they get so overwhelmed they feel as if they've taken on a second job they've had no training for. As for me, I started at 14, learning the craft of floral design while working at my grandfather's flower shop. That's where my journey began. I truly believe I was bound to create parties. Here, some of the planning aspects I love most — and least. Get the more difficult wedding elements under control and the rest should fall into place.
The Pros (What I Love):
Setting the vision: Getting a chance to dive in and understand what a couple is looking for and the style of the event they want to create is the all-important first step to a beautiful event. My television work makes it seem as though a super-specific theme for your wedding is mandatory, but please trust me when I say it is not. Themes are only great when it makes sense to the bride and groom. However, I do love when a couple knows the types of looks, colors, feelings and moods they want for their wedding. Ask yourself: What are your favorite...colors... historic eras...flowers....seasons? The answers to these questions will help you better envision the overall look of your wedding.
Flowers and décor: I love meeting with vendors and seeing the details come alive in all areas from invitations to flowers, colors and lighting. Invitations, for example, truly set the tone of the overall celebration to come. And flowers make the event literally come to life. A bride without a bouquet or a table without a centerpiece isn't, to me, a wedding. Soft colors, bold colors or combinations of both work to create an overall style or even evoke a period in time. These visual components can be the most pleasurable parts of wedding planning.
Food and drink: It's great to use food to tell the story of your culture and background, but take care not to get on the full-on foodie bandwagon when planning your wedding, incorporating too many exotic ingredients. When it comes to beverages, specialty drinks have been a major trend; newer are specialty bars featuring whiskey, champagne and/or wine. Any of these options can make your wedding more unique.
The element of surprise: I love the opportunity to make special moments happen: perhaps a dance that no one knew about or changing up the timeline. I always say that something different should happen every 30 minutes. This allows guests to become interactive participants vs. inactive participants following the same old routine (ceremony to cocktails to dinner) and results in something special. This is what I will always love about doing weddings.
The Cons (What I Don't Love)
Who's invited?: Determining the guest list can be a tough task, as can deciding the seating arrangements: who should sit next to whom. Once this gets set, the sailing will become much smoother, I promise! 
Too many cooks: You do not want a committee of opinions. Pick a few supportive friends and family members (three at the most) and trust in them to guide you and support you. The key word is support.
Travel logistics: Coordinating travel details for all your wedding guests can be mind-numbing, not to mention time-consuming. Instead of being the point person for travel questions, I suggest finding a good travel agent ahead of time (especially if you're having a destination wedding!) who can handle these issues. It will be worth it if it means you now have time you would have otherwise lost to focus on the other important details of your day.
Details, details: Picking the perfect songs for your processional, recessional,first dance and all of your important formalities (e.g., toasts) can be challenging, since these elements require a final, set- in-stone decision — you want to make sure everything is exactly as you want it. These all-important nitty-gritty details can be a chore, but they are essential to get right.
Oversharing (especially on social media): One of my ground rules: Don't forget that some parts of your wed- ding should surprise your guests, so don't spill too many details ahead of time! 
Photo Credit: Michael Segal Photography