Everything you need to know about your (*deep breath*) invites, save-the-dates, thank you cards, escort cards, place cards, menu cards, and printed napkins!
By: David Tutera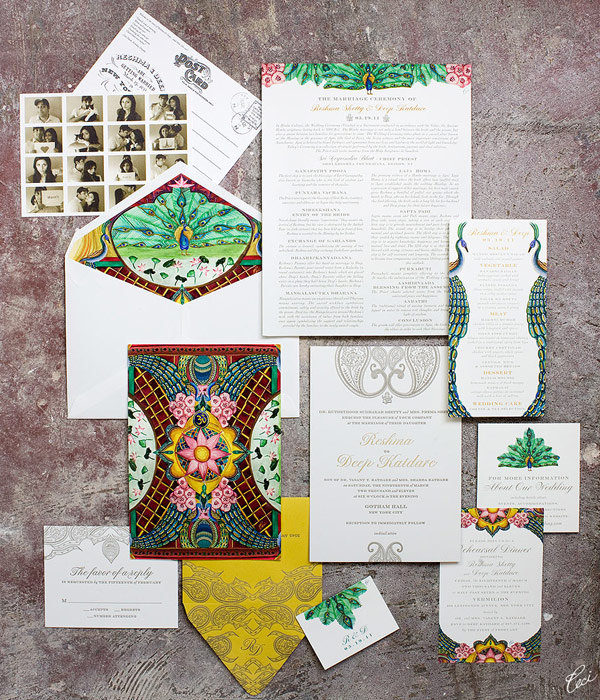 Printed materials are one of the top five things you need to address when planning your wedding. I make the reference all the time that a wedding should tell a story. Well, your story begins and ends with your printed materials! What does that mean?
Your first bit of printed info is the save-the-date, if you choose to do one. Before you print them, decide on your color scheme — because your save-the-date should match. 
Next up: Your invitation, which is the biggest piece of your printed storytelling. Carry over the theme of your invitations to your ceremony programs, escort cards, place cards, menu cards, and thank-you notes. 
Right now you're probably thinking, "I can't afford all this; what do I need to do?" Well, clearly, you need to do invitations. I beg of you, for the mercy of your wedding, do not do e-invites! It takes all of the tradition and importance right out of your wedding.
The second most important item is your escort cards. Then, of course, thank-you cards are an absolute must. Everything else is a personal preference based on style and budget.
One tip I recommend is that when sitting down with your paper goods vendor, design all of your paper goods at the same time so they all contain the thread of the design of your wedding. And that's how you can tell your story through your printed materials!
Bonus tip: When should you send out your printed materials?
► Save-the-dates: Six or more months prior to the date of your wedding. 
► Invitations: Eight weeks prior.
► Thank-you cards: Aim to send these within three months of your wedding. 
Down the Aisle in Style,
David Tutera
Photo Credit: Ceci New York