David Tutera, star of WEtv's "My Fair Wedding," shares some lessons he's learned from planning weddings for the past 25 years.
By: David Tutera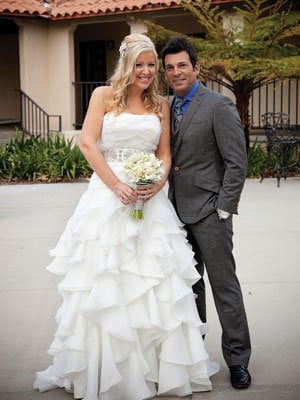 After over 25 years, I can say that there are some universal truths when it comes to working with brides. Feeling overwhelmed? You're not alone. Almost every bride is suffering from nonstop information overload (now more than ever), which can lead to a place of confusion.
The confusion often starts with the gown itself. I've found that most brides do not really know how to dress for their body type (or even what their body type is!). A big part of this is the staggering number of options available and the fact that alwayschanging and ever-tempting trends are now fused right into bridal fashion. While a bride might think she knows what flatters her or what her dream dress looks like, I encourage her to try on everything from a billowing ball gown to a slinky mermaid — even if just to rule out a style or confirm a lifelong vision!
A bride is often confident about what she thinks she wants. Yet when I ask, "what style do you envision for your wedding?" and she says "modern," I've learned not to be surprised when she shows me pictures of ornate silver, gold or crystal candelabras, which are traditional and classic — the opposite of modern. For this reason, I talk to my bride at length, drawing out key words, discussing her home style, heritage and hobbies, flipping through pictures, trying to get to the root of her and her fiancé's personalities. To that end, keep a file of images that inspire and delight. A trained planner, event designer — or any creative wedding vendor — will be able to pull from this information and deliver a wedding that really reflects your style.
David's rule of thumb: Don't be afraid to step outside of the box. You need to believe in taking a few chances so your wedding becomes your wedding.
Another thing: brides have no idea what vendors cost. They are completely unaware of the actual costs of such things as die-cut or letterpress printing or an out-of-season peony. They can't comprehend the labor that goes into lighting or the time that goes into a perfectly fitted bridal gown. It's critical to educate yourself on costs so that you aren't taken by surprise and can budget properly. A wedding — although a one-day event — still requires a ton of behind-the-scenes work from professionals — and the costs will reflect that.
Brides really care about getting their guy involved in the planning process, but are unsure how to go about doing it. I personally love this, as I've always felt that couples need to look at their wedding as a joint union and not just as the bride's day. I always suggest the couple start with the elements the groom really enjoys. For some men it's the music, for others the menu. For some it's actually the fashion! Work together on those things first, compromising as needed, and then continue on to other planning aspects.
So many of my brides tell me they want a wedding that is unique, creative and unexpected. But as much as they want to achieve that, they make decisions based on safety and traditionalism. Don't be afraid to step outside of the box. You don't need to spend more money, you just need to believe in taking a few chances so your wedding becomes your wedding.
On the opposite end of the spectrum, I've worked with brides who are determined to come up with one unforgettable element that is so out-there it becomes altogether inappropriate. For those who watch My Fair Wedding, you see this all the time. But it happens with my private weddings too: I had a bride who wanted to be lowered down from a trapeze in her bridal gown from 80 feet above her guests in a venue in New York City; I thought it was absurd. The idea came from her seeing Pink do it at The Grammys, but that was Pink at the Grammys as a performer and this is you at your wedding as a bride. It was ridiculous. Did it happen? What do you think? Absolutely not.
Based on what I've learned over the years, brides and couples can really benefit by doing their research, together, on their own style, on what things cost, on what truly speaks to them. The result of this preparation will always be a more customized wedding, a streamlined process — and an unforgettable memory.
Photo Credit: Michael Segal