David Tutera, star of WEtv's "My Fair Wedding," addresses your burning bridal questions.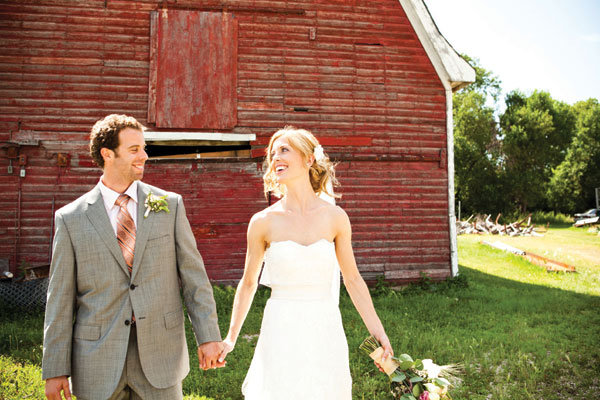 Photo Credit: Sugar & Soul Photography
"We're having a country barn wedding: should we go with sunflowers and daisies and a barbecue reception?" —Kasey
Sunflowers and daisies are great choices, and I've often used them combined with other greens, herbs and wildflowers for country-inspired weddings. Mason jars are inexpensive and perfect not only as your vase, but also as glassware and hanging lanterns. As for your menu, barbecue flavors are ideal. Just make sure your guests are comfortable eating what some might consider "messy" food. Think about bite-sized portions or recipes that can be enjoyed with a knife and a fork. And don't forget the pie bar for dessert!
Q. "Are card boxes at the reception tacky? My mom is very against the concept. Please help!"  —Crystal
A. Though I prefer to have guests send their gifts in advance or after the couple returns from their honeymoon, some will choose to give you money as a wedding present, and many of them will bring it to you in a card on your big day. Placing a tasteful, coordinating cardholder in a discreet location is a good way for your guests to know where to put their gifts. And besides, it's better than having a big pile of cards on your cake table or, even worse, to misplace some during the night.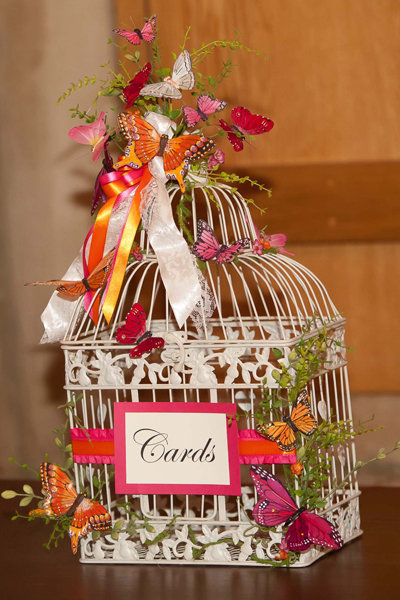 Photo Credit: Andrea Montgomery
"My fiancé and I are planning our wedding with a budget of $7,000 to $10,000. How would you go about planning a wedding on this budget?" —Marivel
A fabulous wedding can be planned with any budget, as long as you keep that dollar figure top of mind. It's crucial not only to be practical about what is possible, but also to set your budget at the beginning and know how much of it should go towards each element of your wedding, and then stick to it! Focus on the aspects that are most important to you and compromise on the rest. Almost any element can be DIY'd if need be, from the florals to the invitations—even the catering and cake. Always keep in mind that personal, DIY touches make your wedding all the more meaningful and unique.
Q. "Do you have any DIY suggestions for backdrops for head tables?" —Pamela 
A. I love to create a "sweetheart table" to give my couples a special, secluded place where they can relax and enjoy their first meal together at the reception. Some do-it-yourself ideas for creating a backdrop for this area could include a floral- or vine-covered garden trellis, some oversized canvas pictures of you and your groom or a great panel of fabric with simple up lighting. A pretty screen is also a good option, especially if there are holes in the metal work to add hanging votive candles. If possible, raise your table on a platform so that you have the best view in the house.

Photo Credit: Bill Blakely Photography
"What's the best season for a wedding?" —Gloria
Every season has its own advantages and offers its own inspiration: from the lushness of a springtime garden to the bright colors of fallen leaves on a crisp autumn day. So this personal decision should be guided by practicality, a special date or the season that best reflects your style.
Q. "My reception budget is $5,000. How much of that should go to flowers?" —Rosa 
A. As a general rule, somewhere around 10 percent of your budget should go toward flowers and decor. Every bride is different though, so I urge you to take your own preferences into account. If flowers are a priority, set aside more of your budget to accommodate— if you care more about your cake or your music, adjust accordingly.
Photo Credit:
JoPhoto
"Can a second- or third-time bride still have a formal ceremony and reception? If yes, please suggest some appropriate themes and scenarios." —Liz
Of course! Any bride should have the wedding of her dreams. Some second-time brides choose to stay away from the more traditional formalities, sometimes opting for dresses that are not long or white, or skipping the bouquet toss or structured bridal party. Others will pull out all the stops and go even bigger! The important thing to remember is the marriage itself—whether this is your first, second, third or beyond. It should be celebrated with respect and with joy—in the way that is most comfortable for you and your new family.
Q. "I'm desperately seeking great ideas for favors." —Carla 
A. Favors are a great way to say thank you to all of your friends and family for sharing your special day. I think the best favors though, are mementos that will give them something to remember you by, so I suggest that your personalities be the guide. Are you readers? If so, copies of your favorite book wrapped with handmade paper covers would look gorgeous stacked on a table—and you could even use the covers as place cards! Do you love to cook together? Jars of your favorite exotic spices might be just the ticket. And if you're fun loving, consider simple little toys as the perfect take-away.
Q. "We're trying not to have any children at the wedding other than the flower girl and a few children who are part of the family. How do we convey this message gracefully (both to the parents of the invited children and the parents of the children who are not invited)?" —Kristina
A. This is a touchy subject, but an understandable one for those who want an adult reception. While there is no way to word this on your printed materials, it is commonly accepted etiquette that only those names that appear on the inner envelope of your invitation are invited. If you feel that this will not work for your guests, you can delicately convey this decision to them through your bridal party or word of mouth.
Photo Credit: Ashfall Mixed Media Inc
"How do you make a fairytale-princess wedding theme come to life on very little money? We live paycheck to paycheck." —Sarah
Being a princess at your wedding is all about the state of mind. A princess bride is one who feels poised, gracious and confident. If you are looking for your decor to mimic this feeling on a budget, there are several tricks to employ. First, there are plenty of pretty, affordable tiaras on the market that will give your look a quintessentially princess-y aura. To bring magic to your decor, add glitter or crystals to your bouquet and florals. Let candles cast a romantic glow, and if you have a music-savvy friend, have them herald your guests into the space with a trumpet. And, for the final touch, create a special moment between you and your Prince Charming where you waltz to an appropriately grand piece of music.
Q. "What flower colors will look good with my wedding palette of silver and white?" —Amanda
A. Silver and white is a great starting point, and where you go from there is up to you. A pop of purple would be beautiful and bold; orange or yellow would be striking and fresh. Mixing in pale pinks, creams and other soft hues would bring an antique flair— the possibilities are endless.
Photo Credit: The Bird and the Bear Photography